Turning locker rooms from dull ancillary spaces into revenue-generators involves employing strategies that require as much common sense as they do imagination.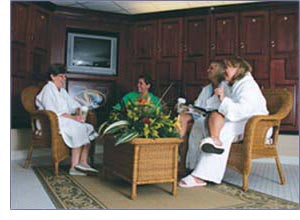 The spacious locker room is appointed with combination, oversized cherry-wood lockers, private showers, plasma-screen TVs, rattan furniture, hair dryers and extra-large plush towels. In the adjacent rest room, just about every personal item imaginable is within reach, including cotton balls and swabs, shower gel, shampoo, body lotion, mouthwash, deodorant and shaving razors.
Such amenities are typical of professional sports team locker areas, or even those at four- and five-star resorts. But this exclusive locker room is located at neither an NFL stadium nor a Ritz-Carlton. Rather, the Rothwell Club makes its home at the University of Missouri Student Recreation Complex.
Being that Mizzou's recently renovated and expanded student rec center also houses general locker areas, one might wonder if the campus' faculty, staff and students are willing to pay $14 for Rothwell Club perks (access is afforded via specially coded ID cards), in addition to their regular membership dues.
Indeed, they are. According to Diane Dahlmann, director of University of Missouri Recreation Services & Facilities, the Rothwell Club -- which offers 320 lockers each in the men's and women's changing rooms -- has been operating with a waiting list for months. The men's Rothwell Club sold out within two weeks of the student rec center's reopening in February, with more than 60 people on that waiting list as of late August. Approximately 20 women have been waitlisted for Rothwell Club membership.
Dahlmann attributes the Rothwell Club's popularity to the demand of this generation of college students for high-quality experiences and services. "They have benefited from the largesse and the conspicuous consumption and consumerism of the baby boomers," she says. "They grew up with the exclusive country clubs and health clubs and the private tennis lessons."
Skeptics abounded among the Mizzou administration when Dahlmann suggested during the design of her facility's renovation that the men's and women's Rothwell Clubs be made the larger of the four locker rooms. Dahlmann found an ally in Erik Kocher, a principal with Hastings & Chivetta Architects Inc., which designed the renovation. In fact, since his work on Mizzou's rec center, Kocher has encouraged other clients to reconsider their locker-room setups. "They're all listening with interest because everybody has had their thumbs screwed down," he says. "They're willing to go for any way they can make a little extra money."
Now that the Rothwell Club consistently pulls in approximately $9,000 in revenue each month -- roughly $1,300 of which goes directly to support a scholarship fund for campus recreation student employees -- early critics of Dahlmann's locker room concept have largely been silenced.
"We've created a solid revenue stream that goes toward defraying operations," says Dahlmann, again crediting the consumer demands of this country's nearly 80 million "echo boomers," as baby boomers' children born between 1982 and 1995 have been called. "It's about the choice of a generation and generational change. The iPod Generation wants to be engaged and connected and have high quality. If you begin to watch the trends and become a student of this culture, then creating a hip, club-like environment is a perfect match for this generation. The tea leaves are out there waiting to be read -- it's not a secret."
That a creative response to a generational demand turned what could have been dead space, at least in financial terms, into a moneymaker may inspire some facility operators to similarly enhance their locker rooms. But it doesn't necessarily take an inspired approach in these areas to pay dividends.
Take, for instance, the fact that at Mizzou's student recreation complex, just as many faculty and staff members belong to the Rothwell Club as do students. To Kevin Hedican, a baby boomer himself, this proves that his peers are just as appreciative as echo boomers of the attention paid by a fitness center staff to locker room details. "Most people bring their own deodorant and hairspray to the gym. But say you run out of deodorant one morning and you have a meeting. You'd use anything because you don't have time to stop at a 7-11 or a grocery store to pick it up," says Hedican, national sales manager of Aurora, Colo.-based Ready Care Industries, which supplies sports, fitness and recreation center locker rooms with personal items and bath products. "If a club provides such items, it's a feel-good thing. It's one of those intangibles."
Providing such intangibles in the locker room shouldn't necessarily break a facility's budget, Hedican adds. "One of our feel-good items are Q-Tips. You may spend $30 a month providing Q-Tips -- and it's not that big of a deal. But when you bring them in, people say, `Wow, that's nice.' "
Hedican acknowledges that "you probably will never be able to quantify how many members you get because of that or some other amenities you provide," but doing so can contribute to a facility's overall effort to create for its members a warm, homey environment.
In that regard, fitness center operators can take a cue from recent trends in spectator facility design, a central tenet of which is to overwhelm fans with amenities and services that entice them to stay longer -- and thus spend more. "The longer you keep those members there, the more revenue you generate because they're using the restaurant, they're getting massages -- all because they like hanging out at the club," says Hedican, contrasting such benefits with the no less significant impact of inattentiveness. "But if the boy or girl at the front desk is rude to them -- doesn't know their name, is on the phone when they check in, takes their card and throws it back at them -- and then the members go in and there is no soap in the showers, it's the straw that breaks the camel's back. You get to know your members, and then you create an environment where people want to come and spend their time. It's really not that difficult."
It hasn't been for The Jewish Community Center of Cleveland, where Doug Levin is director of marketing and membership. He says that it's par for the course, at least for Ohio JCCs, to offer exclusive "health services" memberships to those individuals who prefer to use separate locker rooms outfitted with private showers, shaving bars, shoe-shine stations and TV lounges offering coffee and tea service. "I'm pretty sure there are very few JCCs that don't offer a premium locker room membership to all of their members. The JCC I grew up with in Akron always had the health services locker room, with the amenities," says Levin. "It's an extra revenue- generator, but it's also a way for those members to build an affinity group among themselves -- which in turn allows you to improve customer satisfaction and increase the likelihood of retention."
But at other facilities, members are willing to pay a premium for the use of exclusive locker rooms not to make friends, but rather because they desire greater privacy. "We provide all the toiletries -- shampoo, conditioner, Q-tips and everything in between. We have ironing boards, a TV lounge, coffee and tea service, and fluffier, better quality towels," says Matt Gohl, director of the University of Denver's Coors Fitness Center, which offers both men's and women's Gold Club locker rooms. "Honestly, though, the biggest selling point, especially for the men, is that it has stalled showers, instead of an open gang shower area."
Compared to the Coors Center's general locker rooms -- which each house approximately 400 half-size metal lockers -- the men's and women's Gold Club areas are much smaller and more intimate, featuring just 89 and 105 full-size wood lockers, respectively. And, similar to the University of Missouri's Rothwell Club, the men's Gold Club has been sold out since the Coors Fitness Center opened in 1999 -- a phenomenon that Gohl credits to his facility's liberal membership policy, which opens the Coors Center to Denver-area residents. Most often it is members of this demographic who sign up for use of the Gold Club, which costs $30 a month. (Much like many college recreation centers, the facility also rents out lockers in the general locker rooms for a fee, in this case $15 a month.)
Not surprisingly, Gohl says that Gold Club memberships basically sell themselves. "When new members tour the facility during their orientation, we tell them what locker options are available to them. We also post information in our general locker rooms as an upsell kind of thing," he says. "But a lot of business we get through word of mouth. We have members who join and are friends of people in the Gold Club, and they say, `Put me on the list, I want to be in there as soon as I can.' "
Likely fueling that demand is the fact that at any given time, there is a relatively limited number of Gold Club memberships available -- a number that can become even smaller if the majority of members choose to renew each month. Efficient pricing can also build demand for such a product, as has been the case at Missouri. Dahlmann initially wanted to charge $16 a month for Rothwell Club memberships, but was persuaded to lower the price when she polled faculty and staff members and found that because the exclusive locker room was a new concept, $14 was a "more comfortable figure" for them to accept. Says Dahlmann, "It's better to sell out and create a mystique than it is to say, `I still have 100 lockers and can't move them.' "
Private lockers are also in demand at San Francisco's Golden Gateway Tennis and Swim Club, one of 10 properties owned and operated by Western Athletic Clubs. But that doesn't mean that general manager Tomo Ishikawa plans on adding more locker space anytime soon to accommodate the demand. The fact is, the locker rooms at Golden Gateway actually lose money rather than make it.
Perhaps because his club is on the higher end of the spectrum, Ishikawa's challenge is different than, say, Gohl's at the University of Denver. After all, how can operators turn locker areas into primary or even secondary sources of income at facilities where the expectation among members is for nothing less than a full-service, well-stocked locker room?
"Our members pay a pretty good price here," says Ishikawa. "Amenity-wise, pretty much everything is provided. We spend $1,000 or more a month on towels, and probably another $1,500 to $1,800 on vanity supplies." Golden Gateway does defray some of those costs by offering laundry service to its members who choose to rent lockers (depending on the type of locker, fees range from $5 to $10 a month). For an additional $10 a month, the popular service is used by 80 percent of locker renters. "We provide a mesh laundry bag and a pin with their locker numbers on it. All they have to do is drop their workout clothes in there," says Ishikawa. "We just wash them in the bag and put it back in their lockers within 24 hours."
Western Athletic Club officials have discussed adding other locker-room services at Golden Gateway, which is one of the company's medium-priced properties. But Ishikawa doesn't expect to see the addition of either dry-cleaning or shoe-shining services, both of which are offered in locker rooms at his more prestigious sister club, the San Francisco Bay Club, located in the city's financial district. "We just don't have the facilities to do that," says Ishikawa. "Besides, I don't know if there's a need here. A lot of people dress casually these days. I don't typically use a shoe shine myself. But it seems to be a fetish for executives. Bay Club charges $8 to $12 for a shoe shine. That's a month of locker service for us."
By comparison, monthly locker rental fees at Bay Club start at $28 and can cost as much as $100 for lockers in separate, well-appointed "executive" areas. "Their executive lockers are huge, we're talking 2 feet wide and 6 feet tall. They have multiple doors and compartments," says Ishikawa. "Dues at Bay Club are $140 a month, so people are paying almost as much for lockers as for dues. But if people have the money and they want to get that amenity, they pay for it."
According to Dahlmann, in the college recreation realm at least, it is important to maintain the basic "Days Inn, Motel 6" locker-room option. "It's incumbent upon us to have some no-charge space; otherwise people wonder, `What did I pay my fee for?' Membership does have a basic package of privileges. If you require people to shower before they go into a pool, how can they do that if you say, `Come on into the building, but I'm going to charge you to take a shower'? You don't want to get to the point of ridiculousness with the charges."
By the same token, facility operators do want to ensure that they charge enough of a premium on membership to their exclusive locker areas to make them worthwhile endeavors. While Dahlmann says that all of the Mizzou rec center's "bells and whistles" -- including constructing and outfitting the Rothwell Club -- represented less than 1 percent of its overall $50 million project cost, she does concede that (without disclosing exact figures) laundering and replacing towels is the greatest of the Rothwell Club's operating expenses.
Yet when asked if the Rothwell Club's revenues cover the cost of a couple salaried staff positions, Dahlmann says, "Absolutely."
The end goal of providing locker-room services and amenities at any facility, Dahlmann adds, should be to "develop what, individually, would be considered low-impact revenue streams, but in aggregate have a major impact on the way you operate and the services you extend."