New generation storage technologies are facilitating access to -- and even movement of -- hard and soft goods in the equipment room.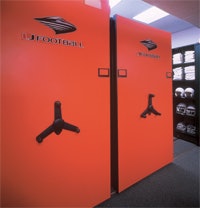 With a combined 61 years of service at their respective institutions, Cornell University equipment manager Dale Strauf and his counterpart at the University of Tennessee at Chattanooga, Mike Royster, are about as old school as it gets. But while that longevity has been recognized by their peers - Strauf and Royster just swapped the titles of president and associate executive director at the Athletic Equipment Managers Association's annual convention in June - it hasn't prompted their on-campus superiors to pump much in the way of resources into their equipment rooms.
Strauf, who handles some 300 football helmets, stacks some on caster-equipped helmet trees and hangs others, as well as the helmets of Cornell's hockey and lacrosse teams, on ordinary coat hooks affixed to wall-mounted two-by-fours. Likewise, Royster has gone vertical, preferring two-by-fours with wooden pegs as his helmet-hanging modus operandi. "They're way up out of the way," says Royster, who accommodates the equipment of 13 sports in two adjacent rooms measuring a combined 325 square feet. "You get to where you look up high and ask yourself, `How can I use the ceiling, anything I have?' "
According to Strauf, who hangs individual athlete laundry bags from ceiling-mounted hooks, there isn't an equipment manager in the country who will confess to having too much space. "People have to be a little bit creative," Strauf says. "We're dealing with more equipment now. Our student-athletes come in here and they're ready to go, regardless of what season it is or what sport it is. They're conditioning all year long, so we're actually dealing with equipment all year long." "You have to be organized," adds Royster, "and always looking at new ways of doing things."
Like an increasing number of athletic equipment managers, Strauf and Royster have taken a good look beyond their hooks and pegs to the very latest in storage technology. Spacesaverr and Wenger Corp., two company names often squeezed within the same sentence by equipment managers when discussing available solutions, have found a niche in the athletic market after establishing long histories serving other institutional storage applications - from library stacks (Spacesaver) to band rooms (Wenger). They both offer what can be generically termed "compact mobile" or "high-density modular" storage in systems featuring multiple carriage units that shift laterally along floor rails, condensing content by as much as 50 percent by leaving only a single aisle fully open and accessible at any given time.
"Typically, it's most cost-effective to compact storage within existing space to avoid having to build an annex or a new building," says Chris Batterman, product manager at Spacesaver. "And even when building a new facility, athletic departments should make sure that they're getting a high-performance building - one that is going to maximize every square foot."
The solution in each company's case is something akin to the residential California Closetr, with shelves, cubbyholes and garment rods configured in customized fashion to maximize capacity of each carriage unit. "Our goal is to cube out the storage so that we're storing as little air as possible in these spaces," says Wenger senior market manager Gregg Nelson, whose own game-day research helped ready the GearBoss storage system, which can be specified to include specially designed hangers for helmets and shoulder pads, for its debut last year. "As we looked at expanding into the athletic market, we saw equipment rooms as an obvious place to bring a solution. They're just a mess - from high schools to the pros."
Introduced earlier this year, Spacesaver's Eclipse Powered System represents the only push-button compact mobile storage system on the market. In fact, it replaced three powered systems within the company's own product line. (Spacesaver still manufactures manual and mechanical-assisted storage systems.) The Eclipse offers several options, including a default function that senses a period of non-use and automatically opens the system to the aisle in which the most oft-needed items (sports medicine supplies, for instance) are stored. Extended down time can also trigger the system to space itself uniformly, if so desired, allowing for ventilation of stored content through multiple aisle openings that measure a few inches as opposed to one opening measuring a few feet. Other options include overhead lighting, temperature and humidity sensors, and infrared safety systems.
Wenger's GearBoss, meanwhile, is completely manual for one specific reason. Each carriage can be disengaged from the singular floor rail, allowing for transport of equipment from room to room within a facility or onto semi trailers for shipment to road games. This mobility also allows for priority-based reconfiguration of the equipment room based on the sports seasons at hand. The latter idea "was something that we brought to them," says Don Barnes, director of equipment operations at the University of Missouri, which has served as a GearBoss beta test site while undergoing a $16 million renovation to its football training facility. "The old setup we had was 3,500 square feet, with five different little storerooms and closets. Now it'll be a 5,500-square-foot room that's wide open, and the carts will be laid out in such a fashion that I can rearrange that room in five minutes. On Thursday, I might want it set up one way because I'm packing for a road trip. On Sunday night through Wednesday, it might be set up for practice. On recruiting days, I can rearrange the room again."
When completely online in January, the Mizzou equipment room will house some 80 GearBoss units, including nine dedicated solely to the storage of 2,000 pairs of football shoes. There's no telling what Barnes might have done had he gotten the 8,000 square feet he originally bargained for.
"You go through the programming process and those guys have a wish list of spaces and square footages, and inevitably they are the first to get hit whenever you have to reduce the project's scope or budget," says Nate Appleman, project designer at HOK Sport, which is handling the Missouri renovation. "It seems to me that they know it's coming, so they shoot for the stars and then realize that if they get 60 percent of what they asked for, they'll be just fine."
Not always, according to sports facility consultant Bob Fatovic, who agrees that storage is often the first space to go, but "after it goes, it is expensive to get back,"
"At the American Bank Center in Corpus Christi, Texas, we were asked to take out an entire bay of structured building space to get the project within budget," Fatovic says. "Well, what was eliminated was storage. Now, the event management company is struggling to deal with that lack of storage, and it has been talking about adding a metal shed. While this may be a low-cost solution, it will detract from the aesthetic of the building."
As it turned out, the equipment room represents roughly five percent of the Missouri project scope, according to Appleman, who admits that's "not a lot." Says Barnes, "We really looked for some new ways to make better use of the space we had. By using this high-density modular storage, we can get so much more storage space in there."
Dana Marquez can relate. When he came to Auburn University from the University of California, Berkeley, three months ago, he brought his allegiance to compact mobile storage with him.
At Cal, Marquez was required to fit equipment for 21 of the school's 27 sports within one 500-square-foot space, and he did it with eight Spacesaver carriages. At Auburn, five Spacesaver carriages were installed this summer within the Tigers' 3,000-square-foot football room, per Marquez's request. Why not more storage? "Because I didn't need it," he says.
Marquez, who considered both Spacesaver and GearBoss this go-round, also concluded that he didn't need to take his storage carriages outside the equipment room. Like many major college football programs, Auburn views its semi trailer as de facto storage space. "I have 12 trunks that are full year-round, and those stay on my truck anyway," Marquez says. "The only thing I'm throwing on the truck is players' travel bags, which include their helmet, their shoulder pads and a laundry loop."
Barnes, meanwhile, has seen Auburn's 48-foot trailer in a new light, thanks to GearBoss. "I can simply wheel the cart off the track, put it up on the truck and take it with me," he says. "It's going to eliminate travel trunks for us."
Though they may not always get their desired square footage, athletic equipment managers should seize the rare opportunity afforded by renovation or new construction to advise designers regarding their dream floor plan, according to Appleman. That way, the most efficient facility layout for the handling of equipment can be realized, based not only on the equipment room's proximity to the loading dock, but also on the path of student-athletes passing through on a daily basis - from the pickup of workout gear on their way to locker and training rooms to their drop-off of laundry as they head to team meeting rooms and academic suites. "It's really critical to get inside the equipment manager's head and understand his day-to-day operations, as well as the day-to-day routine of the student-athlete," Appleman says.
A student-athlete's decision to attend a school may come down to his or her first impressions. And because the NCAA now prohibits the display of jerseys in any setting other than the game-day locker room or where they are stored the balance of the time (to help prevent schools from personalizing the recruiting experience by putting names on jerseys, lockers and facility message boards), the equipment room has emerged as a prominent stop during recruiting visits.
"It's one of the highlights of the day," says Barnes. "These kids are coming in to see what we have to offer, so we'll lay out on a table every single piece of Nike equipment they'll see in their time here at Missouri. That's the nature of an 18-year-old right now: `What do I get? Who has neater-looking stuff?' "
Barnes even plans to dress up his GearBoss system for such occasions. The aforementioned nine shoe carts, which exhibit a standard metal-grill appearance upon delivery, will each be faced with a portion of a panoramic photo showing the Tigers' line of scrimmage from the knees down. "There'll be no doubt in anyone's mind that what's in those cabinets is shoes," Barnes says. "We want recruits to say, `Wow!' "
Spacesaver will spare enough square footage within Auburn's equipment room to allow recruits to put their feet up and stay awhile, according to Marquez. "We're going to put a recruiting lounge with couches inside our equipment room," he says. "And since we just signed a deal with Under Armourr, we're going to have a display case inside our equipment room with everything that each of our players receives. We bring in recruits and they see that our system is professional, clean and organized. It shows them that we're taking pride in our equipment. That, for me, was a very important thing to bring to Auburn."
Institutional pride is a key selling point of Wenger's Nelson, too. "Not only at the college level, where this is a recruiting stop, but at the high school level, where kids are given life messages of excellence and discipline and team and personal bests," he says. "These are things every coach hopes his or her student-athletes leave school having learned. And when the kids hear those messages but see themselves surrounded by facilities that don't reflect those messages, there's a huge disconnect."
Alas, what separates some equipment managers from compact mobile storage systems is not a lack of pride, but a paucity of expendable resources. According to Batterman, a client can expect to pay $2.50 per linear inch of storage space in a Spacesaver system. Wenger quotes GearBoss prices by the cart, Nelson says, adding that a single unit can run anywhere from $1,700 to $2,300, depending on desired accessories. And equipment managers can't completely abandon those time-tested equipment items - from storage bins to ball racks - that are best suited to the actual practice site.
However, both compact-storage companies promise some economic tradeoffs. By reducing required storage space, a new construction budget can be tightened a belt notch or two. Ongoing utilities savings also exist within smaller spaces that require less of lighting and HVAC systems. Over time, improved organization and ventilation of athletic equipment should prolong its functionality, and improved security should deter theft.
A less tangible byproduct of these latest storage technologies is the time and effort saved by those managing the equipment. "I think more and more people are starting to invest in these types of systems," says Stewart Carter, athletic equipment manager at Georgia Southern University, which invested in GearBoss as part of a recent renovation of Hanner Field House. "If you store equipment properly, it helps make what you're buying last longer. Plus, it makes your job easier. My equipment room had been a patchwork of different cabinets since football returned to Georgia Southern in 1982. I had hooks on the walls and on the ceiling, and when we would store football helmets in the off-season, things were everywhere. I knew where stuff was, but if somebody else walked in, it would just kind of look thrown together - which it was. Now when you walk in, it's nice and organized. That's probably the biggest thing for me, being able to organize things better and have a place to store things properly."
Barnes, whose equipment currently occupies an old dressing room for referees, can hardly wait until the Mizzou renovation is complete and his house is fully in order. "Right now, I have to move things out of the way," he says. "It's very easy for the room to look unorganized - messy - because we just don't have the space. We haven't had a home for everything. Soon, every item we have is going to have a home."