Options abound when specifying safe, easy-to-maintain and cost-effective flooring for locker and shower areas.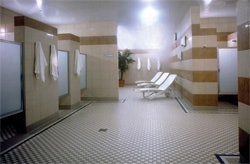 Some things never change. That adage is as old and worn as the floors in some recreation and athletic facilities' locker rooms. But it also happens to be (mostly) true when discussing wet-area surface options. Although a wide range of options exists - from inexpensive concrete and flow-through interlocking tiles to midpriced ceramic tiles and poured epoxy to high-end carpet, porcelain, slate and marble tiles - the properties of various surface choices are about the same now as they were 15 or 20 years ago. Thus, the decision-making process remains about the same, too. Almost.
Granted, facility operators must not only choose the right surface to fit the building's aesthetic, they also need one that combines slip resistance with ease of maintenance. "As you move toward anti-slip floors, the surfaces get more difficult to clean," says Terry Barkley, a vice president at Cannon Design in Vancouver, B.C. "The texture that keeps people from slipping is also what collects dirt."
But there is a new wild card that is further complicating building owners' and architects' selection decision: environmental responsibility. Architects and flooring manufacturers alike are placing new emphasis on voluntary standards established under the LEED Green Building Rating Systemr - a measurement of green design developed and administered by the United States Green Building Council. That approach has led to new design possibilities using alternative treatments of concrete and other surfaces. While these have yet to be proven in a locker room environment, they have captured designers' fancy with their potential. "People used to clean surfaces using a lot of chemicals and acid wash, substances that just aren't acceptable anymore," Barkley says. "The more cleaning you have to do, the more chemicals you're putting into the environment."
Budget constraints, more so than slip resistance and maintainability, often determine the type of surfaces installed in locker rooms. But unlike several years ago, when it was easy to definitively state that building operators could expect to pay more per square foot for certain types of ceramic tile than they would for any other type of surface, too many variables and fluctuating price points exist today to declare one surface significantly and consistently more costly than the rest.
Keeping in mind that warm colors, wood finishes and indirect lighting combine to make a locker room environment friendly and inviting, Chris Kastelic of Denver-based architecture firm Sink Combs Dethlefs adds that it makes sense to up the ante a little more on locker room surfaces, too. "If you look at people's homes, where do they spend the most money? It's in the kitchen or the master bathroom, where they spend a lot of their time," he says. "It's no different in a recreation center. Some designers tend to see the locker room as a utilitarian place that people don't appreciate, and that's not really the case. That's the main place people will be more likely to comment on whether or not it's to their liking. If you go to a facility and see a poor locker room, that's definitely going to weigh on you, no matter how nice the rest of the facility is."
Here, then, is a list of the most common traditional wet-area flooring options, as well as emerging LEED-compliant possibilities.
Tile Because of its durability and smooth, clean look, ceramic tile is commonly used for wet areas in and around showers, regardless of what other materials are specified for the remainder of the locker room - although those surfaces are often tile, too. Unfortunately, smoothness can lead to slipperiness, and grout can attract large amounts of mold and bacteria. Still, allegiance among architects to ceramic tile remains strong.
"If a client were to ask me what I would recommend, it would be ceramic tile," Kastelic says. "The maintenance issues are minimal compared to the benefits. It's a durable finish, it has good slip resistance if you use unglazed one-by-one- or two-by-two-inch tiles, and it provides lots of options with colors and designs, which we as architects love. If you go with medium- to dark-colored tiles and use deeper-colored grouts and appropriate sealers, you won't have to deal with as many of the mold and staining issues as you might otherwise. It's also simply the most appropriate product for a locker room."
Although the price of specialty tiles such as porcelain, slate, mosaic and marble limits their applications, standard ceramic tiles typically cost only slightly more than coated concrete and poured epoxy.
Poured Epoxy Poured epoxy floors used to be a more popular choice (although not quite as popular as tile) largely because of their resiliency and slip resistance. Kastelic goes so far as to call them "bulletproof." However, their installation produces volatile organic compounds that do not comply with LEED. Epoxy floors take a few days to install, as several layers of clear epoxy are troweled down, each one left to cure before the next layer. Often, colored quartz granules are broadcast over the top layer before it finishes curing, and then one or more topcoats of sealer are applied. Both the epoxy and the quartz contribute to the surface's slip resistance.
The finished floor is usually 1¼8-inch thick, but it can be laid as thick as a quarter-inch, and its appearance can be altered with various topcoats to make the surface smoother (like an orange peel) or rougher (like medium-grit sandpaper). But remember, the rougher the surface, the more dirt it traps, requiring additional and more complicated cleaning.
Despite its durability, poured epoxy doesn't always adhere properly to surfaces that aren't level, and it can be prone to cracking - just like concrete.
Coated Concrete Usually used in conjunction with secondary finishes (paint, thick sealers or stain) that can drive up costs, concrete's reputation as an inexpensive alternative to tile or poured epoxy can be misleading. "By the time you protect the floors, put down a stain and seal it, you've paid $4.50 a square foot, when you could have used poured epoxy for $4 to $4.50 or ceramic tile for $7 or $7.50," Kastelic says.
Cleanability is easy enough, because the surface is not textured. Of course, that means concrete gets slippery - a characteristic that can be controlled by consistently maintaining the coating. Non-skid strips, for example, can be applied for little additional cost. Broom-finished concrete, like that often found on pool decks, also adds texture to wet areas in which aesthetics are secondary to functionality and durability.
Rubber/Vinyl/Acrylic Despite its slip resistance, rubber flooring can be difficult to maintain. Some facility managers have been known to wax the rubber to give it a more appealing sheen. Too much buildup, however, inhibits slip resistance and leaves marks. Sheet-good vinyl with a non-slip additive offers a viable alternative.
Additionally, architects see wet-room potential in poured acrylic, which features easy-to-maintain finishes similar to linoleum. So far, though, the product is most commonly found in kitchen, janitorial and rest-room applications. Although a mica grit is embedded in the acrylic surface, its limited slip resistance may restrict its use in wet areas.
Rubber, acrylic and vinyl surfaces can provide the benefits of poured epoxy without requiring the use of caustic installation materials, and in the case of rubber and vinyl, seams can be heat-welded to prevent the growth of mold and the gathering of grime.
Carpet Carpet, still considered the flooring of choice for elite health clubs and fitness centers, can also be found in less elaborate facilities where managers want to create a locker room environment that is quieter and more comforting on bare feet.
Concerns about mold, deterioration and odor from constant water exposure have been allayed in recent years by advanced antimicrobial technology utilized by several carpet manufacturers. Nevertheless, locker rooms are moist environments in which the potential for mold growth and other damage is great. Consult the carpet's installer for daily maintenance practices. If carpets do suffer water damage, they will need to be replaced, sometimes with ceramic tile and more resilient surfaces.
Flow-Through Tile Typically the only locker room surface that is not permanent, flow-through interlocking tiles come in plastic, rubber, vinyl or a combination of those materials. They are often impregnated with an antibacterial agent and configured so that the squares snap together to form mats that are laid directly over concrete, ceramic tile and other wet area surfaces. They are used in areas where poor drainage has left standing water, or where floors have become cracked, peeled, chipped or otherwise damaged. They're also used by facility managers concerned with the poor slip resistance of their permanent floors, or to bridge wet and dry areas.
Maintenance is usually accomplished by physically moving the tiles and spraying them on both sides to ensure complete cleanliness. In some cases, that may require partial disassembly.
Exposed Concrete and Punched Surfaces As certain surface treatments become more cost-prohibitive or environmentally unfeasible, fitness and recreation facility architects are looking to outside industries and other countries to find alternatives. In Europe, for example, a mechanical process that embeds marble and other smooth surfaces with thousands of anti-slip dimples has caught Barkley's attention and could be used in locker rooms to give traditionally slippery surfaces more grip.
Kastelic, meanwhile, sees some potential in a process that grinds pigment into concrete with increasing degrees of fineness, essentially creating terrazzo - which is made with poured concrete inset with lead expansion joints and dense pebbles ground down and polished to provide a marble-granite appearance. Cost of the pigmentation process would depend on the degree of grind and polish. Although Kastelic says his firm has yet to use the concrete treatment in a locker room environment, it would eliminate the need for topical sealers and adhesives but might also pose challenges in terms of slip resistance.
When considering any of the aforementioned surfaces, it's important to test their slip resistance before they're installed, Barkley says. "Nobody sues you because you don't have the right ceiling tiles, but people could very well sue you if they slip and break an arm or a leg," he says. "Wet-area flooring is not a good place to become a risk taker. An extra level of care has to be considered. You could save $100 on a surface but attract a $2 million lawsuit. Where's the logic in that?"
Barkley suggests obtaining five-foot-square sample pieces of the surfaces under consideration, applying them in the locker room environment and then testing (albeit unscientifically) their slipperiness using water and the bare feet of facility staff members, architects and building code authorities. "We establish a requirement in our documentation that a test panel be used to determine the standard for each facility," Barkley says. "Otherwise, `good enough' is the determination of the architect alone, and that can be very dangerous."
This approach has resulted in spec changes to many Cannon projects, Barkley adds. "The slip resistance is adjusted until we have common agreement. It's important that the acceptability is broadly determined by everybody who has a stake in the facility. I think that's a reasonable basis by which to proceed."
When proceeding, it's important to strike a balance between safety, maintainability, aesthetics and durability. "People are comfortable in facilities that look like they've been maintained and kept clean," Kastelic says. "Granted, a tile floor is not the warmest and most comforting material, but a floor that's stained and grimy isn't exactly welcoming, either."