Virulent bacteria and a germ-sensitive public are forcing fitness pros to look more closely at locker room cleanliness.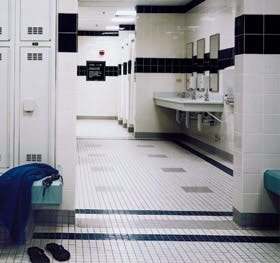 When prospective fitness club members tour new facilities, one of the last and traditionally least exciting stops is the locker room. By contrast, for cunning and mal-intentioned pathogens like fungi and bacteria, the dank environment of the locker room makes it a premier destination spot.
Fungal infections, like athlete's foot, have long been associated with humid locker rooms. Now the bacterium methicillin-resistant staphylococcus aureus, or MRSA, which was once thought confined to hospitals and prisons, has been making its way into some athletic facilities. MRSA, often called a "super bug" for its resistance to traditional antibiotics, has been responsible for temporarily sidelining several well-known professional athletes, including a handful of NFL players, and even killing some amateur ones.
Kelly Malohn, regional general manager for Fitness Formula Clubs, which has eight facilities mostly in the Chicago area, says many patrons are no longer satisfied with a locker room that merely looks clean. She suggests the definition of "clean" has expanded to include bacteria-proof.
"It has always been a major concern for people that they have a clean facility," she says. "I think the germ-specific and the disease-transmission-specific stuff probably has been more of an issue in the past few years."
Keeping a clean locker room, let alone anything approaching bacteria-proof, presents an interesting challenge to fitness club owners, most of whom deal with dramatically varying traffic flows throughout a given day. The locker rooms at Fitness Formula Clubs' largest facility, the 85,000-square-foot Union Station club, see about 1,100 to 1,500 patrons pass through every day, and most of them at one of two peak times: the pre-workday hour and the post-workday hour. Most other large clubs also enjoy a lunchtime rush. During peak times, most fitness clubs will have staff dedicated strictly to the locker room - picking up towels, removing trash and wiping down sinks, vanities and countertops with disinfectant spray. At Fitness First, says Malohn, in-house and contracted maintenance crews get into the locker room following peak hours to do some "really hardcore washing."
"The floors are of utmost concern, and obviously so are the wet areas," Malohn says. "They're cleaned with disinfectant after each of our peak periods, and then they're power-washed at the end of each day." The club encourages members to use some sort of water shoe when walking around the locker room, and is also switching to hands-free fixtures like motion-sensitive hand driers. Malohn says the fewer things staff and patrons have to touch within the locker room, the better.
Craig Andrews, CEO of the Coatings Specialist Group, whose SportCoatings division provides antimicrobial surface treatments to professional teams, collegiate athletics departments and school districts, says bigger and stronger bacteria like MRSA are becoming more common in locker rooms throughout the country. MRSA, which is spread through open wounds and is often marked by a small boil on the skin, is known to have killed seemingly healthy young athletes in as little as 72 hours after infection. The NFL's Washington Redskins and St. Louis Rams, among other professional teams and colleges, have ordered specific antimicrobial locker room treatments after diagnoses of MRSA outbreaks.
Andrews suggests that most athletic or fitness facilities aren't equipped for battle with bacteria like MRSA. "Locker rooms have long been treated by - let's call it a cleaning service," he says. "And that cleaning service has two responsibilities - to clean the obvious visible surfaces and to make the room smell better." That doesn't always cut it, Andrews says. "You can't treat a locker room with a disinfectant like you'd use a Lysol® disinfectant in your shower at home. They are not the same playground."
Kari Bedgood, associate marketing manager at Club One Fitness, which has 13 franchises in northern California and six Frog's Fitness Clubs in southern California, says the company strongly encourages its staff and patrons to use antibacterial (and environmentally friendly) wipes, especially when in the locker room. She says the more aware patrons become of bacteria like MRSA, the more they'll be inclined to take hold of the antibacterial wipes, which the company strategically places at sanitizing stations throughout the gym floor and locker room.
Bedgood says the company isn't necessarily driven by fear of things like staph and MRSA. Rather, she says, it all boils down to a premise that hasn't wavered over the years: Patrons want cleanliness, even if the definition of cleanliness has expanded.
"People want to be someplace that feels comfortable," she says. "We try to do everything we can to help our members feel safe."