Technological innovations and a demand for customization mean more locker choices may be in store.
College football's ugliest uniforms need somewhere to hang. But the wood lockers within the University of Oregon's two-story, multimillion-dollar football locker facility are so much more than just places to hang jerseys. Players access their individual lockers only after entering their uniform number and a thumbprint scan. Once "inside," Ducks can connect to Internet and gaming ports housed within the locker cavity - all the while benefiting from individual locker ventilation systems. And, yes, Ducks players can store their stuff, too.
Naturally, not everyone in need of new lockers has the financial - or even conceptual - freedom to install lockers like those in Eugene. That doesn't mean the choices surrounding locker systems should be stowed away in favor of more pressing decisions. Says one manufacturer, "Lockers tend to get less than one-quarter of one percent of the overall budget, but they're one item a facility can't open its doors without."
Lockers, indeed, are often one of the last furnishings to fill a new facility. As such, unanticipated financial shortfalls and a rush to complete a construction project on time can compromise their selection. And since lockers are replaced, on average, just once every 11 years - primarily for aesthetic reasons tied to a locker room makeover - locker choices can help seal a facility's image, for better or worse. Thankfully, those in need of locker systems now have more choices than ever. "The trend is for diversity in lockers right now," one manufacturer says. "It's all about custom-making everything so you can mix and match to fit a facility's needs."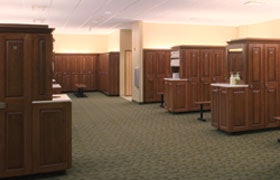 What wood lacks in durability, it makes up for in visual and textural appeal, making it a popular choice for high-end club owners.
For decades, architects, contractors or facility owners in need of locker solutions had essentially two materials options - steel fabricated in standardized sizes or custom-built wood. Says one manufacturer, "With the true locker manufacturers - the steel guys - you would have basically six different sizes and two different colors. They would say, 'How many do you want?' Then they would ship them to you knocked down. They were rugged, durable, noisy."
To be sure, metal lockers are still loud, still durable and still often the most economical option, despite dramatic spikes in the cost of steel over the past five years. Many manufacturers still ship them knocked down, requiring assembly on the part of the user, and the fabrication process can be inherently limiting because it requires large quantities to make a production run feasible. Despite these drawbacks, evolutions in steel locker manufacturing have allowed the material to maintain its market dominance. (It still holds between 70 and 80 percent of the market, according to several manufacturers, not all of them in the business of steel.)
Metal lockers now come in an array of shapes and sizes, from standard single-tier versions to models with as many as eight tiers. Ventilation systems that go well beyond simple door louvers and involve multiple locker panels can prevent the growth of bacteria and fungi, as can the application of new antimicrobial treatments. Painting and coating technologies have allowed previously impossible options for custom looks and protection against vandalism. (Multiple manufacturers boast powder-coating that allows for over-the-counter cleaning supplies to undo damage commonly caused by markers and spray paints.) Increased options for the gauge of steel used, as well as the prevalence of all-welded construction, have further maximized the durability and market formidability of steel lockers.
Wood has likewise evolved, as many manufacturers embraced the raw material after recognizing a demand in health clubs and other higher-end athletic facilities. Previously, says one manufacturer, facility operators "would have to go to a millworks or a cabinet shop and have them made. They may not have ever made lockers before and they may not have ever made them again, but for that one time they would make lockers to fit with all your entryways, paneling and other woodwork."
While the interiors of most wood lockers are composed of synthetic materials such as plastic laminate, real wood still requires delicate care in order to maintain the prestige that endears it to club owners, university administrators and professional team owners. "When you're talking about natural wood lockers, the issue of durability doesn't enter the conversation. That's not the issue. Those people want luxury and elegance. Aesthetics is the most important part," says one wood locker manufacturer, who likens wood lockers to high-end effects, both in terms of style and maintenance requirements. "With a natural wood finish, you can't use just any ammonia-based cleaning agents. You have to treat it like the fine, finished furniture it is - using wood sprays, furniture waxes and polishes."
Wood obviously offers some flexibility as a raw material, and manufacturers have invested more in recent years in order to offer more customizable options for shape and color. With virtually any type of wood available - from Honduras mahogany and English Sycamore to more traditional oaks and maples - and wide varieties of stains, veneers and laminates, color and hardness options abound.
Wood does have its environmental limitations. For example, it may not be an advisable choice for lockers flanking a humid indoor pool area. However, wood lockers within a locker room can get along swimmingly with nearby aquatics facilities as long as operators take the proper precautions by offering moisture-mitigating tools such as swimsuit extractors. One manufacturer cautions, "If you've got something that's sitting soaking wet inside a locker, that's eventually going to cause mildew. And mildew can shut a club down."
While galvanization processes have allowed some steel lockers to better fend off corrosion in the vapor- and chemical-laden environments created by indoor pools, manufacturers of plastic are quick to point out the rust-proof qualities of their products. Says one such manufacturer, "Those old metal lockers just aren't going to cut it anymore. They'll eventually rust out."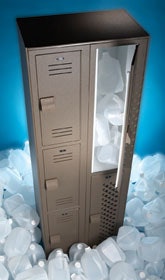 Plastic lockers and environmental friendliness aren't necessarily synonyms, but that may be changing as evidenced by newer recycled options, such as this 100 percent post-consumer hard plastic recycled locker.
Plastic - which is available in fabricated forms or can be molded to meet certain specifications, depending on the manufacturer - likewise is easy to clean and can be treated with antifungal and antimicrobial agents. It comes in virtually limitless color and size configurations, and can be finished with special resins to create interesting textures and looks. (For example, plastic lockers treated to resemble granite are available.) In athletic applications where sound control is an issue, plastic certainly is more desirable than metal. Manufacturers also suggest the material can rival steel in its ability to mitigate locker damage and wear. "If you hit a plastic locker with a hammer, the hammer bounces back," says one plastic locker manufacturer. "If you do that with a metal locker, you get a big dent. We have lockers in heavy industrial environments that are 10 or 12 years old and holding up very well."
Plastic is also widely used as a laminate to particleboard. Plastic-laminate lockers have similarly gained traction in the industry because of increasing options for customization of look and size, and because of their ability to withstand a multitude of environments.
Even relatively recent news events have altered the materials and design of lockers. For example, given the past decade's rash of school shootings, such as at Columbine High School and Virginia Tech University, some schools have taken to lockers with transparent doors, allowing administrators to view contents. More recently, with the widely reported cases of potentially fatal methicillin-resistant staphylococcus aureus, or MRSA, more locker manufacturers are offering coatings with built-in antimicrobial properties.
These automated cylindrical lockers are futuristic in both look and function, as they rotate and make contents available only when prompted by a registered user.
No matter a locker's physical composition, it still must perform its primary responsibility (to keep things locked), and facility operators must weigh the security capacity of the locking mechanism against considerations such as style, potential burden on staff, cost, user tastes, potential for revenue and durability. Whether for assigned or unassigned lockers, available locking mechanisms range from old-school to ultramodern.
Built-in key locks can provide patrons a feeling of ownership in having a private locker, but lost and potentially stolen keys can require extra time and energy of facility staff. Built-in combination locks can offer the same reward without the staff hassle, but they may not provide the same level of security as padlocking options. But durable padlocks have drawbacks too. For one, patrons may perceive having to carry around a weighty lock to and from the facility as an inconvenience. Coin-operated options can provide facility owners with a significant revenue source, and their virtual self-sustainability may be an added benefit. Says one manufacturer, "Some operators aren't even thinking of the extra revenue. They're just tired of having to do things like administer keys." The option does, however, require patrons to have quarters on hand, a potential inconvenience that could seriously taint a cash-less person's experience.
All of these options are tried and tested, readily available through most manufacturers and relatively economical. Relative, that is, to the new age of locking. Perhaps more than any other element of the locker industry, locking itself has taken a decidedly technological turn.
Keypads, the original digital locking option in which users type in a number password for locker door access, have become affordable enough for some owners that they are no longer viable only for exterior facility doors or high-security rooms. Other high-tech locking mechanisms incorporate software that allows facility operators further control over locker usage. One system requires that locker-goers swipe a coded card through a card-reader in order to open the automated door to their assigned locker. The opening or closing of any lockers assigned to the system are logged into a central database, and the software allows operators complete control over locker accessibility (for example, the card reader won't recognize attempts to open the locker outside a facility's operating hours). The system can recognize forced or attempted unauthorized entries, and immediately send a virtual red flag to operators showing the precise date and time of the infraction. Yet another system grants controlled access through the use of a biometric fingerprint scanner.
At least one manufacturer now offers a cash-free take on traditional coin-operated lockers with a product that allows users to simply swipe a credit card for instant access and pay for the amount of time used. Such systems have found footing in amusement parks, museums, convention centers and other heavily trafficked locales in which customers may wish to unburden their arms or pockets of annoyingly weighty personal items, and one manufacturer believes it's only a matter of time before such digitally controlled, revenue-bearing locker systems find favor in the athletics industry. "There are more recreation-type places like waterparks popping up all over where the parents bring their kids and they may just want to stow some things for the short period of time that they're there," he says.
While such systems are just now making their way into athletic facilities, experts agree that technological innovations are enlivening a locker market that for decades had been marked by standardization in terms of sizing, materials and actual locking options. "They're building these now so you can have iPod docks and Internet connections right there in your locker," says one locker company representative. "The last thing I personally want to do when I'm at the gym is check my e-mail, but it's still a cool concept."