Erica Ford, team seamstress and laundry attendant for the Los Angeles Angels of Anaheim, provides a closer look at her job.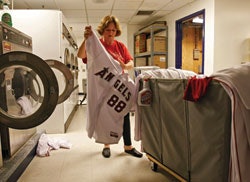 She won't miss reporting for work at 3 a.m. or folding 300 towels once she gets there. She won't even miss the baseball all that much (her favorite sport is hockey). But after 13 years with the Los Angeles Angels of Anaheim, team seamstress and laundry attendant Erica Ford, who is leaving her post after this season, will miss the friendship of equipment managers and clubhouse attendants, some of whom on the odd off day would deliver a visiting team jersey in need of repair to her home a mile and a half from Angel Stadium, sparing her the trip. So nimble are her sewing skills, self-taught and honed on her daughters' choir dresses and wedding gowns, that Ford has made fans out of individual players around the league. "It doesn't take tons of skill to zig-zag numbers on a jersey," she says modestly, adding of the placement requirements (one inch below the MLB logo for player names, seven inches down for numerals), "In the beginning I was a measurer; now I'm an eyeballer." Paul Steinbach asked Ford, who also works with special-needs children in the Anaheim school system, for a closer look at her (really early) day job.
Q: Are MLB players superstitious about their uniforms? A: Not so much the jerseys as pants. Oh, yeah, their pants are lucky. Don't ask me why. I had a Seattle player whose pants I would mend and go, "My God, I don't know what I'm going to mend this to." It was just patch upon patch upon patch.
Q: Got any laundry area design tips? A: I'm a fanatic about lights. There needs to be enough lighting in areas where you're pre-spotting uniforms or looking for holes. You also need a lot of electrical outlets for sewing machines, irons and the heat sealer used to apply numbers to batting practice jerseys. All of those things should not be running off of one outlet.
Q: Is yours a comfortable work environment? A: Our air conditioning doesn't kick in until 7 in the morning. I have a vented window that leads into the tunnel, and generally there's a nice breeze. But when it's just me and one security guard, I'm not comfortable having the door open. It's just a dark, creepy stadium at that hour of the morning. I have a fan in the room, but it's not near the washers and dryers. Big fans would help. Again, more outlets.
Q: Has your appreciation of baseball grown since joining the Angels? A: Baseball's okay, but I find it very slow. I like a fast-paced game. I do enjoy being able to take my grandsons downstairs into the clubhouse. They get to meet the players. That's where my enjoyment comes from.
Q: Any other perks come with the job? A: I used to be able to get tickets to all the games, but the IRS has clamped down. Now they're considered part of your pay. I've got a big-screen TV at home; the games are on and I do watch.
Q: When you see an Angel base runner about to cover himself chest to knees in dirt with a headfirst slide, what are you thinking? A: I'm standing there yelling, "Don't you dare slide!"
Q: Angels all the way this season? A: I'm hoping. I'd like to go out a winner.