Non-revenue sports are gaining access to sophisticated indoor practice facilities.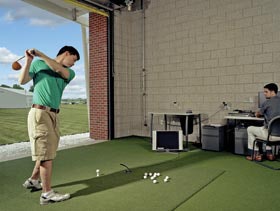 University of Illinois golf team members take year-round advantage of heated indoor tee-box bays featuring swing analysis technology.
Many of today's campus-based indoor practice facilities house a number of sports under one roof. While revenue-generating football and basketball programs maintain the highest profiles at colleges and universities, other sports such as golf, softball, soccer, tennis, baseball, lacrosse, and even intramurals and marching band activities are receiving increasingly equitable treatment within shared facilities. Some are even being handed keys to facilities of their own. Designed to be nearly around-the-clock hubs of sports activities, practice facilities present designers and athletics administrators with a number of logistical challenges. They should provide highly flexible spaces that can accommodate several sports at the same time, while enhancing player safety and creating the "feel" of outdoor play in a setting as close to game-like as possible. Most practice facilities are typically sited within the campus athletics "district," near the football stadium, basketball arena and other large sports venues. Because of their size, which typically encompasses a couple acres, practice facilities often develop a box-like profile, which in turn creates an additional design challenge - to create an exterior that fits within the campus's architectural context while minimizing the facility's perceived bulk. In order to accomplish all of these goals, designers must look closely at multiple aspects of the facility, including programming, structural systems, safety systems, synthetic turf systems, and various ventilation and lighting options.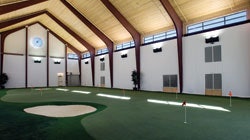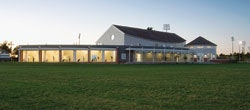 Designed to put collegiate players in a professional mind-set, the UI golf practice facility features amenities not found in a typical clubhouse - such as indoor pitching and putting surfaces.
The Illini's Club House
Designed to accommodate as many as 12 male and 12 female athletes, the University of Illinois golf practice facility is the largest facility of its kind in the nation, boasting roughly 7,000 square feet of space. Due to their desire to achieve the most natural ball response and roll, Illini golf coaches were quite opinionated about which type of turf system was specified. The density of the turf support material and the length of turf fibers were carefully chosen to simulate the different densities of natural grass fairways, greens and rough. In addition to an undulating putting and chipping area, the facility includes six bays for hitting into open fields, with two of the bays featuring filming capability. Heating systems located at large garage-like door openings keep players warm inside as they drive balls to the outdoors year-round. The facility presented designers with lighting challenges beyond those encountered in typical indoor practice spaces. High-bay fixtures were excluded from design consideration due to their characteristic bright spots and susceptibility to impact from balls. Instead, indirect lighting (with a special impact-resistant cover) and natural light from clerestory windows were used to make it easier and more natural to see golf balls in flight. In the putting and chipping space, a design challenge entailed finding a way to deaden balls that hit perimeter walls. Working with a netting consultant, designers created a floor-to-ceiling fabric panel system placed around the perimeter of the practice space to prevent the player injury risk that could result from ball ricochet. The facility also includes a players' lounge for team meetings and locker rooms designed to resemble those found in a traditional golf clubhouse to help collegiate players get in the mind-set of playing at a professional level.
- J.B.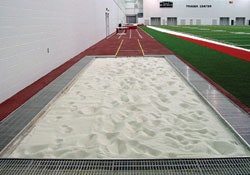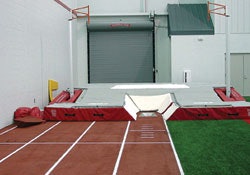 Track accommodations within the University of Louisville's Trager Center include long jump and pole vault pits at opposite ends of the building.
Programming
Design begins with site location and general building massing, establishing an architectural language for the exterior envelope based on its context. The designer's attention then turns to the facility's functional elements and sports programs, established in conjunction with the university's athletic department and its architect. Since some combination of sports will be using these facilities, but rarely to the same extent, usage priority often depends on the existence of additional support facilities for certain sports. Once the sports are determined, support spaces such as training rooms, storage areas and locker rooms can be delineated. In addition, many practice facilities will double as assembly places for special events, a consideration that will influence the number and size of restroom accommodations. Some universities have included educational spaces for student-athletes, conference rooms, staff offices, warming kitchens, high-end lobbies and even gift shops as ancillary spaces. Often the main entrance serves as a place to showcase trophies and photos for the benefit of visitors, alumni and recruits. Each of these functional elements provides additional challenges and opportunities regarding chosen building systems, user safety and security. While the actual practice surface remains the organizing principle, other elements must be placed appropriately and cohesively around this central focal point. An additional consideration for many universities and colleges is whether to integrate indoor track and field elements into the indoor practice area. Although an NCAA-regulation track and field layout is usually desired, it typically doubles the footprint and height of the facility and is thus often deemed financially prohibitive. More commonly, four to six 100-yard dash track lanes are installed along one side of the practice field, and areas are designated for pole vaulting and long/high jumping. The University of Louisville's Trager Center is a good example of this sort of integration. At Trager, the pole vault lane and pit are located at one end of the track, while the long jump/triple jump area is at the opposite end. Note that a minimum 25 feet of clearance is needed to avoid pole-vaulter contact with lights, structural components or any other protrusions that could potentially cause injury.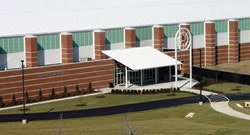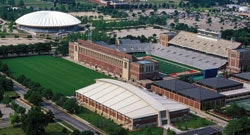 Exterior columns (top) break up massing and keep interior walls as planar as possible. A large box-truss roof system (bottom) provides desired ceiling height while reducing sidewall scale to fit site context.
Structural Systems
Once the building's purpose and program are identified, the design team begins analysis of which structural system makes the most sense within the context of the project site. Structural systems in practice facilities play a major role in exterior appearance and interior functionality. Column systems can be moved to the outside of exterior walls to avoid projections into the playing space, thus mitigating a significant safety risk and eliminating the need for interior wall padding. In addition, all potential projections into the playing space created by door openings, fire extinguishers and drinking fountains should be recessed within the perimeter wall system, maintaining as planar an interior wall as possible. A secondary benefit to moving columns to the exterior is that it allows options for breaking up the building's large box exterior appearance. Roof system design can vary from a standard metal deck with rigid insulation and a membrane to insulated metal panels. The system used typically depends on the site context of the building and the massing of the box. The structural shape of the box is typically limited to the more economical short span, translating into a bent-beam or truss system. The exterior skin of these facilities can be both aesthetically appealing and structural. Reinforced concrete masonry units often wrap the interior perimeter for structural bracing, while a decorative face on the CMU (or brick veneer, metal panels or even a stone veneer) can be applied as the exterior skin - all dependent on site context, of course. An example of how exterior form is influenced by site context can be seen in the Irwin Indoor Practice Facility at the University of Illinois, which placed a height limitation on the facility's perimeter sidewall to match an adjacent intramural building, potentially and significantly limiting the desired height in the facility's center. The design approach attacked the box by configuring the roof support systems in the long-span direction and developed a large box-truss arching over the entire field, starting out at the maximum height noted above and arching to the greater desired height in the center of the facility, which accommodates football, soccer, baseball and softball. Taking a tortoise-like shape, the roof slopes down from the centered, lengthwise arch to the exterior sidewall system, which is a composite of reinforced masonry units with a brick veneer and stone accents reminiscent of the historic Memorial Stadium located across from the new facility. Colorado State University's indoor practice facility, on the other hand, features a metal, segmented bent-beam structural system with the structural purlins raised to different heights to simulate a curved roof. This design required tighter column spacing and larger columns, resulting in an entirely different aesthetic.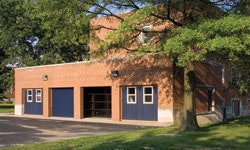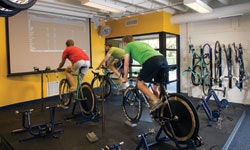 Carved out of an existing maintenance facility, Marian's cycling training center is among the most technologically advanced in the country.
Marian's Recycled Cycling Center
Indianapolis' Marian College, a perennial powerhouse in track cycling and a 10-time national champion, rolled into its new cycling training center in 2007. According to cycling coach Dean Peterson, the center, with its state-of-the-art computer and video capabilities, allows the Knights to "combine world class physiological and biomechanical training systems with the latest technology available in the sport of cycling." The 1,500-square-foot center is carved out of an existing maintenance facility to save costs, yet is one of the most advanced training venues in the country. The center includes 10 CompuTrainer
TM
units that turn competitive bicycles into stationary units, a Velotron ergometer for team and public testing, and 12 stationary bikes positioned in front of an elevated instructor studio for campus/community fitness programming. The facility also contains a team lounge and an internal sound system with ceiling-mounted speakers piping music throughout the center. An important component of winter training regimens, the CompuTrainer system simulates actual course conditions while measuring an athlete's power, speed, pedal speed and heart rate. The Velotron allows an athlete to determine maximum and lactate power thresholds, and to analyze the efficiency of the pedal stroke. A video system and projection screen provide footage of actual racecourse segments, allowing student-athletes to simulate Tour de France rides through the Pyrenees and Alps. In the Major Taylor Velodrome, Marian College already has one of the world's top competition tracks. Its new training facility incorporates the technological advancements needed to further strengthen the Knights' competitive position in collegiate cycling.
- W.B.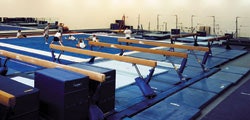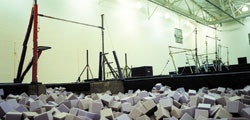 The space-efficient placement of apparatuses and padding was a prime consideration in the design of the WVU Women's Gymnastics Center.
Safety Systems
When dozens of athletes representing multiple sports teams are practicing at the same time within the same facility, safety becomes a major concern. Netting and rigging systems serve to divide playing fields for different uses while reducing injury risk, and can be configured for each use using a programmable central control panel. Perimeter field netting allows traffic to flow around the practice areas and helps prevent individuals from being struck by errant balls. Netting also contains errant balls for easy retrieval, and less chasing means more efficient use of practice time. More important, netting can help catch student-athletes - even the largest football players - who would otherwise be on a collision course with a facility wall. Certain sports pose a higher risk of injury than do others, and this alone may dictate the need for separate facilities. A gymnastics program, for example, benefits greatly from exclusive access to permanent pits filled with cubed foam in order to practice such potentially dangerous maneuvers as the vault. The West Virginia University Women's Gymnastics Center provides practice areas for every event within a minimal amount of space, and each area is outfitted with the appropriate safety pad or pit conditions, with additional safety pads placed between areas.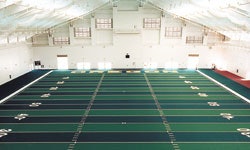 Lighting and ventilation systems combine with the chosen synthetic turf surface to create the "feel" of playing football outdoors.
Turf Systems
The type of synthetic turf used in a practice facility often reflects the personal preference of coaches and players. One deciding factor in choosing a turf system is how much it feels like real grass, which is what most athletes prefer. The turf itself often needs to simulate outdoor playing conditions, while minimizing common player injuries such as skin abrasions, or "turf burn." The turf market can be a volatile one, so finding a system with a good warranty from a company with staying power is advised. The underlying turf support system is another key element in designing a high-use, multifunctional practice facility. The base needs to be sufficiently firm to support practice equipment, such as blocking sleds and coaches stands, as well as the maintenance equipment needed to service the lighting system, yet still remain soft enough to mimic outdoor playing conditions and mitigate risk of player impact injuries. In addition, the base must have an effective drainage system to accommodate the accidental release of water from the fire sprinkler system, or general washing of the turf to reduce dust and mold-development. When accommodating multiple sports, surfacing integration must be considered. When it opens in 2009, Colorado State University's indoor practice and multipurpose facility will contain a synthetic turf football field, but also two pitching circles for the women's softball team. Designed with a material that does not disintegrate, yet provides the clay-like feel of an outdoor circle, the indoor versions face the football field from the side, so that pitchers are throwing toward the center of the building and into netting.
HVAC and Lighting Systems
Indoor practice facilities are usually heated, but, due to economics, rarely air-conditioned. The heating system utilizes a rotational air unit centered along one end wall so as to provide maximum circulation. In lieu of large air-conditioning units and ductwork, a push-pull fan system can be employed to push the air across the field below the 12-foot height while ignoring the huge volume of air above. Most practice facilities use a combination of direct and indirect lighting in high-bay fixtures, supplemented by natural diffused daylight from translucent wall panels. Generally, direct exterior light is avoided to minimize bright spots or distracting glare. A good lighting design maintains a level of 80 foot-candles, which simulates bright daylight and is conducive to interior filming.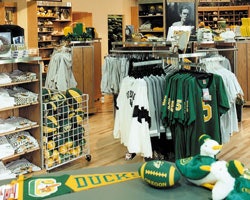 Some facility layouts even make room for retail shops.
While revenue-generating sports will continue to be a major focus of indoor practice facility design, colleges and universities have realized the advantages of providing many of the benefits and amenities to other competitive sports teams and campus intramural participants. Every facility is unique in the mix of sports it must accommodate and in the established goals for its use. Those factors dictate the building's structure, systems and safety measures. As construction costs continue to rise, so too does the need to provide athletic facilities that benefit all students. By developing indoor sports facilities that provide the same level of safety, sophistication and access to all students and student-athletes, schools can take full advantage of these recruiting assets.