The locker rooms are an integral part of a fitness facility, serving nearly every user who enters the building.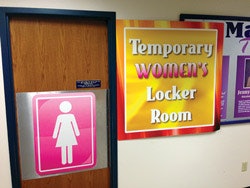 (Photos Courtesy of Michael Gaio)
The locker rooms are an integral part of a fitness facility, serving nearly every user who enters the building. "The locker room is the piece that people have a personal response to - and hate or love in about two seconds," says Alan Harmon, an architect with Dallas-based Brinkley Sargent Architects.
Keeping the locker rooms maintained and updated is essential, but closing them down for any significant renovation is impossible, leaving operators in the tough situation of finding a way to renovate a core aspect of a facility without impacting users.
"New construction is always easier because your members aren't in your way," says Bob Conley, vice president of operations at the Madison YMCA in New Jersey, which is renovating its locker rooms this summer. "You build something new and then invite them in when it's all done. With a renovation, it's just business as usual and you've got to make it all work."
Though the actual construction only recently began, the YMCA has been working on the logistics of the project for months, putting as much emphasis on planning temporary accommodations for its members as the actual finished product.
"Phasing becomes a big part of this type of project, almost bigger than the renovation itself," says Harmon. "You don't want to get members so aggravated that they give up and find someplace else to go. You want to make them excited about what's coming up next."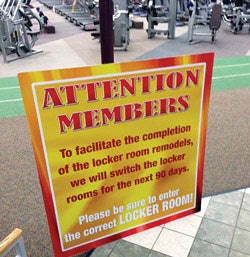 FRIENDLY PHASES Simply shutting down and renovating all locker rooms at once is an option, but not a very attractive one. The better option is to break the project down into parts, working on just one piece at a time and leaving at least one locker room open to users throughout the process. That's the approach being used at the McConnell Air Force Base fitness center in Wichita, Kan., where renovations began earlier this summer. "We're moving the men to the women's locker room and the women to what was the old VIP locker room," says fitness center director Bill Hageman. "We have 300 lockers in the men's room, only 150 in the women's and down to 50 in the VIP locker room."
It's a tight squeeze for locker rooms that are already too small to meet demand, but perhaps one of the upsides of locker room renovations is that members were most likely unhappy with the existing facilities to begin with. Users at the McConnell fitness center were more than willing to shift into smaller spaces in exchange for the promise of no more 20-year-old, rusted-out and gang showers. What each group is temporarily sacrificing in space, they're recouping in quality, says Hageman. "The VIP locker room is much nicer than the women's locker room, and the women's locker room is much nicer than the men's. It was pretty obvious when we started switching things around that the women took a lot better care of their locker room than the men did of theirs."
The Madison YMCA is also taking a musical-chairs approach to its renovation, shutting down two of four locker rooms dedicated to men, women, boys and girls. "Men and boys will be combined, women and girls will be combined," says Conley. "To accommodate multiple ages, we're doing temporary work to create segregated areas as needed."
Not every facility is fortunate enough to have more than two locker rooms. In such instances, more creative planning is required. "One YMCA had a 15-foot-wide corridor that we cut down to a 5-foot path walled off with plywood," Harmon says of a project he worked on with his previous firm. "The rest of it we made into a temporary locker room. We took all the lockers out of the locker room and put them out in the transition space."
While not the prettiest solution, it provided the changing and storage space members needed. In another instance, says Harmon, a facility rented a trailer for use as a makeshift locker room. Family locker rooms can also be outfitted with extra storage to temporarily accommodate extra users. "You might provide cubbies inside of the aerobics or exercise areas, too," adds Harmon. "If some members know that the locker room situation is not ideal, they'll come in changed and ready to go but have keys or a wallet. A cubby system works out for them, and typically ends up staying after the project is complete."
OPEN UP Once a plan is in place to accommodate members during the construction process, the next step is to make sure that members know about that plan. "The Westside YMCA in San Antonio had about 800 members when we started its renovation, and half a year later, they had 3,000 members," says Harmon. "They did a tremendous job of getting new membership with their 'new facility.' It was well developed, well marketed."
Months before the actual construction started, the Madison YMCA was getting word out via any means available to ensure that members were a part of the planning process. "We put up signs with surveys for people to fill out, we had staff hang out outside the lockers for a week or so grabbing members and asking for feedback," says Conley. "We did a series of town-hall meetings to share how the phasing would go and to get suggestions."
Staff members should be available throughout the facility during construction to answer questions, says Hageman. "We've been putting ourselves out there as much as we can, talking to customers, making sure they're going in the right direction."
The communication strategy is in part about making sure members know where to go throughout the renovations, but it's also about building excitement in the final outcome. "Every time I was there, it seemed that someone would come up and ask a staff member about the renovation," Harmon recalls of his experiences at one YMCA renovation project. "The staff member wouldn't hesitate to walk the person through the facility and show everything that was going on. They were just getting themselves out there and getting the users excited about the space. It was nice on the Y's end too; it told the community that used the spaces that the organization was listening to them and putting in the things that people wanted."
Gender Confusion
New lockers and updated finishes are a standard in most locker room renovation projects. They will be included in the work done in the locker rooms at the McConnell Air Force Base fitness center, in addition to one unusual, but much needed, change: the floor colors.
"Men's will be blue, women's will be red," says fitness center director Bill Hageman. The reason for the difference? "It's so that if you've got your head down looking at your phone, not paying attention, you'll see the flooring difference," he explains. "We have a lot of accidental walk-ins on both sides."
It happens more often than one might expect, says Hageman - at least once a month, the result of users paying more attention to their mp3 players than their environment. "We've had two guys come to us thinking they've gotten their clothes stolen, ready to file a police report," he laughs. "We found their stuff in the women's locker room. They must have come at a slow time when there weren't any women in there, went all the way in, changed, locked their stuff up, went to work out, never realized they were in the wrong locker room."
The doors, too, will be given an update, with three-foot-tall logos indicating which room is which. "It's going to be very apparent," Hageman says. "We have small signs now, but even if you plaster them everywhere, people still seem to walk by." - E.A.