Penn State University has eight of them. The University of Alabama has nine. The University of Wisconsin recently renovated its largest, and the University of Michigan breaks ground on a new facility this summer.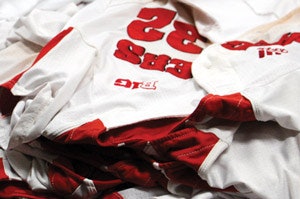 Likely they've rarely crossed the minds of fans sitting in the crowd at a sporting event, but an athletic program's laundry facilities, and the people who run them, are an integral cog in any athletic organization. "College athletics is the front door for the university," says University of Wisconsin athletic department director of equipment Terry Schlatter. "We get more TV time than any other department. We're in the entertainment business, and we have to put a good-looking product out on the field."
Whether coordinating the operations of several smaller laundry facilities across campus or a larger facility serving the needs of multiple athletic programs, overseeing an athletic department's laundry operations is a complex task. "They tend to be unappreciated, especially by their athletic directors," says Mark Litsky, president and founder of Integrated Sports Specialties (ISS), which assists athletic programs with designing efficient facilities. "They're being pushed not just by their ADs to watch their budgets, but by coaches to turn around and get gear ready, students trying to get workout gear and towels. They also have to make sure uniforms are as clean as humanly possible."
It all takes time and careful coordination, but years of knowledge and investment in the right resources to streamline the process have allowed today's equipment mangers to make the most efficient use of their workday.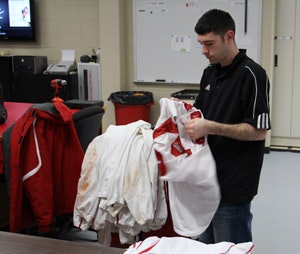 SYNCHRONIZED CYCLES
Efficient laundry operations require a balance between staffing and equipment — neither the equipment nor the staff members should be idle for any length of time. "We're serving about 24 of 31 sports," says Chris Onsted, facilities and events manager with Michigan's athletic department. "We also do laundry for the golf course, tennis center, rec sports, and we wash football event staff vests and concessions uniforms a couple times a year. We probably have 100 to 150 dozen towels in operation at a time."
Onsted and his full-time assistant do 15 to 20 loads a day at the athletic department's main laundry facility (the football and hockey programs have their own laundries). "It could be more, depending on the season," he says. "In the fall we're very busy with soccer and volleyball."
While doing so many programs' laundry in one location allows the coworkers to concentrate their efforts and minimize staff, it also requires careful coordination. Says Onsted, "We have one vehicle, and we have to be really precise with where we go. We pick up a load, get it started, go pick up our next load, get back, switch to dryers — you have to be really on schedule to get it all done within an eight-hour day."
Laundry operations at Michigan look simple compared to Wisconsin's athletic department, where Schlatter and his team turn over more than 10,000 pounds of laundry a week at the university's combined facilities. "Two of my students will do daily practice laundry over at the softball facility, and then cart back all the game uniforms to our main facility," he says. "I have a full-time person down at the boathouse — we have about 200 athletes there. I have a full-time employee at the Kohl Center who takes care of both basketball teams and both swimming teams. Then I have a full-time equipment manager who handles men's and women's hockey."
Though Wisconsin's multiple campus locations require more equipment, space and staff, Schlatter believes such a setup is worth it for the efficiencies in time. "Time is money," he says. "If I have to fight traffic to get to the Kohl Center or boathouse and get back, I'm going to lose driving time each day just picking up laundry at each facility."
Still, at the department's largest facility, located in the basement of the McClain Athletic Facility, neither the staff nor the equipment sits idle for long. "We have a laundry room between our football equipment room and our Olympic sports equipment room," says Schlatter. "We put in six washers and eight dryers to share between the sports. Tennis also brings their laundry back here. Our student football managers do the bulk of the daily laundry in the evening, our Olympic sports do a couple loads late afternoon and the rest in the early morning."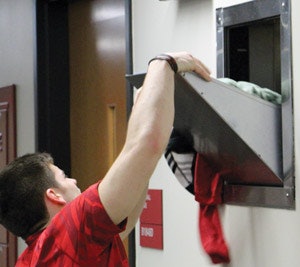 FULL LOADS
Neither the small staff at Michigan nor the larger staff at Wisconsin could operate as efficiently as they do without the right equipment for the job. "Generally, athletic departments are looking for a cost-efficient way to clean uniforms and towels and gear," says Mark Hubbard, president of Westland, Mich.-based Universal Laundry Machinery. "But they wash a wide variety of linens, and there is a specific way each type should be laundered."
Wisconsin's renovations at the McClain Facility included careful consideration of the workloads placed on the machines. "We worked with Mark Litsky and put in Wascomat washers and dryers," says Schlatter. "We went with 65-pound washing machines and 90-pound dyers. And because we had a bigger, more condensed area, we could go with 55-pound drums of detergent, another cost-saver."
The 65-pound washers are smaller than 80-pound capacity that Litsky typically recommends for athletic department setups, but larger washers simply didn't make sense with the facility's needs. "Smaller loads get it done faster," explains Litsky. "You're able to control not just getting your laundry done in two hours, but you can get other things done at the same time."
To keep up with its needs, the University of Michigan's new $6 million operations facility will increase the number of washers and dryers from five each to eight, and additional storage will give them flexibility to start loads when it makes the most sense. "We'll be able to order towels and other materials in bulk and have plenty of room to store it," Onsted says. "If soccer comes in with towels, uniforms and practice gear, we can store the towels until we get loads of towels from other sports, then wash and fold them all at once. When we do our returns, we can pull clean towels from storage."
Having the space to store everything is essential to an organized operation, agrees Schlatter. "We went to high-density storage in both the football and Olympic sport areas, which allows us to maximize use of space. We sat down and were able to say, 'We want hanging things here, pullout shelves here.' We were able to customize for each sport and the needs of each sport."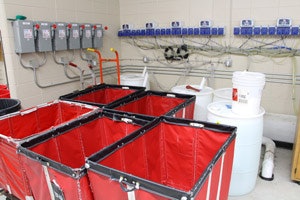 AUTOMATIC UPDATES
Properly maintained, a quality washer or dryer can last decades. That being said, just because equipment is in good working order doesn't mean facility operators shouldn't be considering an upgrade. "With advancement in controls and extract performance, it could be less expensive to purchase a new machine and save energy, time and labor with more efficient equipment," says Hubbard. "There are machines nowadays that can monitor start and stop times, error messages, downtime between cycles — things that allow managers to better control use of equipment and maximize labor."
For example, says Hubbard, commercial laundry equipment manufacturer UniMac in the last year has rolled out OPTIspray rinsing technology and new ECO Cycles to reduce water consumption and shorten wash and dry cycles. "The UniMac has through-the-door spray rinse, allowing you to wash more linen in the same amount of time using less water."
When it comes to drying, residual moisture control technology offers time and energy savings, as well. "You turn your dryer on, and when it hits a certain moisture setting, the dryer will automatically switch to cool down," says Litsky. "It's much safer and much more economical."
The advanced controls make the most difference not for day-to-day laundry so much as game uniforms. "Grass stains are one thing," says Litksy. "With football, you're dealing with eye black, field paint, grass, blood, body oils and mud. Turf fields also have rubber pellets."
Athletic equipment managers could spend their entire day working out stains. Or they could let their equipment do it for them. "When you go down and play in the Georgia clay and the uniforms sit until Monday morning, it's usually three to four washings with treatment in between before we can get them clean for the next week," says Schlatter. But there's a setting for that. "The machine can be programmed so that wash cycle one is a 36-minute warm-water wash; cycle two is a 40-minute cold-water wash. We can set the number of wash and drain cycles, how long the spin, how much detergent is added and when."
Features like a repeat wash allow experienced laundry staff to anticipate particularly difficult orders and plan accordingly, says Litsky. "If you have a game that leaves uniforms looking really bad, you can start the machine on a specific cycle and advance into a segment and repeat that wash as many times as you wish," he says. "It will run, stop, restart the cycle as many times as you tell it. That machine can run three or four times without you having to sit around and wait for it."
And because one broken-down machine can ruin the highly calibrated operations of a laundry facility, manufacturers are also incorporating preventive measures into the controls. "A lot of the newer controls can remind operators of maintenance schedules, such as 'grease bearings now,' " says Hubbard. "It's our job to show them what options are available and show that the advanced controls can save them time, money and energy."
"It's features like that that really make everyone's job that much easier," says Litsky. "I always joke that the business we're in is an upside-down triangle. The reverse base is the AD, coaches, players. At the point of the triangle is the equipment manager."
---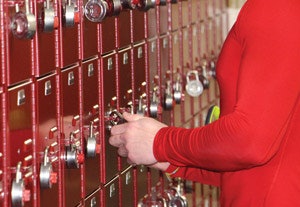 Speedy Delivery
Keeping track of laundry for 400 student-athletes? No problem. At the University of Wisconsin, laundry operations include a daily service for its student-athletes, many of whom have little time in their schedules to stay on top of the pile of dirty workout clothes they generate. "Most of the kids are here twice a day," says UW athletic department director of equipment Terry Schlatter. "They're coming in and weightlifting, and then having an afternoon practice. There's some athlete from some sport around from 6 a.m. to 8 p.m. That's how dedicated our student-athletes are."
Processing laundry for Badger student-athletes and returning it to the proper owner isn't as complicated as it may sound, though. Lockers just for laundry allow students to drop off dirty workout clothes before heading to class and pick up clean clothes in time for their next workout. "They have two sets of lockers," explains Schlatter. "One in the locker room and then one on the wall that's called an issue locker. They put two or three sets of clothes on Laundry Loops — there's a little mesh bag attached for socks — and then there's a number that corresponds to the issue locker. They turn in their dirty laundry next to the locker room, we wash and dry, and they can pick it up at the end of the day or the next morning from their issue locker." — E.A.
---
This article originally appeared in the May 2014 issue of Athletic Business under the headline, "Soap Opera."