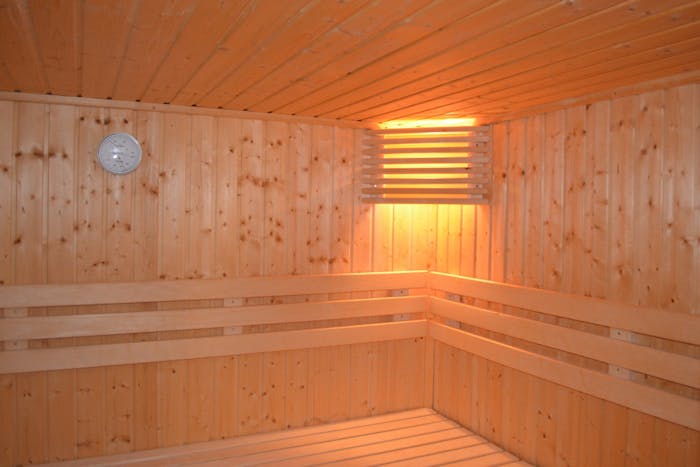 It's a story all too familiar to many fitness facility operators: a new facility or renovation opens, boasting a new sauna or steam room that will be the facility's crowning jewel and attract myriad new members. Months later, though, it's fallen into disuse (or worse yet, a failure of the steam room enclosure renders it useless) and sits as an empty waste of space.
"Water, moisture, heat," says Mike Fleming, a senior principal with Denver-based Ohlson Lavoie Collaborative, listing the conditions that contribute to deterioration in a sauna or steam room. "They're a high-maintenance thing."
Saunas and steam rooms can continue to be a desirable amenity long after the novelty has worn off, provided operators are willing to invest the time into keeping them up. Even for facilities that currently have amenities in need of revitalization, the work necessary to return them to a condition appealing to patrons can be minimal. "They're pretty simple rooms to renovate," Fleming says. "It's not a costly product; it's just labor and materials. The shell is there, you just have to apply these finishes."


AN OUNCE OF PREVENTION
The best way to keep any part of a facility looking like it's never been touched is to maintain a thorough cleaning regimen from the outset. For saunas and steam rooms, this is especially important. "People sit on the bench, and all the sweat coming out of their bodies goes down onto the floor, under the bench," says Reino Tarkiainen, president of Portland, Ore.-based Finlandia Sauna. "When the area under benches is not thoroughly cleaned, the sweat accumulates and adds to a growing unpleasant odor."
RELATED: A Guide to Regular Maintenance of Saunas and Steam Rooms
Tarkiainen recommends a thorough weekly cleaning at a minimum and ensure the staff is actually getting under the benches. Tarkianinen recalls an installation his company did in a New York hotel where the crew intentionally left some wood chips beneath a bench. When they returned a year later, the chips were still there.


TOUCHING UP HIGH-TOUCH AREAS
Proper cleaning will keep a sauna or steam room looking good longer, but not indefinitely. The wood finishes used in a traditional sauna are particularly hard to maintain. "It's very hard to wash wood," says Tarkiainen. "If you use a lot of water or commercial cleaners, they can stain the wood."
Perhaps the easiest way to extend the life of the wooden benches in a sauna is to ask patrons to sit on a towel. Says Tarkiainen, "It's good protection for themselves, and that body moisture goes into the towel."
However, as any facility operator likely knows, such simple requests often go unheeded. Thus, other preparations should be taken to stave off wear and tear. When the benches are new, Tarkiainen recommends coating them with a water-based sealant, which will allow for easier cleaning and can be reapplied as needed. "Don't use an oil-based finish," he cautions. "Some oil-based products have quite a strong odor. You don't want to smell those chemicals." 
The right wood can also make a difference — but not much. "There are different wood species that the sauna manufacturer will recommend, but you shouldn't go outside of those recommendations," says Fleming. A range of wood types hold up particularly well in a sauna environment, but the final choice tends to be one of aesthetics. 
"Western red cedar is the most common," Fleming says. "You can upgrade from there to hemlock, California redwood. These types of woods do great with heat and moisture. The western red cedar is lighter, the redwood is a bit darker."
Regardless of the measures they take to protect the wood areas of the sauna, facility operators should anticipate replacing the wood benches in the sauna area eventually. "The benches don't really cost that much money," Tarkiainen says. It's as simple as calling up the sauna company that installed the product — or even a different company and giving them the measurements — and ordering replacements. Because replacing the wood portions of the sauna is so cost-effective, Tarkiainen also recommends placing wooden backrests along walls where people lean. "All the staining and sweat goes to the backrest, which can easily be replaced," he says. "Even yearly. Those are simple things to do."


MORE DURABLE MATERIAL SELECTION
While wood will continue as the standard for seating areas in a sauna, designers are favoring more durable materials for other areas. "We're seeing now that any area in the sauna that you have to touch — the benches, the back — we do with wood, but areas that aren't touched, we might go in with tile or stone," says Fleming. "Those materials can hold up better than wood, and if you ever have to renovate again, those materials can stay.
"You have to make sure you specify the right tile and stone finishes," he cautions. Whatever materials are used need to be able to handle the heat — remaining cool enough so as not to pose a danger to users but also durable enough to withstand expansion and contraction caused by heating and cooling. Even with proper cleaning, regrouting and retiling should be planned every few years.
At Finlandia, Tarkiainen says they've begun using a manmade plastic material in the walking area. "It can be easily washed and hosed down and doesn't absorb anything," he says. "It's very easy to take in and out."
Another recent innovation in steam room design is the hybrid steam room, which replaces tile with a plastic construction that is more durable and resistant to bacteria and mold growth. 
One more area where a facility might be able to forego wood in favor of a different material? The door. "A sauna manufacturer will often recommend the door be wood," Fleming says. "But we'll often go with aluminum doors and windows and use a solid plastic that holds up to the heat for the handle. Outside the sauna, the door looks like everything else in the shower or wet area."
For steam rooms in particular, it's imperative that the right materials are chosen to begin with to prevent a more costly repair down the road. "We'll hear about wall and ceiling failure in steam rooms," Fleming says. "We'll see steam rooms built with wood or metal studs. Any sort of puncture and your walls can literally fill up with water. Then you have to deal with mold, rust — that type of thing."


SET THE MOOD
The right materials properly maintained set the stage for a relaxing sauna or steam room experience, but there are other ways to enhance a patron's visit.
"How you deal with lighting is one thing we're seeing," says Fleming. "There are not very many light fixtures you can select that would withstand that environment."  
Fleming describes the typical light fixture used in the sauna or steam room as a jelly jar enclosed in a small cage. They aren't very attractive, but there are ways to improve them. "You can hide this light by creating a valance, so it's more of an illumination that comes up and washes over the wall, or you can place it under the bench."
Another option is to bring in more natural light. While the doors for saunas and steam rooms typically feature glass for safety and supervision purposes, Tarkiainen says that his company is also hearing more requests for glass windows to allow in more light. 
Finally, a fresh scent can help make the harsh environment of a sauna or steam room more inviting. "The operator could also use sauna aromas," says Tarkiainen, referring to chemical fragrances that can be mixed with water and poured onto the heating element. He estimates that Finlandia has about 50 different scents available, and that most sauna companies carry some variety of aromas. "Eucalyptus is probably our most popular. It creates a very fresh feeling."
Aromas might make an environment more attractive and cover up the occasional unpleasant odor, but they aren't a substitute for proper cleaning. "Keep the floor clean," he reiterates. "That's where the sweat goes and where most of the smell comes from. It's not very nice to sit in a room and smell other people's sweat."