It's an open secret within athletics circles that virtually every equipment manager would welcome more storage space. However, the individual needs of each program are less obvious — and occasionally surprising.
Take the Army football program. Storage manufacturer GearGrid, which served the equipment storage demands of the firefighting industry for decades before fully branching into athletics five years ago, put its wall-mounted locker product on casters for the purposes of navigating a trade show floor.
"We never thought we'd sell it in a portable platform, and the very first order we took was on a portable platform because that's how we showed it at the trade show," says GearGrid sales manager Jeff Anderson. "Army football saw it and said, 'We never have enough lockers when we go on the road, and we would like to order some of those.' They put them on their semis and actually take them to the away games so they have enough lockers."
While West Point's have-wheeled-lockers-will-travel approach remains the exception, mobility is widely viewed as key to effective equipment storage and handling in today's time-and-space-crunched athletics environment. "Typically, schools are limited in the space that they have available for storage," Anderson says. "By having storage units on casters, they can, number one, nest them together in the room and maximize their storage space. But secondly, as far as distributing the equipment to the athletes, they can move the unit out of that space, distribute the equipment, then move it back into the space — so you get that flexibility, as well."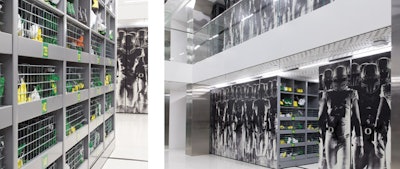 Organized, accessible
The type of nesting referred to by Anderson is known throughout the industry as high-density storage — maximizing storage space by minimizing the space needed to access what is being stored.
This often takes the form of mobile shelving that glides mechanically along rails on or in the floor to reveal a single aisle of access among any number of shelving units at any given time. Spacesaver Corporation boasts an installation at the National Archives that entails more than 2,000 carriages measuring 60 to 70 feet in length, riding on more than 12 miles of rail, but more common applications — such as those used for athletics storage — utilize only a few carriages measuring 6 to 10 feet in length.
Individual carriages can be customized with bins, dividers and pullout drawers to maximize the storage efficiency of each. Shelving should be adjusted to fit the height of stored items to ensure that no vertical space is wasted, according to Wes Frankiewicz, strategic sales manager at Spacesaver. "Equipment storage takes careful planning and attention to detail," Frankiewicz says. "You want to keep gear in good condition so it can protect the players, and you want to keep it organized so you can find what you need at a moment's notice."
High-density storage systems can be retrofitted into an existing space, with rails on top of the flooring slab (which requires a decking to be added between the rails to create a safe walking surface within the aisle), or specified during construction (in which case the rails can be recessed into the floor to create a flush walking surface). Carriage options include those that are hand-cranked into the desired position one at a time, as well as an electronically controlled model that moves multiple carriages at a time with the push of a single button.
Any size space can be maximized using high-density storage, according to Frankiewicz. "A lot of times we hear from end users that they just don't have the room for a large, elaborate, high-density system," he says. "This couldn't be further from the truth. Our job is to maximize the efficiency at which you utilize your space and equipment, regardless of size."
The space savings can be huge. "High-density storage systems can increase the storage capacity of a room by as much as 75 percent, while greatly improving organization and access," says Chad Parish, product manager at Wenger Corporation, manufacturer of GearBoss athletic equipment storage. "It is critical to think in terms of cubic volume and to use space as efficiently as possible. With traditional methods, this usually translates into boxes on top of boxes, piles in front of piles, and a complete lack of visual inventory and access. No other solution achieves such dense cubic storage, while at the same time economizing space and improving access."
GearBoss units ride along rails but can also be pulled off the rail system and wheeled wherever the stored equipment is needed — down the hall, into the gym or onto the team truck. "They let you roll an entire closet of gear right to the place where you are going to issue it or use it," Parish says. "In addition, when you simply need more storage space, carts can be locked and parked around the facility to create storage in the corner of a gym or at the end of a hallway."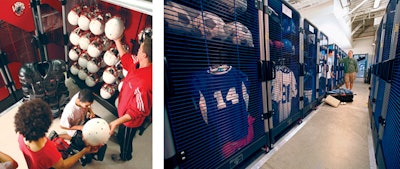 Safe, secure
According to Parish, equipment managers play an important role in an institution's duty of care regarding athletes and their health. This often means mitigating mold, mildew and staph, including MRSA, within the athletics storage environment. To that end, storage that exposes often-damp equipment to ambient or mechanical airflow is a must.
"To keep gear and facilities sanitary you need storage solutions that promote airflow," Parish says, adding that mobility also promotes sanitization. "You need storage solutions that are designed to be cleaned in, around and under without having to move every piece of equipment out of your room. To make a room that can be sanitized corner to corner, floor to ceiling, we incorporate the same design philosophies used in commercial kitchens and operating rooms — mobile solutions, hard sanitary surfaces and antimicrobial treatments."
Says Frankiewicz, "When consistent ventilation and airflow is of high importance, we design systems that encourage air movement with perforated steel shelving and end panels, and with programmed, powered controls and automated shelving movement that opens shelving. Our lockers also have optional sloped tops that can be integrated with a building's ventilation system."
As its name would imply, GearGrid products are built around the concept of openness — from wall-mounted storage panels and freestanding storage units to mobile equipment-repair carts — but with the strength and security of steel construction. "Not that there was a magic formula, but we found that a 3-by-3-inch pattern was a good marriage between strength and airflow," says Anderson, who describes ideal storage as breathable, flexible and modular. "It also allows us to really offer a number of different accessories that can snap into that grid pattern just about any place you want to put it."
Security is of paramount concern when specifying an athletics storage solution, as helmets, jerseys and balls represent attractive targets for theft. Roll-down doors within Spacesaver high-density storage carriages can be locked, and mobility of the carriages themselves can be authorized only to personnel with PIN numbers or access badges. Likewise, to limit access to their contents, GearBoss carts can be locked to each other and to the track on which they're housed. "Depending on the size of a program there can easily be $1 million or more in equipment, and keeping an eye on the investment is increasingly important," Parish says. "When your equipment is organized and inventoried, items are less likely to go missing."

Long gone are the days of musty equipment rooms packed to the rafters with loose, disorganized and unsecured athletic gear. With today's evolving storage solutions, equipment managers are able to maximize space and shuffle the deck as needed to meet changing seasonal distribution demands.
Says Parish, "Athletic storage needs to be flexible. Programs change, locations change, and your storage system needs to change, as well."
---
This article originally appeared in the September 2019 issue of Athletic Business with the title "Efficient equipment storage combines density, flexibility." Athletic Business is a free magazine for professionals in the athletic, fitness and recreation industry. Click here to subscribe.