Locker rooms have become more than places to change clothes. They've morphed from large, open and rather Spartan spaces to highly designed — even luxurious — destinations to relax mentally, recover physically and refresh personal appearance. But even the most opulent locker room loses some luster when its wet areas appear unkempt. Standing water on floors and countertops is not only unsightly, it can pose real risks to the end user.
Thankfully, locker room design strategies and accessories can help keep wet areas as dry, inviting and safe as possible.
Circulation
This applies to both foot traffic and air movement within the locker room space. Locker rooms are often laid out with a transition from dry areas to wet areas in mind. The surfaces might change to reflect that. There may be carpeting between rows of lockers, but tile near showers and vanities, where the bulk of dripping water will be concentrated.
The HVAC system tends to be tuned to create higher pressure in dry areas as a means to keep ambient moisture in the locker room air from migrating away from the wet areas. If the locker room serves a natatorium component, the pressure in wet areas will be higher even than that in an adjacent pool so that pool air doesn't migrate into the locker room. This pressure difference may be so pronounced that a non-latching door that swings out from the locker room to the pool deck may not fully close.
Special dehumidification is essential in the pool environment, but not typically specified for locker rooms. Standard air conditioning is usually adequate in the latter space, provided that humid (perhaps odorous) air is exhausted out of the building entirely.

Usage
One factor keeping locker rooms drier these days is that fewer people are showering in them. Instead, the trend has been to show up to a facility dressed for fitness, work out and then leave to shower in the privacy of one's own home. This may be especially true on college campuses. However, urban fitness facilities, where users may exercise and shower before heading to work, or shower following an after-work gym session before hitting the town, still see plenty of shower usage.
Showers, themselves, are changing — with an eye toward privacy. Providing each individual user with a sink, toilet, shower and changing space represents the epitome of privacy, but not necessarily spatial efficiency. More common are private showers or units that offer a private changing area with individual shower access, separated from the rest of the locker room by partitions and a door or curtain.
The concept of communal showers has circled the drain in virtually every locker room setting, save for public school athletics, but how many shower heads to include in the typical fitness locker room remains somewhat of a guessing game based on such factors as member demographics and facility location.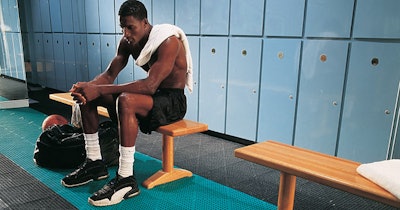 Flooring
"Number one, wherever there is water, you want it to be a nonslip surface," says Doni Visani, senior principal at design firm Ohlson Lavoie Collaborative in Denver. "Marble would not be considered nonslip, but ceramic tile can be nonslip if it has a certain texture to it. We find that 1-by-1-inch or 2-by-2-inch tiles with epoxy grout offers the best nonslip surface for a wet area in the locker room, because it is based on the geometry of your foot on that grout. If there are more grout lines, the more nonslip it becomes."
Moreover, health code requirements dictate that shower floors, restroom areas and perhaps even the areas in front of vanities have a quarter-inch-per-foot slope. "That's the angle at which water breaks its surface tension and starts to run," Visani says. "If you have a single drain in a square room, that works great, because everything slopes from the perimeter and ends up in the middle. But if you have a rectangular room, the question is, where do you start that flow? Because the long direction is going to be shallower than the short direction."
Multiple drains may be needed depending on the shape of the locker room floor. The room layout will also dictate floor slope and drain location. Naturally, flooring underneath vanities that are placed in close proximity to showers will be wetter than those located closer to lockers.
Additional measures can be taken to enhance the safety of locker room floors. A high-end locker room may have recessed sections of teakwood in heavily trafficked areas, for example. However, a much more common and affordable solution for separating bare feet from slippery surfaces is modular flow-through tiles, which offer a raised, flexible traction while allowing water to drain to the permanent surface beneath.
"Wherever you have barefoot traffic, is the way we think of it," says Lee Dees, president of Kendall Products, makers of Dri-Dek floor decking, which typically is laid over finished concrete or ceramic tile. "Those are great, durable surfaces, but they are slippery when they're wet. The idea is to provide a very positive footing."
Made of a special antimicrobial-infused vinyl, Dri-Dek is available in interlocking square-foot tiles, 3-by-4-foot interlocking sheets and 3-by-12-foot rolls made from tiles that have been permanently bonded. The larger dimensions offer quicker installation, according to Dees. Dri-Dek's profile measures a fraction more than a half-inch, with nubs on top for slip-resistance and legs underneath that elevate the tiles off the subsurface enough to ventilate moisture and even camouflage any standing water that may exist on the permanent floor below.
"You have to solve the problem of a slippery surface, and you have to elevate the people, and you also have to maintain both of those surfaces — the permanent surface and the anti-slip surface," Dees says, adding that occasional soaping and scrubbing maintains the flow-through surface, as does high-pressure washing in heavier-traffic applications. "Typically, when you're doing an installation, you have to give thought to that. Can we roll this up and move it out of the way?"
Individual shower stall floors are often covered completely in Dri-Dek, but that's not the case in common areas. "It's typically not put it down wall to wall, like carpet, although it has to be put down in a manner that keeps it secure," Dees says. "If you put enough of it down, the weight and mass of it keeps it put."
For installations that don't go wall to wall, Dri-Dek offers beveled transition edges so that walkways can follow a wet area's traffic patterns.
Another alternative flooring product with locker room application comes from the decks of waterparks, pools and splash pads. Life Floor is a system of modular slip-resistant foam rubber tiles in 3/16-, 3/8- and 7/8-inch thicknesses. The tiles allow for a variety of color combinations, patterning and custom inlays, and come in two available textures — Ripple 2.0 and Slate — making barefoot traffic in wet areas both comfortable and safe.

Additional surfaces
Other surfaces besides flooring stand to get wet in the locker room setting.
To avoid standing water on countertops, sinks that are recessed or that are an integral part of the countertop are recommended to facilitate the whisking of water toward the basin. Sinks that are dropped into a countertop hole are less expensive but create a raised barrier to the easy removal of standing water.
Partitions separating showers, though vertical, will see consistent contact with water, and certain materials will outperform others in this environment. "We start with extruding high-density polyethylene [HDPE] and fabricate restroom partitions that can be used for any type of privacy enclosure, whether that's showers, changing stalls, bench tops, vanity tops," says Mike Janssen, director of sales for Scranton Products, explaining that HDPE is commonly represented by the "2" symbol on the bottom of recyclable plastics. "First and foremost, when dealing with rooms like this, it's 100 percent moisture impermeable. There's zero absorption into the material. So even with the conditions in these very moisture-rich areas, you won't have to concern yourself with it breaking down over time, odor, bacteria, the possibility of mold or anything worse."
According to Janssen, lab tests have shown that 98.4 percent of MRSA bacteria will not survive 24 hours on HDPE, even without the introduction of cleaning agents.
The solid material is available as countertops and locker room benches, as well, and can be customized with colors, logos and textures to enhance aesthetics and mask hard water marks between wipe-downs or pressure washes. "The great thing about high-density polyethylene is you treat it like woodwork without any of the pitfalls of wood," Janssen says. "You can field-modify it if you need to. You can rip it down with a saw, you can router out the edges, and we do engravings for logos and general door designs to create a different, unique look."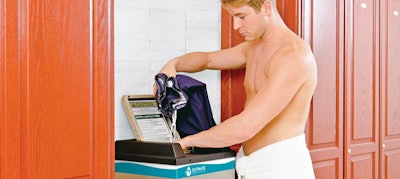 Accessories
Patrons are more likely to clean up after themselves if given the tools to do so.
"There's a big discussion we have with clients on accessories," Visani says. "Do you want towels or do you want air drying — or do you want both? A lot of times you do both. Either way, it's about volume. If you have a large volume of paper usage at vanities, you can keep stacking towels, but it's a lot of work and it's a lot of paper. You can have a hair drier or hand drier, but those tend to be away from the vanity. It's good, because it moves people off the vanity so someone else can use it, but it's bad because dripping hands have to be walked toward someplace else."
Another way to prevent dripping water from traveling through the locker room — particularly if the locker room serves a pool — is to install an extractor. This compact machine uses centrifugal force, much like a washing machine's spin cycle, to pull up to 95 percent of water out of soaking-wet swim suits, and directing that water out of the space through a plumb line or from a built-in hose to a nearby floor drain.
"Our unit has two different considerations," says Lindsay Hoffman, vice president of Extractor Corp., makers of the Suitmate®. "Our recommendation is to hard-plumb it into a waste line, and you can set up a basic P-trap configuration, like what you have on a sink. For a brand new construction, we do have a lot of architects and designers that we work with that will actually not only specify the plumbing and electrical connections, but they also look to build them into cabinetry, so it looks like a much more cohesive setup."
Location is key to mitigating water migration, Hoffman adds. "Some people put them closer to the showers, simply because people go into the showers and rinse off and that's when they actually take their suit off," she says. "Other places will not put it right by the showers, but usually locker room layouts have the lockers in pretty close proximity to the showers, so it usually goes somewhere in between. It's all about where people are changing, because the whole point of the unit is you're trying to get people to extract water from their swimsuits before their wet swimsuit is dripping throughout various areas."

Few areas can sully the appearance of a facility more than a locker room's wet areas. However, by planning for water's ill effects early in the design process, many issues can be mitigated. Keeping such areas dry, inviting and safe can be a combined effort of operators and patrons — if the right materials and technologies are in place.
---
This article originally appeared in the January | February 2020 issue of Athletic Business with the title "Keeping locker room wet areas dry, inviting and safe." Athletic Business is a free magazine for professionals in the athletic, fitness and recreation industry. Click here to subscribe.