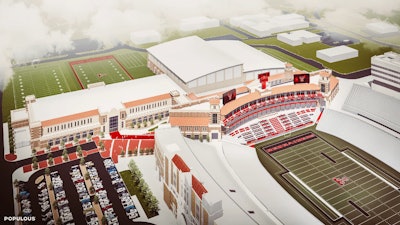 Courtesy of Texas Tech/Populous
Texas Tech announced plans to spend $200 million on new football facilities, bringing to fruition a dream Kirby Hocutt has discussed since shortly after he became the Red Raiders athletics director 11 years ago.
The project will include a four-level building in the south end zone of Jones AT&T Stadium, connecting via skybridge to the Sports Performance Center and the newly planned Womble Football Center, a two-level structure that will replace the current Football Training Facility. In an online presentation Monday night, senior associate athletics director Robert Giovannetti said it will be the largest contiguous football complex in the country.
"This is our most important project," Hocutt said. "This project will be a landmark on our beautiful campus, and it will elevate Texas Tech football to the vision that we have, the level of success that we've experienced before and are determined to get back to."
The south end zone building also will incorporate a new Double T scoreboard to replace the iconic one that was installed in June 1978. It will be the same size or slightly larger than the original, Hocutt said, and stand atop the new structure.
"Your attention is automatically drawn to that Double T scoreboard," Hocutt said. "It's a historic landmark for so many of us. We heard from the Red Raider nation how important that was."
Two bell towers and video boards also will flank the Double T scoreboard in renderings Tech revealed. — Lubbock Avalanche-Journal
---
The University of Georgia has completed the $80 million expansion of its football training facility, and the results are luxurious.
Some of the new amenities include a modern and sleek locker room, a private players' lounge, equipment room, plunge pool, and nutrition bar.
The defending champions hope the new Butts-Mehre Heritage Hall will help them recruit and keep top players.
The project, which includes a 29,000-square-foot renovation and nearly 140,000-square-feet of expansion, cost $80 million, with half of that coming from the football budget and the other half from private gifts.
The school previously spent $90 million upgrading its stadium and practice facilities in 2017 and 2018.
The facility, designed by HOK, has three levels and a new entrance. Of course, the star of the show for the players will be the new locker room. There is access to an indoor practice field. Each locker has its own seat and a TV above with the player's photo, name, and number.The locker room also includes plenty of comfy seating and TVs in a private lounge just for the players. — Insider/Yahoo Sports
---
In Ironton, Ohio, the old press box at Tanks Memorial Stadium is being demolished and a new, three-story press box will be constructed in it's place.
"There was a lack of space and you're crammed in there on Friday night. You worry about people falling through the roof that are up their filming," said Rick McKnight, who announces at games on Friday nights.
Head football coach and athletic director Trevon Pendleton says those who frequent the press box during football season have been asking for a new one for quite some time. Now, the time to grant that wish has come.
"Not only a facelift, but a total transformation," said Pendleton.
Not far behind the press box and next to the track, there is another active construction site.
"We're building four new tennis courts. We ripped out the old tennis courts and repositioned the new ones. They will be brand new courts, brand new surface, nets, fencing, lighting and everything," said Pendleton. — WSAZ-TV