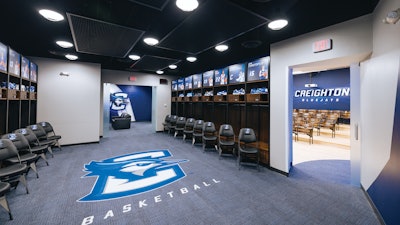 Photo of the Creighton Bluejays Men's Basketball Locker Room, CHI Health Center courtesy of The Athletic Branding Co.
When architectural designers consider how to create a space, they're thinking much deeper than blueprints and square footage. Colin Fowler, design director of the Sports and Higher Ed Group at Downstream, imagines not just a space, but an experience. And creating a design experience in a locker room setting that defines a team and its purpose — but also functions as a locker room — requires more than making an area to change uniforms.
"We don't even start with graphics as sort of the entryway into this conversation, because what we do is experience design," Fowler says. "There are five senses that you should really be thinking about. And once you start talking about graphics, we're just talking about one of them, really. The idea for us is that these spaces — especially the locker room — are all sort of holistic journeys throughout the entire space. Whether it's within a stadium, or an operations center, or a student performance center, whether they're all housed together, the various sports, or if it's a dedicated basketball locker room, or football locker room within a larger football space, it's only a part of that journey. It's moments within their day, but it serves a function. You've got to consider where you're coming before that and where you're going afterward."
Telling a team's story only through design can have significant influence on where an athlete winds up after visiting the locker room — whether it's the first impression on a recruit or the day-to-day occupancy of a veteran with performance goals. Creative professionals from three design firms share their insight on today's trendy and effective design ideas within the team locker room, as well as adjacent specialty spaces.
Theatrical transformation
Brad Jones, creative director at the experiential design firm Jack Porter, says the locker room has trended toward a vibrant place, particularly at colleges, instead of a giant, potentially stinky, concrete bathroom. "I've been in this specific industry in sports for 12 years," Jones says. "In the last four years or so, we're seeing a new age where the locker room needs to be a showpiece that allows for content to be created, in addition to just being cool on game day. Yes, it needs to function, and we need to make sure it smells good, with the right ventilation and things like that. But from that outward appearance, that telling of the story, more than anything, it's lifting the brand of the university, and then allowing those athletes to kind of tailor their own brand alongside the university."
Jack Porter worked with the University of Miami, where the Hurricanes set out to redesign their Hecht Athletic Center's football locker room to bring their brand to life. To do that, designers took to dramatic lighting elements that present more like a movie theater experience.
"In the Miami football locker room example, the whole light fixture can change between green, orange and white. You can have movement within each light fixture and it can sync to the music. So you have all these different modes. You have game-day mode, recruiting mode. It's really just a way to bring some energy and uniqueness. But it only fits certain brands, right? It's very Miami. It wouldn't suit everybody."
Photo of University of Oregon's Matthew Knight Arena courtesy of Dan Zimmerman

An immersive digital experience
Within the University of Oregon's Matthew Knight Arena, the O-Hub is one of the signature aspects of the recruiting path and pregame ceremony within the arena.
"There are actually two O-Hubs in the event level of the building and all the team spaces," says Brian James, creative director for Downstream, which handled all AV design and content creation for the spaces. "One we made as an immersive digital experience. The other we made as kind of a social media moment and a celebration of the team's relationship with Nike. We have a dimensional piece that uses a bunch of Nike equipment to form some duck wings on a wall. It's very sculptural. And the idea is, if you're a recruiter, if you're bringing your family through, this is a photo op, right? You can stand in front of the wings and have this fun social media moment. At the opposite end of all of the team space along the corridor is a second O-Hub. In this space, it was really an opportunity to augment some existing traditions within the program, within the space. The teams were coming out of their locker rooms, huddling here before they rushed out onto the floor."
That second O-Hub acts as an extension of the locker room — it's a team-readying space, but it's also a pre-game hype space that's surrounded by digital visuals. "We deployed a fully immersive LED experience, and the company had a really amazing audio system that can really raise the blood pressure as the team comes out onto the floor," James says. "We also implemented a camera up in the ceiling, that shot down so that, that huddle experience can be broadcast out to the full arena."
James explains that there is also a recruit mode, where the recruit is surrounded by digital images of current players. "We're really casting this potential future for this player as a Duck in a super impactful way. These all kind of accompany the inner sanctum moments of the locker rooms."
Downstream also created custom murals that accompany a flexible graphic system that can be changed every season to accommodate the new roster.
"For those spaces, it's super appropriate that we're speaking to the 18- to 27-year-old," James says. "They want the coolest shoes, they want the coolest uniform, so the idea is that there's a more youthful graffiti mural on the way into their locker room versus, you know, a printed vinyl graphic. Obviously, a super dynamic, multifunctional, LED immersive experience is all super cool and gets them really excited."
Fowler says these experiential moments reinforce the storytelling journey that designers create throughout a space, "whether it is a mural on the wall that's speaking to the local community, as well as the beauty of the motion of basketball as a sport, or more detailed plaques or interactives, just finding the right moment within that journey to really tell stories that are going to connect, but are also digestible in the interaction of the person in the space."
Photo of the Creighton Bluejays Men's Basketball Locker Room, CHI Health Center courtesy of The Athletic Branding Co.

Science of the senses
In Omaha, Neb., the Creighton University basketball team opened a new locker room in 2022 with the help of design firm Athletic Branding Co. At the time it was created, it was one of the largest locker room footprints in Division I men's basketball, says Steven Valish, the company's director of design. He says that the experience of creating a space like the Bluejays' project involves using the science of the senses, including lighting effects that incorporate the team's blue and white colors and act as subtle catalysts of mood and inspiration.
"I think lighting is a big factor," Valish says. "It's the mentality standpoint. At Creighton, specifically, we have the hallway that leads from their locker room out to the concourse. We lit that with blue light, because blue light, from a scientific standpoint, triggers an emotion to be alert."
Other special features in the Creighton locker room areas include custom graphics, AV equipment, aluminum glass doors and mannequin displays. The Bluejays' space is different than most in that it's off campus, at Omaha's city-owned CHI Health Center. Valish says the Athletic Branding Co. set out "to take what they have on campus, and translate that into that off-site facility so that it still feels like Creighton."
The project also intertwined Bluejay brand traditions with more trendy elements, such as the theatrical blue lighting effects. "You'll see the seating in their theater room and then inside their lockers has a more traditional, old-school flair to it. And that's them wanting to recognize the history a little bit," Valish says. "I think mixing in that history with modern day [elements] really creates an eclectic look that talks to both the donor base and the current student-athlete, balancing that design sense that hits on both levels of appreciation."
Like the Ducks' and the Hurricanes' locker room-adjacent areas, the Bluejays also thought about recruiting and fundraising when they envisioned these spaces. Throughout, Bluejay blue and the Creighton name adorn the walls, along with enlarged team logos featuring the team's namesake bird.
"They have a lounge in there for game day, and they have a separate lounge — they call it a donor lounge — where they have a Nike display of their apparel, some team accolades," Valish says. "During game day, if they have a recruit on campus, or some donors, they can bring them into that area and either watch the game or have kind of a cocktail hour or something in there to drive the enthusiasm and build around the program — hype-ness to either recruit or help raise funds."
Designers acknowledge that locker rooms have evolved from austere functional changerooms to upscale transitional spaces for athletes. Today, that includes considering social media moments, as well as creating different journeys for recruits, current roster members and donors through a more entertaining, theatrical environment. The whole picture for experience designers like Downstream's Fowler is to tell a team's unique story, and do so with a little flair, when appropriate.
"The storytelling aspect, and sort of the consideration of the entire journey throughout for each one of our different audiences, it's super important, because when we know what we're talking about and why we're talking about it, then we can start to figure out how we show it, how we do it," he says. "There's a lot of people out there who make really cool looking stuff, but if there's not a deeper level that you can connect to, if there's not a story of why that is supported throughout the entire experience from the other spaces, it falls apart at that point. If we can start to talk about why we're telling stories, and what the right stories are to tell, then we're on the right path."