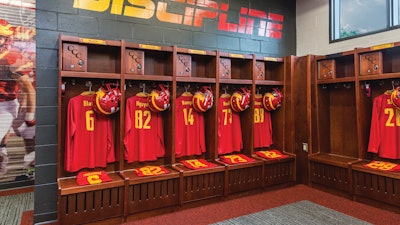 Chris Harvey has seen the inside of more college football locker rooms than most. After serving as long snapper for the University of Miami in the early 2000s, Harvey went on to coaching stints at Glenville State in West Virginia, Florida State, North Alabama and West Virginia's Fairmont State. All of those experiences informed his choices when reimagining the football locker room at Clearwater (Fla.) Central Catholic High School, where he has served as head coach for eight years and assistant director of alumni relations since January 2022.
From its signature football-shaped ceiling fixture and yard-line-inspired lighting to the logo-inlaid carpeting, not to mention the 78 player lockers in between, the space could easily be mistaken for a collegiate facility — and all designed with the same care and intricacy as the Marauders' playbook.
A major gift helped finance the larger project — a $1.8 million addition to the CCC football stadium's concessions and public rest room facilities that now include football meeting rooms, an equipment room, an athletic training room, coaches' offices and the locker room.
"Once we had the benefactor donate the money, it was pretty much design as we wanted," Harvey says. "I based a lot of it off of the 11 years I worked in college prior to coming here and was just able to create a space that allows us to do everything that we want to do. That's the building as a whole, but our locker room build was a combination of a lot of those ideas that I saw — but just on a little bit of a smaller scale."
Perhaps the greatest difference between most high school and collegiate locker rooms is the amount of actual space. Still, standing on the cascading-C's logo at the center of his 2,400-square-foot creation, Harvey can address players arranged in the half-dozen U-shaped locker pods that surround him — a luxury not realized in a lot of changing rooms at the prep level.
"The locker room is open enough to where everybody can be seen at one time from the middle of the room," Harvey says. "The players have adequate space to move around. I mean, it's not like in some old-school locker rooms, where there's a locker and a bench and there's not really room to move around the lockers. An open floor plan allows them to move around more freely."
From where Harvey stands, the space rivals many at higher levels of competition. "One of the things we sort of hang our hat on is that outside of your $50 million facilities, I would put our high school locker room up against any locker room."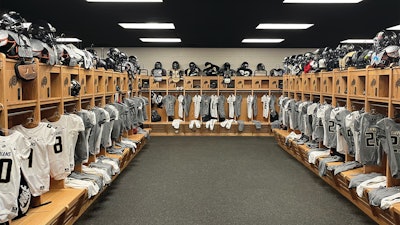 Special spaces
With more of their games streaming live and ever-increasing opportunities to monetize their name, image and likeness (30 states now allow NIL deals at the prep level), high school athletes are living the collegiate experience like never before. Given that a mere 6 percent of preps go on to compete at the next level, the trend seems to be to envelop them in something resembling the collegiate locker room environment — right now.
Much attention has been paid (on the pages of AB and even Sports Illustrated) to a 2015 locker room renovation at Arrowhead High School in Hartland, Wis., with its backlit and basketball-themed, halo-encircled "A" ceiling logo and illuminated lockers, not to mention its $662,000 price tag (all but about $300,000 of which was covered by a private donor). And while not every locker room that has come online since matches Arrowhead's opulence, the ball is clearly rolling in a certain design direction.
Some details can add a lot without breaking the bank. Take the black ceiling inside the football locker room at Gaffney (S.C.) High School, which projects a sense of volume and sophistication, or the lighting fixtures that frame the marks of North Cobb High School in Kennesaw, Ga., where the football locker room also features motivational locker row endcaps and a mannequin outfitted head-to-toe in Warriors regalia.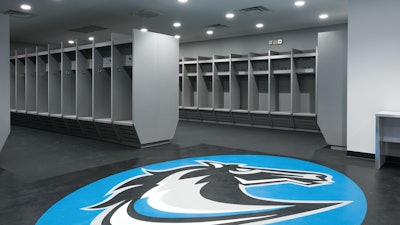 "The kids love it," says Tony Massaro executive director of advancement and facilities at Archbishop Edward A. McCarthy High School in Southwest Ranches, Fla. Massaro served as athletic director when McCarthy High's current locker rooms were built with recessed lighting that shines down on rubber flooring featuring the Maverick's student-designed horsehead logo. Rubber flooring was specified to give athletes secure footing while standing up to cleated shoe traffic. The lockers themselves are gray to closely tie into the trio of school colors — silver, black and teal — and each locker in the school's boys' and girls' locker rooms features two lockable cubbies, so that each unit can be shared during overlapping sports seasons.
"Obviously, that was all to give it that kind of high-end appeal," Massaro says. "The whole purpose of the logo is to give it a college atmosphere. How do we incorporate our school colors and make the locker room durable, but still give you that college effect? That comes from my administration. He likes things that look nice and are going to last. You build it correctly the first time, you don't have to worry about big problems."
Cheerleaders at Altus (Okla.) High School have access to their own dedicated locker room and specialty lockers designed to their unique needs. "There's storage on the left side and storage on top, and they have a little bench that goes underneath their ready area that they can pull out," says Dillon Smith, marketing coordinator for the lockers' manufacturer, Foreman Products LLC. "They have a mirror with a light ring around the mirror, and then underneath the mirror there's a place to USB charge or plug in their hot tools."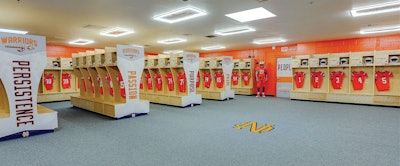 A trend in the making
The football locker room at Clearwater Central Catholic has 30 outlets distributed around the room for the charging of devices, and each locker has plenty of secure storage for players' personal belongings. If he could change one thing, Harvey says he wishes he had specified lockers with ventilation to dry shoulder pads and shoes.
But he's not complaining. In fact, he says CCC is just getting warmed up in terms of locker room design. Girls' sports have a space that mirrors the overall aesthetic of the football locker room while incorporating gender- and sport-specific nuances such as locker size, and additional sport-specific spaces are in the works for baseball, basketball and soccer, Harvey says. "It just allows for the athletes to have ownership of their space."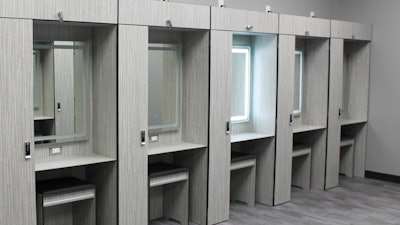 The coach took full advantage of his personal experience and the latitude afforded by his school's financial support to create something truly special for his own student-athletes.
"We wanted this to have its own football feel, you know what I mean? We wanted to start a trend in our school where we could build things that are sport-specific," he says. "It's sort of hard to not be a football locker room when there's a 12-foot football that serves as the centerpiece lighting in the entire room. And we were able to brand the locker room with wall wraps of alumni and our mottos. We ask a lot of our kids, and when we ask a lot of our kids, we want to provide a space where they feel at home, they're comfortable and they can make it their own. Our kids have understood that it is a privilege."