On Tuesday afternoon, AstroTurf listed what may be the first synthetic turf field ever put up for bid on the online auction site eBay.
Bidding on the 81,000-square-foot field in Carson, Calif., begins at $500,000 and does not reflect site-work costs. As of Wednesday morning, there had been no takers.
The full-sized, unlined AstroTurf athletic field with AstroBase was installed in December 2011 at the Home Depot Center. It hosted the California Interscholastic Federation State Football Championship Bowl games, the AstroTurf NFLPA Collegiate Bowl and numerous other events and practices. The field was intended as a temporary installation and is being removed this week.
The field is unlined and can be configured for football, soccer and other sports, and the eBay listing includes several photos. The field's AstroBase system at The Home Depot Center consisted of 15,000 interlocking base panels that AstroTurf says provide all the benefits of a shock pad and drainage system. For more details, check out the auction listing.
Bidding on the field ends Feb. 17 shortly after 1 p.m. (PST).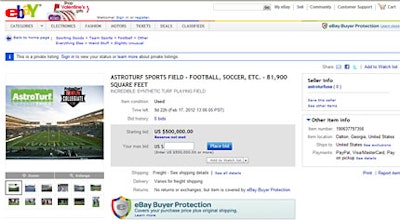 In June 2010, what is believed to have been another industry first occurred when the old FieldTurf synthetic surface at War Memorial Stadium in Arkansas - which was replaced with a new FieldTurf installation - was completely recycled.