Kay Park Recreation Corp. got a call in July from Hampton-Dumont High School in Hampton, Iowa. The wood bleachers on the home side of the school's football field, in place since the school opened in the late 1960s, were in need of renovation. More important, perhaps, complaints had come from wheelchair users unable to fully enjoy the game experience from their designated area on the running track surrounding the field.
By the time the Bulldogs played their first home game Sept. 12, not only had every seat on the home side been replanked with textured aluminum, a new deck had been constructed to the right of the grandstand and flush with the first row four feet off the ground — with room for six wheelchairs and as many companion seats, accessible via a 48-foot-long switchback ramp.
By the time the Bulldogs played their first home game Sept. 12, not only had every seat on the home side been replanked with textured aluminum, a new deck had been constructed to the right of the grandstand and flush with the first row four feet off the ground — with room for six wheelchairs and as many companion seats, accessible via a 48-foot-long switchback ramp.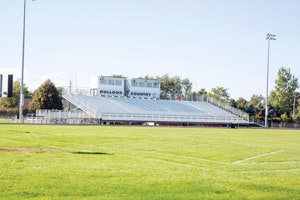 "It's basically a way to help them create compliance without spending a quarter of a million dollars on a completely new stadium," says Chad DeBoer, Kay Park's national sales manager. "They spent $20,000 and at least made provisions."
Are the wheelchair users satisfied?"I haven't gotten any thank-yous, but I haven't gotten any bad stuff, either,," says Marlin Smith, Hampton-Dumont's director of buildings and grounds. "You have to look at it each way."
Though seen as a relatively simple solution, the Hampton situation underscores the complexities of ADA and the consequences of non-compliance. Because its bleachers had been in place decades before the Americans with Disabilities Act was enacted in 1990, with a compliance date of Jan. 26, 1992, the school was under no legal obligation to make its bleachers accessible. "You're basically grandfathered in until you make a change," Smith says. "And due to the fact that we had wooden bleachers and wanted to change to aluminum, we needed to do something with the ADA requirements, as well."
Had it not brought its bleacher accessibility up to speed as part of this summer's renovation, the stadium could have been deemed by authorities as inaccessible to both individuals with disabilities and the able-bodied alike. "I've had a lot of people who have called about ADA, where they've had it come up," DeBoer says. "They don't have provisions for it, then people complain to the state and then your facility can get shut down."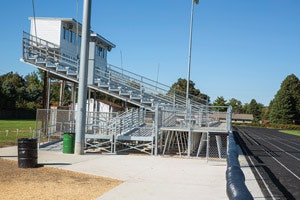 VARIED REQUIREMENTS
Accessibility requirements vary from state to state and from municipality to municipality. There are American standards and international codes. A facility inspected locally and given a certificate of occupancy one day can be challenged on multiple fronts by ADA-citing activists the next.
Local jurisdictions enforce state codes, which may or may not mirror the federal ADA. For example, California has the country's most stringent requirements, including the provision that a wheelchair space measure 48 inches square compared to the ADA-mandated 48 inches long by 36 inches wide (with a like-sized adjacent space for companion seating).
Just knowing what is expected of their bleachers in terms of accessibility can be a challenge for schools, regardless of location.
"I would say out of all the schools and even city-owned sports complexes, if they were built prior to 2005, they're lacking," says Chris Taylor, principal and CEO of ADA Compliance Consultants Inc. in Folsom, Calif. "By 2005, we saw lawsuits happening everywhere from Miami, Florida, to Cambridge, Massachusetts, to Salt Lake City and the surrounding areas in Utah. I've dealt with several lawsuits in Wisconsin. Even if a facility was built after '05, it probably still has a few issues, just maybe not as glaring. This is just one of those things that even the local building agencies and the building inspectors don't really grasp that well."
For high schools at which a general admission is charged to patrons sitting in bleachers, providing accessible seating is not as complicated as it is for a professional stadium with multiple ticketing price points. Only when the bleacher system's capacity exceeds 300 does a choice of seating location need to be offered, and then only horizontally — the 25-yard lines as well as the 50, for example, on a football field. "You do not have to disperse the wheelchairs vertically into the stands," says Bill Duckworth, operations manager for Southern Bleacher Company. "Going the length of the stands, you try to scatter them out to where there's seating available at one end of the field, midfield or down at the other end. If they want to sit in row five, you're not required to provide that."
Duckworth explains that a press box that exceeds 500 square feet needs to be accessible, in which case switchback ramps or an elevator need to be provided to get wheelchairs to the top of the grandstand. A viewing deck at that level for additional wheelchair users who don't use the press box then begins to make sense, as does top-row positioning for wheelchair users in bleachers built into the side of a hill. "It's easier access," Duckworth says of the hillside approach, "and it also gives a better viewpoint."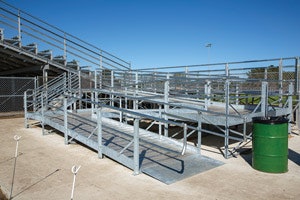 Portable bleacher units are not required to provide wheelchair spaces at all, but one company — Century Industries, which manufactures temporary, towable bleachers exclusively — provides the option of removing specially designed sections of planking to make room for wheelchairs. "You bolt them on and take them off," sales manager Michelle McRae says of the 10-minute process. "When you need the space, you just take a drill and drill the plank out, save the bolts and put it back in when you're not using it."
Before a spot in the stands can even be reached, provisions also need to be made to accommodate the wheelchair user's path of travel, from handicapped parking in the lot to accessible thoroughfares (more than 60 inches wide to accommodate two chairs passing each other) to ramps leading to the seating itself (a one inch rise for every 12 inches). Says Taylor,"It's the responsibility of the facility owner-operator not only to be providing the wheelchair space and the companion seating next to it, but the seating also has to be connected to an accessible route that connects to the disabled parking and other common-use elements — if they're selling T-shirts, concessions, whatever's happening."
Moreover, grandfathering only goes so far. The ADA requires that even facilities built prior to Jan. 26, 1992, be constantly engaged in"eadily achievable" barrier removal, defined as "easily accomplishable and able to be carried out without much difficulty or expense. "Once a building permit is pulled to modify or add to an existing structure — a "trigger event," as Taylor terms it — a school must then spend 20 percent beyond the cost of the renovation on ADA provisions.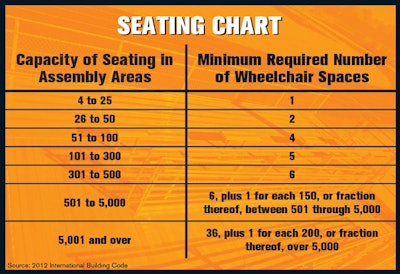 INTEGRATION IMPORTANT
While one side of the Hampton-Dumont football facility is home to shiny and compliant bleachers, the seating structure located across the field predates the school itself — a preexisting relic from another school. Smith already has his eye on better accommodations for the visitors. "When we go to do the away side, which is not going to be too far down the road, then something's going to have to be done there, too," he says. "And whatever we do over there, my hope is we go to a portable-style bleacher, with the ADA cutouts built in it. That's my plan."
After all, the reason the ADA exists is so that ultimately individuals with disabilities can feel part of the same cheering crowd, and not a separate class of citizens.
"I would hate to feel like that, wouldn't you?" asks McRae. "I think it's important to be integrated with the rest of the people — not just having ways of getting in and out, but to feel included."
---
This article originally appeared in the December 2014 issue of Athletic Business with the title "Reserved Seats"
---
RELATED: Michigan Stadium Is at the Center of Pending ADA Litigation