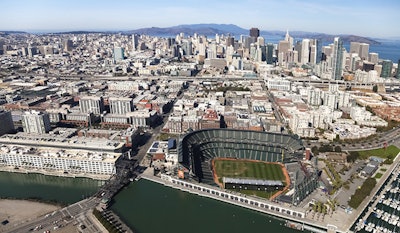 San Francisco officials are on the verge of spitting out a rule that would ban smokeless tobacco from ball fields throughout the city, including the San Francisco Giants' AT&T Park.
If the ban is approved, AT&T Park would become the first major league ballpark to ban smokeless tobacco. It's a move welcomed by Major league Baseball.

"As we have repeatedly and publicly acknowledged, MLB has long supported a ban of smokeless tobacco at the Major League level," the league said in a statement, "and we intend to comply with all applicable laws regarding the use of smokeless tobacco on the field in all of our ballparks."

As the Los Angeles Times reports, The ban still needs to pass a second Board of Supervisors vote and be signed by Mayor Ed Lee.

"San Francisco will send a simple and strong message," said Supervisor Mark Farrell, who introduced the ordinance. "Tobacco use in sports will no longer harm our youth, our health."

Bans against smoking have become commonplace in this country, but rules against smokeless tobacco are not as widespread.

According to the American Nonsmokers' Rights Foundation, 1,203 municipalities in the United States have enacted 100% smokefree laws and all 30 Major League Baseball stadiums have rules that limit or completely prohibit smoking. The same cannot be said about smokeless tobacco.

Los Angeles Dodgers relief pitcher J.P. Howell, told the L.A. Times he chews a can of smokeless tobacco each day. However, he's still in favor of the San Francisco ban.

"I'm for it," he said. "It should be enforced. It's common sense. It's a filthy habit. I do it. Maybe it will help me quit," Howell said. "I've tried to quit every off-season. It's mainly more cutting back than quitting."

But he may not speak for all major leaguers.

Per the L.A. Times:
The Major League Baseball Players Assn. declined to comment on the legislation.

During the last round of collective bargaining, management sought — and the union rejected — a ban on smokeless tobacco. Such a ban is in place in the minor leagues, where management can implement changes unilaterally.

The union argued that it would not be appropriate to ban a product that remains legal and widely available.

However, management and the union agreed to forbid the use of smokeless tobacco in televised interviews and player appearances, to restrict players from carrying tobacco products in their uniforms, to develop and implement educational programs to demonstrate the health risks of tobacco use, and to provide resources to any player wishing to quit.
The Campaign for Tabacco-Free Kids estimates about 535,000 children ages 12 to 17 start using smokeless tobacco each year.