This article appeared in the May issue of Athletic Business. Athletic Business is a free magazine for professionals in the athletic, fitness and recreation industry. Click here to subscribe.

Maybe it's an old asphalt playground with lines for dodgeball and hopscoptch. Maybe it's a bank of tennis courts that isn't getting use because there are better courts only a short distance away. Maybe they're just all examples of recreational spaces that have been forgotten and become run-down over the years.
Whatever activities the facilities were originally designed for, they have this common denominator: they're not seeing much sneaker traffic, and that makes them vulnerable to vandalism and other problems.
The solution is counter-­program­ming, and sports facility contractors are saying pickleball is the obvious choice. The sport, initially popular with the baby-boomer crowd, is seeing explosive growth. And what started in retiree-heavy Florida and Arizona has now moved across the United States. "We are being asked about pickleball courts every week," says Colin Donovan of Renner Sports Surfaces in Denver.
Schools, parks, clubs, camps and even private homes have been requesting information on the sport and on using spaces for pickleball whenever possible.
Per USA Pickleball Association (USAPA) rules, a pickleball court is smaller than a tennis court — 20 by 44 feet for the court size, with a total minimum playing area of 30 by 60 feet. A tennis court, meanwhile, is 36 by 78 feet (space within the playing lines) or 60 by 120 feet (the playing area plus the area outside the lines).
Because one tennis court can provide space for up to four pickleball courts, many park districts are asking builders to paint lines for pickleball on the tennis surface, and pop-up nets are then employed for pickleball. Pickleball is played in both singles and doubles, which means one tennis court can accommodate a maximum of 16 players as opposed to the total of four players who can use one court in doubles tennis.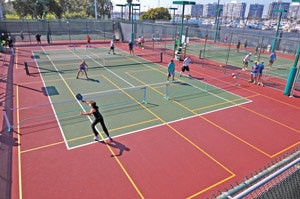 OUTDOOR COURT EVOLUTION
The rapid replacement of aging facilities with ones accommodating this newer, more popular sport says something about the evolution of outdoor courts. "We're being asked about striping lines on underutilized tennis courts, but we're also being asked about converting them to permanent pickleball courts," Donovan says. "We also are converting inline hockey courts that were built in the '90s, when that sport was popular, to permanent pickleball courts."
Conversion of courts may simply involve new color coating and new playing lines, or it may involve more significant structural work. In either case, sports facility contractors are an outstanding resource for information on the creation of multi-sport courts.
While many facilities are painting lines on playground surfaces and tennis courts — and on floors within community centers — others are creating permanent facilities to meet exploding demand.
John Kerr, director of tennis at Palmetto Dunes Oceanfront Resort in Hilton Head Island, S.C., notes that his facility, with its history of offering only two hard courts among 25 tennis courts total, has already converted one to a pickleball facility and is in the process of converting the remaining hard court as well. "We had such a good turnout for our pickleball clinics that there were a number of times we had to turn people away," Kerr says. "People love it because nobody stays a beginner for very long."
The sport was originally popular with the over-50 crowd, but it has gained acceptance within younger demographics as well. Kerr notes that middle schools and high schools have added pickleball to their physical education curricula.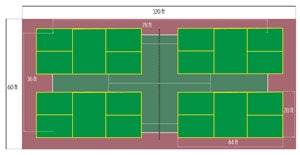 DEDICATED FACILITIES
The success of the sport has translated into dedicated facilities. The inaugural U.S. Open Pickleball Championships, scheduled for Florida's East Naples Community Park from April 26 to May 1, are held on 46 courts plus a stadium court (all surfaced in cushioned DecoTurf). As of this writing, the finals of the nearly sold-out event were to be broadcast on CBS, bringing an expected 50 million viewers. The ripple effect, say those in the industry, will likely result in even more courts being built or converted, or at least lined for multi-sport use.
Even new tennis facilities are seeing requests for pickleball lines. Matt Hale of Halecon Inc. in Bridgewater, N.J., says his company recently constructed a bank of eight tennis courts, but received a request from the local high school to include pickleball.
"The kids were playing pickleball in gym class and liked it so much that they requested pickleball lines be placed on two of the tennis courts," Hale says.
Bruce Frasure of LSI Courtsider Lighting in Cincinnati says high demand for court time has necessitated extending the playing day. "We are getting daily requests to look at lighting pickleball courts," Frasure says. "What started as projects mostly related to tennis court conversions has turned into construction of dedicated multi-court pickleball facilities from the ground up."
"The sport has become so popular that we've begun manufacturing and marketing a surface designed exclusively for the sport of pickleball," says Jake Righter of Nova Sports USA in Milford, Mass. "With up to four players competing on an area less than a third the size of a standard tennis court, it's important the surface coating is designed to withstand that added wear/abrasion."
Net manufacturers are reporting an uptick in sales of permanent nets, as well as pop-up nets that allow for court conversion.

EARNING ITS STRIPES
Maintenance of a pickleball court is much the same as it is for a hard tennis court: It involves consistently keeping the court free of debris and periodically washing off stains and addressing cracks. An asphalt pavement will be subject to cracking far more than a concrete surface.
Geographical location of a court can also play a factor in the aging process. An asphalt court in an area that sees more freeze/thaw action will show its age more quickly than one located where the temperature is moderate. In addition, any court that sees constant use, whether from one sport or several, will be more likely to receive dings, scrapes and other marks. Sports specialty contractors can provide the best recommendations on addressing court problems, whether aesthetic or structural.
Adding lines for pickleball play should also be done by a sports contractor, especially if pickleball lines have to be incorporated with pre-existing tennis lines. Tennis lines are always white and always of a certain width in accordance with International Tennis Federation rules adhered to by the United State Tennis Association.
More from AB: Adding Pickleball to Parks and Recreation Programming
The USTA prefers that only tennis lines occupy a tennis court (incorporation of youth tennis lines is allowed) and won't sanction tournament play on any courts that accommodate a different sport entirely. The USA Pickleball Association has even removed from its website directions on how to stripe a tennis court for pickleball.
However, in cases of shared tennis court use, pickleball lines are often black or yellow to contrast the white mandated for tennis boundaries, but in a thinner width. The idea is to create boundaries for the new sport without creating a distraction to tennis players.
With 4,000 places and counting to play pickleball in North America, the sport has become more than a mere distraction. It's rapidly paddling its way into the recreational sports mainstream. It's no longer a question of whether or not the sport will be in demand in a given area, say court contractors; it's a question of when.
"There is a demand for new pickleball facilities and courts," says Herb Osburn of Tennis Courts Inc. in Aylett, Va. "And it is increasing."
"We are seeing a progression in our area from lines being put on tennis courts to complete conversion or stand-alone construction of pickleball courts," adds Pete Smith of The Courtsmiths in Toledo, Ohio. "The growth of pickleball has been so immense that players are demanding much higher quality facilities than what we have seen over the past five to 10 years."
---
This article originally appeared in the May 2016 issue of Athletic Business with the title "Pickleball seen as ideal pick-me-up for tired outdoor courts"