This article appeared in the July/August issue of Athletic Business. Athletic Business is a free magazine for professionals in the athletic, fitness and recreation industry. Click here to subscribe.
When the Trust for Public Land started its Fitness Zone® program a decade ago, there were no best practices or guides for communities to build their own outdoor fitness areas. TPL has since orchestrated 100 installations across the country, limited mostly to larger urban areas where it has offices, but the trend has spread. Now, says TPL senior vice president and director of city park development Adrian Benepe, "Cities and park departments are doing it on their own."
Though explicitly off-limits for child's play, outdoor equipment is appealing to everyone from young adults to seniors.
More communities are seeing that outdoor fitness areas pack a lot of benefits into a small footprint at an affordable price. "We see fitness equipment incorporated into brand new parks, as standalone additions and as larger renovations," says Allison Abel, director of marketing for Greenfields Outdoor Fitness. "The installation of a fitness zone infuses new energy into a run-down park area, but it's also an excellent addition to a new facility, because it makes the facility appealing to a broader demographic."

INVITING A VARIETY OF USERS
Part of the appeal of outdoor fitness equipment is that it's out and open for anyone to use, regardless of ability, age or economic status. "We particularly focus on areas that are underserved, both in amenities and socioeconomically — areas that might not have access to private gyms," Benepe says, describing Fitness Zones as a "democratic" park amenity. "In my anecdotal experience, there's a diverse user group in both gender and age — teens, young adults, older adults, seniors," Benepe says, "as opposed to an athletic facility, which can be dominated by one group — basketball courts used by young men, for example."

Being in outdoor public spaces overcomes an economic barrier for many users, but the outdoor aspect itself is important. Equipment manufacturer PlayCore's best-practices guide for outdoor adult fitness parks includes research on the benefits of exercising in the outdoor environment — participants exercise more often, for longer periods of time, and are more apt to repeat the behavior. One particular area of increased appeal is the olderadult sector. "In 2012, there was a study of participants over the age of 66 who were exposed to both indoor and outdoor environments," says PlayCore vice president of marketing Anne-Marie Spencer. "The results showed that those who exercised outdoors were significantly more physically active than those who exercised indoors, completing on average 30 minutes more exercise per week."
---
More from AB: Outdoor Gyms Catching On in U.S. Parks
---
One factor contributing to that disparity may be the social element, Spencer adds. "Senior populations tend to like social engagement when working out, something that studies show they don't get as much of in an indoor gym environment."
Though explicitly not for young children, such equipment is also gaining in popularity among youths at the middle and high school levels, especially newer lines of equipment that include an element of competition.
Even regular gym-goers find appeal in outdoor fitness areas. "Here in Chattanooga, we have a fitness park with traverse rigs, pull up bars, pommels, etc., within easy distance of two local CrossFit boxes," Spencer says. "The users of those gyms often take class outside to the fitness park, and on any given day, you'll see their reps/times chalked into the sidewalk. On the weekend, it's not unusual to see several fitness classes sharing the space."


Equipment design continues to evolve, giving communities a greater variety of systems and styles to choose from.
DIVERSIFICATION OF DESIGN
As outdoor fitness spaces become more popular, groups seeking to build them have more options to choose from. It's not limited to play companies any more, either — fitness equipment manufacturers such as Life Fitness are applying their know-how to the outdoor world. "There's been a lot more competition among equipment manufacturers," says Benepe. "What started out as one or two companies specializing in adult exercise equipment or having a single line, has turned into pretty much every play equipment manufacturer and some other firms doing outdoor fitness equipment. It's evolving into new designs and new lines seemingly every day."
One iteration of the outdoor fitness trend, according to Spencer, is challenge courses, a concept that has been around for quite some time but has gotten a boost in attention in recent years. "Much like an obstacle course, challenge courses feature a number of obstacles along a route, and users run or walk the course and navigate the obstacles along the way," Spencer says. "The obstacles are designed with a variety of ways to traverse so they are appropriate for many ages and fitness levels."
Users can record and compare times with an app, encouraging in-person or remote competition, and the competitive aspect adds to the social and multigenerational appeal. Says Spencer, "With this type of fitness configuration, it is very common to see dads competing with sons."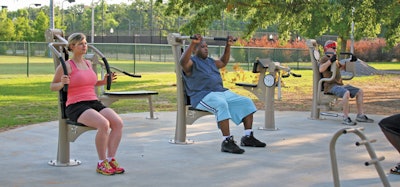 Sites can be used for everything from organized classes to informal gatherings or individual use.
PROGRAMMING OPPORTUNITIES
Successful fitness parks start with the right equipment. Unlike an indoor gym stocked with multiple pieces of a variety of equipment, the options in an outdoor area will be limited to six to 20 pieces, typically. "Making the right choices on what equipment is in the space can be the difference between a good workout and just having equipment," says Spencer. In addition to its best practices guide and research, PlayCore's National Demonstration Sites program can help communities understand the keys to a successful outdoor gym.
Like an indoor gym, some users may initially be unsure of how to go about using the equipment. Signage is essential, says Benepe, but just a start. "Ideally, you have some programming," such as fitness instructors teaching weekly classes, he says. For resource-stretched parks and recreation organizations, there are other options, such as partnering with local fitness businesses to offer free classes.
Once the installation is complete, it's up to the owner to attract initial users — and encourage them to come back. "Project planners can promote an installation by creating a large event around the unveiling," says Abel. "This will encourage the community to take ownership of the gym."
---
More from AB: What to Consider When Adding Outdoor Fitness to a Park
---
"You also tend to get self-appointed instructors," adds Benepe. "A woman or a man who knows how to use the equipment will become the unofficial instructor who's there volunteering her or his time and showing people how to safely use the equipment."
Even if no formal instruction is being offered, creating specific times for like-minded groups to come together can boost use, says Spencer. "During the day, seniors or stay-at-home parents might appreciate the opportunity to work out with others in their peer group. You can hold special events around holidays, or even an orientation class for those who have never been to the fitness park."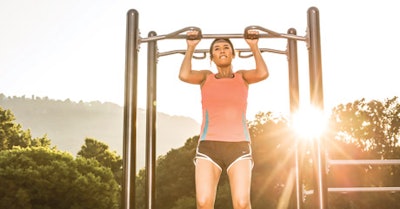 As part of a nationwide focus on improving fitness and health, myriad grants and sponsorship opportunities are available to help fund projects.
EMPHASIZING FITNESS
Perhaps the biggest factor aiding the growth of outdoor fitness areas is a nationwide investment in fitness. To combat the nation's sedentary lifestyle and inactivity epidemic, more communities are prioritizing investments in fitness, a move many private corporations and public-interest groups are eager to support. "There are many grants available from both public and private entities that will assist communities in initiatives to encourage healthy lifestyles in their members," says Abel.
Some of TPL's biggest funders are either corporations in the healthcare industry or foundations working in public health, says Benepe.
In the Los Angeles metro area alone, insurance giant Kaiser Permanente has funded 40 Fitness Zones. "There's a shared interest in offering as many different kinds of rec and fitness activities as we can and demonstrating how parks play a vital role in improving public health outcomes," he says. "Fitness Zones are about the least expensive thing you can do to offer opportunities for fitness and health."
---
RELATED: RAND Study
---
A recent study of how neighborhood parks are used, conducted by the nonprofit RAND Corporation, found that adding fitness areas is one of the most effective ways to increase physical activity in parks. "An outdoor fitness area is the least expensive way to burn an energy unit," Benepe says. "If you compare a fitness zone to a tennis court or basketball court, athletic field… the investment and amount of energy units burned per square foot is much higher."
---
This article originally appeared in the July/August 2016 issue of Athletic Business with the title "Why are more communities investing in outdoor fitness?"