Check out these products as seen in the September 2018 issue.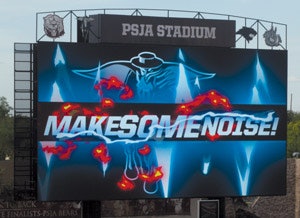 Formetco Sports
Formetco Sports is a one-stop venue source for scoring, sound and video entertainment needs. Formetco designs and facilitates complete turn-key LED video scoring solutions for outdoor and indoor applications. Sports packages feature easy-to-use multisport scoring, sound systems, control rooms, video cameras, replay and more. Formetco LED scoreboards and video boards have the best warranties in the industry and unparalleled ongoing service and support, seven days a week.
www.formetcosports.com
(866) 273-2848
---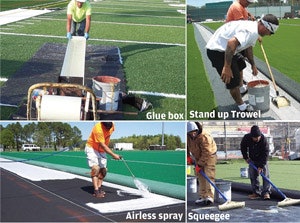 Synthetic Surfaces
For 45 years, NORDOT® Outdoor Adhesives have been used to install outdoor synthetic turf athletic fields and recreational surfaces worldwide. They have a well-earned reputation for long-term durability in all types of climates. Additionally, a new adhesive that more economically replaces hot melts is now available. All NORDOT® one-part urethane adhesives are easily applied by glue box, trowel, squeegee or airless spray, can be used in sub-freezing to desert-like temperatures, and have superior "green strength" (grab) and outstanding water resistance.
www.nordot.com
(908) 233-6803
---
RELATED: Purchasing Guide: Features to consider when selecting a video board
---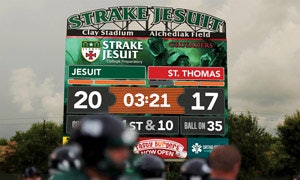 ScoreVision
ScoreVision brings the game-time experience of a professional arena to high schools, colleges and recreational sports facilities. This experience is delivered through a system that combines vibrant, high-quality LED jumbotrons with custom scorekeeping and event production apps that offer robust functionality while utilizing the most user-friendly software on the market. ScoreVision enhances the game-time experience for athletes and fans while simplifying the efforts of scorekeepers and production teams with an easy-to-use software and jumbotron system.
www.scorevision.com
(402) 253-0250
---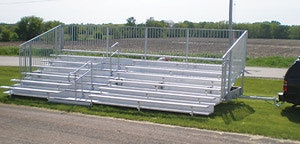 Kay Park-Recreation Corp.
Speedy Bleacher 108 is a folding and highway-towable seating solution by Kay Park. The versatile and economical unit seats 108 people and features seven rows, an aisle and a handrail. Equipped with a hydraulic folding mechanism and telescoping tongue, it can be easily towed by a conventional vehicle and erected in just a few minutes by one person. The 27-foot-long, 9-foot-high Speedy Bleacher meets safety codes.
www.kaypark.com
(800) 553-2476
---
RELATED: Find more solutions for your facility in the Buyers Guide
---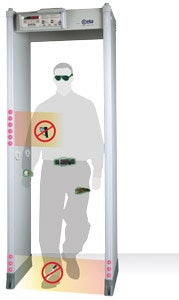 CEIA USA
The CEIA HI-PE Plus is an affordable, multizone metal detector with superior performance to detect guns and knives. It provides a high level of discrimination for non-threat items, full compliance with the latest security standards and exceptional immunity to external interferences. The CEIA PD240 hand-held metal detector features a wide search area that combines high reliability with advanced detection and operator signaling features. It also features indoor/outdoor operation and floor rebar rejection.
www.ceia-usa.com
(833) 532-2342
---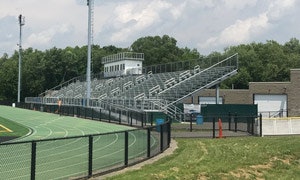 GT Grandstands
Blackhawk High School in Chippewa Township, Penn., needed new football bleachers. Due to existing structures, the fit of the bleachers was posing an issue for planners. GT Grandstands was able to provide an I-beam structure featuring a press box, inclusive seating, accessible ramps and lower panel enclosures for storage. Whatever the grandstand challenge, GT Grandstands can supply what is needed.
www.gtgrandstands.com
(866) 550-5511
---
RELATED: Hosting Soccer, Football in Baseball Stadiums
---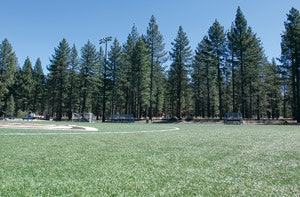 Greenplay USA
Since 2006, Greenplay's natural, plant-based Corkonut® organic infill has kept the turf field at Lake Tahoe Community College consistent with its natural environment. The comparisons of Lake Tahoe's new field to pristine natural grass abound with a natural look and feel, enhanced foot stability and low abrasiveness. Even on the hottest days, the turf is cool enough to play barefoot, a direct result of superior moisture retention and a natural evaporative effect. The coconut fiber/cork matrix is resilient and durable with minimal migration, resulting in consistent infill levels across the field.
www.greenplayusa.com
(516) 223-0202
---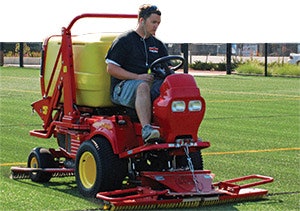 SMG Equipment
For more than 40 years, SMG Equipment has been a leading manufacturer of equipment for the installation and maintenance of synthetic turf fields and running tracks. SMG Equipment offers a complete line of turf maintenance tools, including drag brushes, ground-driven tow-behind sweepers, tractor-mounted PTO-drive sweepers, and the top-of-the-line SMG SportChamp.
www.smgequipment.com
(253) 249-7050
---
These products originally appeared in the September 2018 issue of Athletic Business, a free magazine for professionals in the athletic, fitness and recreation industry. Click here to subscribe.