Imagine walking into an iconic sports venue, say Yankee Stadium, to see a game. Except when you arrive, the clay on the field has been replaced with sod, and the sport being played isn't baseball, it's soccer. That's the situation that occurs regularly for fans of New York City Football Club, the MLS franchise that plays its home games at Yankee Stadium.
While stadiums shared by teams that play different sports are nothing new, the sight of a sport being played outside of its natural habitat — a stadium specifically built to host that sport — creates a unique draw for fans, and a unique challenge for facility operators.

---
RELATED: Purchasing Guide: Features to consider when selecting a video board
---
Kicking baseball out
Since NYCFC began play at Yankee Stadium in 2015, the grounds crew at the home of the Bronx Bombers may have gotten used to the idea of converting a playing surface from baseball to soccer and back again. But that feat is atypical. NYCFC is the only MLS club to regularly play in a facility built primarily for baseball. However, international matches sometimes are played in baseball stadiums as one-off events.
One such event took place this summer at Miller Park, where more than 18,000 fans watched C.F. Pachuca defeat Club León 3-1 in a friendly match featuring teams from Mexico's top league, Liga MX.
Typically, Miller Park is home to MLB's Milwaukee Brewers. But with the team on a road trip ahead of the All-Star break, and the World Cup riveting soccer fans around the globe, the timing was right for the venue to host its third-ever soccer match.
As a soccer venue, Miller Park's pitch stretches from the first base line into left field. Laying it all down is where Michael Boettcher comes in.
---
RELATED: Find more solutions for your facility in the Buyers Guide
---
As director of grounds, Boettcher and his team of turf managers and grounds crew members had about three days to convert the playing surface at Miller Park from a baseball diamond to one suitable for hosting international soccer stars.
That process began with removing clay from infield areas. "When you convert, and you dig that clay out that sits within our turf surface, it's quite a process," Boettcher says. "The infield clay that sits out here for the season is about four inches thick, so we just grind it down on the edges and transition." In all, he says the amount of clay that needs to be trucked out to prepare the field for soccer is about 20 tons — six and a half of which come from the pitcher's mound alone.
"Taking the mound out with a mini-excavator is a pretty short, painless process," Boettcher says. "It really comes off pretty quick. Machines have been a great help in making that transformation possible."
Since the clay infield and the grass turf are level for baseball play, replacing it to make it suitable for soccer requires a lot of sod — enough to fill five semitrailers, according to Boettcher. That sod is used to cover the infield, the mound, home plate and portions of the left field warning track.
After ensuring that the sod is in place and level with the existing field, the boundaries of the soccer pitch are strung out and painted.
"There are a few of us who go through a lot of the checks and balances to make sure that the field is ready," Boettcher says. "The teams previously have been happy with our surface, and as a turf manager, we're able to make sure that's ready to go."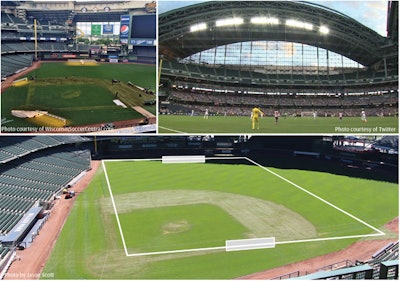 Back to baseball
Perhaps the bigger challenge of the conversion process is getting the field back to its original purpose — baseball.
"On the back side is where you find a lot of very labor-intensive fine-tuning — making sure that your surface is exactly where it needs to be when you come back to the sport that Miller Park is meant for," Boettcher says.
---
RELATED: PRODUCT SPOTLIGHT 2018: Stadiums & Outdoor Surfaces
---
Between removing the sod and rebuilding the clay surfaces to the specifications that players demand, getting the field ready for the Brewers again requires an acute attention to detail. "In terms of baseball, it's a game of inches in a lot of ways," Boettcher says.
Typically, clay surfaces are the first areas constructed when building a baseball diamond, according to Boettcher. Turf is usually brought in after the clay areas are built. But conversion back to baseball from soccer requires that those steps be reversed. "Making sure that our disruption to our existing surface is as minimal as possible makes it even more challenging," he says. "It's a matter of bringing that mound back and making sure you're 100 percent to grade and the feel that the pitchers expect every single night."

Gridiron on the diamond
While the European brand of football is rarely played in baseball stadiums, American football is no stranger to the diamond. NFL teams sharing stadiums with MLB teams was once commonplace, and even the college game has come to baseball fields. Between bowl games and one-off events, baseball venues have recently been converted to gridirons. Here's a look at a few:
Chase Field
The Cactus Bowl had called the Arizona Diamondbacks' ballpark home in the early 2000s, and after a gap of several years, the game returned in 2016. The Cactus Bowl actually took place twice within that calendar year to cap off two separate seasons: a matchup between Arizona State and West Virginia finished off the 2015-16 season in January, and in December a Boise State versus Baylor game ended the 2016-17 campaign. Kansas State defeated UCLA in the 2017 edition of the Cactus Bowl. Chase Field will once again host the Cactus Bowl in 2018.
Fenway Park
The home of the Boston Red Sox has hosted a number of football games, including Notre Dame's memorable win over Boston College in 2015. In 2017, MLB's oldest ballpark hosted three college football games — Dartmouth versus Brown, Maine versus UMass and Boston College versus UConn — in what was dubbed the 2017 Fenway Gridiron Series. This November, Harvard and Yale will meet at Fenway for the 2018 edition of "The Game."
SunTrust Park
The Atlanta Braves' new ballpark will host its first-ever football game this November when Kennesaw State and Jacksonville State meet on the temporary gridiron.
Target Field
In September 2017, a Division III matchup between St. Thomas and Saint John's became the first-ever football game held at Target Field, home of the Minnesota Twins. The game drew a D-III-record crowd of 37,355 fans. The next college football game scheduled at Target Field is August 2019's matchup between North Dakota State and Butler.
Tropicana Field
Since 2008, the Trop has been home to a postseason bowl game. Three iterations of the game — the St. Petersburg Bowl, the Beef 'O' Brady's Bowl and the Gasparilla Bowl — were held in the Tampa Bay Rays' ballpark from 2008 to 2017. The 2018 game will be played in Raymond James Stadium.
Wrigley Field
A 2010 game between Illinois and Northwestern held at the Chicago Cubs' ballpark was notable in that the Friendly Confines were a bit too close for comfort. Safety concerns led to both teams playing in the same direction. Still, after some recent renovations it was announced that MLB's second-oldest ballpark will once again host Northwestern football, this time against Wisconsin in a matchup set for 2020.
Yankee Stadium
The Pinstripe Bowl is perhaps the most famous bowl game held in an MLB venue. Organized by the New York Yankees, the game takes place in Yankee Stadium and has been held annually since 2010. Apart from the bowl game, Yankee Stadium will host regular-season matchups between Notre Dame and Syracuse this November, and Dartmouth and Princeton in November 2019.
As soccer's popularity surges in the U.S. — a Forbes report in January said that the sport will soon supplant baseball as Americans' third favorite — bringing the world's game to domestic audiences makes sense.
In order to catch the wave, turf managers like Boettcher will become increasingly important as soccer comes to non-soccer-specific venues.
"What we're able to do as turf managers is pretty awesome," Boettcher says. "We like the challenges. The biggest thing is being able to give the City of Milwaukee another sporting event to come out and watch here at Miller Park."
---
This article originally appeared in the September 2018 issue of Athletic Business with the title "Here's the pitch: How MLB's Brewers built a soccer field" Athletic Business is a free magazine for professionals in the athletic, fitness and recreation industry. Click here to subscribe.