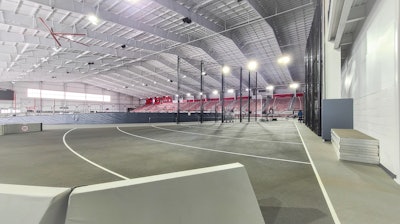 Photo by Howard Blaisdell courtesy of Moody Nolan
You can count on two hands the number of hydraulically banked indoor tracks in the United States — most of them east of the Mississippi River. Liberty University has one, and so does the University of Michigan. But such structures also are being built via community partnerships between school districts, government entities, medical facilities and nonprofit organizations. There's the Dr. Conrad Worrill Track and Field Center at Gately Park in Chicago, the Birmingham (Ala.) CrossPlex, and the Norton Healthcare Sports and Learning Complex in Louisville, Ky.
Permanently banked indoor tracks, however, are becoming increasingly common, according to surface manufacturers and facility architects. Even portable banked tracks that can be set up in multipurpose spaces at colleges, universities and community facilities are gaining traction.
And all for an obvious reason.
"Banked tracks increase the runner's centrifugal force in the turns and help them get better times," says Michael Tovar, director of the track division for surface manufacturer Mondo. "More facility operators are seeing the advantages over a traditional flat track."
The right kind of banked track can hold even more advantages for athletes and operators alike.
"If you have a hydraulic bank, then you have the ability to do other events in the space," says Howard Blaisdell, an associate principal and project manager at architectural firm Moody Nolan who oversaw the design of the Norton facility, which uses the convertible track space for everything from career fairs and blood drives to Kentucky Derby-related social events. Meanwhile, tracks with permanent banks — such as the one at Washburn University — allow for convenient storage of hurdles and other equipment.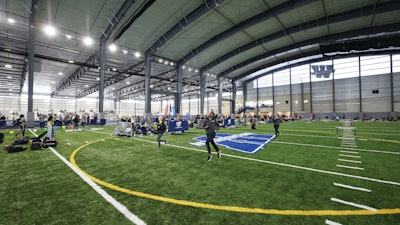 In fact, the Washburn Indoor Athletic Facility boasts the only 200-meter permanently banked track in all of NCAA Division II, and it is located adjacent to an indoor synthetic turf field. "The beauty of having the track next to a turf field is that athletes can warm up on the field; they'll put up a hurdle or two. Teams set up and camp out there between events, too," says Bob Carlson, the project's lead architect for DLR Group. "During a big meet, it is full of kids running back and forth. And the turf makes running a meet really easy, because all the kids are in the same area."
Cost remains the biggest hurdle for banked tracks. Permanent banks are the least expensive, according to Tovar, followed by portable banks and then hydraulic banks, which can add about $3 million to a project's price tag. That's why the total number of banked indoor tracks in the United States is still low compared to flat tracks. But even as the popularity of banked tracks increases, facility operators shouldn't feel pressured to follow a pricey trend.
"You have to look holistically at what benefits you want from an indoor facility," Carlson says, noting that potential non-track and field programming should factor into the decision whether to go with flat or banked turns.
If, for example, the goal is to attract high-profile state, regional and national high school, college and USA Track & Field meets, a banked track certainly will be more appealing to event organizers than a flat one. But a flat track is more appealing to everyday users than no track at all.
"Most places, if they can't afford a banked track, will stay with the flat track, because it's more important that everybody be able to use the facility for multiple purposes rather than just have the bank," Blaisdell says.
Banking on banked tracks
From the beginning, the 129,000-square-foot, $43 million Norton Healthcare Sports and Learning Complex was intended to be a national track and field destination — owned by the Louisville Urban League and located on the organization's Sports & Learning Campus in an underserved neighborhood on Louisville's west side.
Blaisdell and his team actually met with NCAA officials and asked them to share with designers their space needs — from athlete and spectator entry and inside flow to warmup areas and more. In the end, the 200-meter track was built to meet specifications of the NCAA, the National Federation of State High School Associations, USA Track & Field and World Athletics (formerly the International Association of Athletics Federations) in an effort to drive year-round economic impact to the community.
In contrast to the Norton complex, the 140,000-square-foot, $20 million Indoor Athletic Facility at Washburn University didn't even include an indoor track in the initial design. The building originally was intended as a football practice facility. Then came the idea to add a 300-meter track around the field before university officials and designers finally settled on the 200-meter track adjacent to a 110-yard synthetic turf field — resulting in a more efficient use of space.
The two separate areas eliminate space conflicts and simplify scheduling and concurrent usage. The track has helped the university expand its track and field program, allowing for the hosting of home meets as well as regional and national events, and the Ichabods' soccer, baseball and softball teams utilize the facility for year-round practice and athlete development. Moreover, the space can accommodate large assemblies and university-sponsored summer camps.
Both the Norton and Washburn facilities offer significant seating capacities — 4,000 and 1,500, respectively — with ample areas for athlete warmups. Many field events are held inside the oval, and dedicated throwing areas include separate netting or fencing.
"Typically, in the past, you would bring a cage into the facility and set it up in the infield for a couple hours," Blaisdell says. "A future trend is going to be netting that just drops down from the ceiling, because eventually we're going to get to the point where operators want the super flexibility of doing something that's fast and easy." Having dedicated throwing areas also offers greater flexibility in scheduling — freeing up the infield and shortening the length of meets, he adds.
At Washburn, the throwing area is located about 15 feet beyond the south radius of the track. It features a netted cage and drop-down netting, with portable sand-filled plastic barriers that act as guardrails to prevent people from inadvertently walking into the path of shot puts and discs.
All of these ancillary spaces work just as effectively with flat tracks. "Banked tracks are still a bit of a novelty," admits David Contag, a landscape architect at DLR Group who was involved in the Washburn project. "But I think in the next 20 years we're going to see them become the standard, because when you look at the benefits — especially for an NCAA school — it really starts to make sense. There are ways to make these more doable and affordable."
Outdoor options
Obviously, hydraulically banked tracks won't be showing up at outdoor facilities anytime soon. But there are other, more subtle differences between indoor and outdoor tracks. While indoor tracks are typically 200 or 300 meters long with narrower lanes, outdoor tracks are 400 meters long with slightly wider lanes. As a result, the inside lanes on an indoor track may be subjected to more wear from spikes than its outside lanes, or the lanes on an outdoor track, potentially requiring top-coating or replacement of the worn lanes. Meanwhile, outdoor tracks have UV stabilizers to further enhance their longevity in the elements.
"When you're looking at an outdoor track, a couple considerations come into play," Blaisdell says. "First, do you want it to be the same as the indoor? And, ideally, you do. It's like synthetic turf; you want to practice on the same thing you're playing on, so it has the same feel and same rebound. The surface for each track system has a certain energy rebound, and you want that to be the same when you're warming up outside as it is when you're competing inside."
The second consideration is drainage. "Most surfaces are impervious, meaning that all the water will drain toward the inside of the track to a drain between the track and the infield," he says. "But there are some surfaces out there that are actually pervious and allow the water to soak through."
It's also worth noting that outdoor throwing events must be conducted on natural grass; otherwise, they might cause damage to synthetic turf. Thus, consideration needs to be given to the infield surface of an outdoor track.
One of the most common misperceptions about outdoor tracks involves aesthetics, according to Tovar. "Some people think red is the official color of tracks," he says. "That's not true; there is no official color in track and field."
For decades, most outdoor tracks featured a red cinder surface with white lines. Even though most have long since been replaced with synthetic surfaces, red is a common color in international competitions such as the Olympics — which might have fueled color misperceptions. But blues and grays, Tovar adds, offer less heat retention.
Regardless of whether you're building an indoor or outdoor track, such a facility has an opportunity to enhance an organization's mission beyond merely offering a multilane oval. The Norton Healthcare Sports and Learning Complex, for one, is much more than a track and field venue. It includes a four-lane bowling alley and an interactive climbing wall for community members (and even spectators who might need a break from sitting on bleachers), plus spaces available for parties and classes.
Additionally, Blaisdell notes, the facility catalyzed urban development and job creation while expanding community services. One of the biggest improvements to the facility's neighborhood is the construction of the Norton West Louisville Hospital, which will be located about six blocks from the sports and learning complex and share the Norton Healthcare Goodwill Opportunity Campus, with many services offered through Goodwill Industries of Kentucky. Medical care will focus on local needs based on 4,500 survey responses from residents.
"We're excited about how [the sports and learning complex] has led to future development," Blaisdell says. "If Norton Healthcare had not gotten involved as a sponsor of the main building, I don't think they would have built the smaller hospital in that neighborhood."