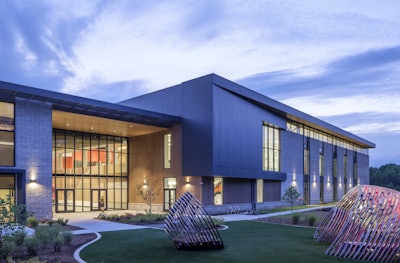 Construction Cost: $35 million
Area / Square Feet: 95,000
Occupancy Date: September 2020
Through a series of engagement meetings with local residents, the design team prioritized both a sense of energy and excitement that needed to be expressed by the Eastway Regional Recreation Center, as well as a clear connection to the history and cultural relevance of the Charlotte region.
The exterior of the building is angular and dynamic, reaching upward to reflect a sense of movement and kinetic energy. The brick is treated with layers and textures to reinforce a sense of energy at the pedestrian scale, and windows are treated with brightly colored frames to add contrast and interest. The entry is scaled to amplify a sense of invitation, which 
is reinforced inside where the central connector acts as a high-volume view shed to the many social, community and activity spaces that define the program. 
Muted colors and wood tones reflect the history of a region deeply rooted in agriculture and textile manufacturing. The undulating lobby ceiling picks up on the rolling landscapes that evoke the natural terrain of local farms, while a wood veil beyond the reception desk is accented with colors that reflect regional textile creations. This entry volume stretches from one side of the building to the other, organizing the main program elements with communal and social spaces such as a teaching kitchen, a nature center, a senior center and a sound mixing room on one side, with active spaces including the fitness, gym and pool spaces on the other.
ARCHITECT OF RECORD
Charlotte, N.C.
DESIGN ARCHITECT
Boston, Mass.
AQUATIC CONSULTANT 
St. Louis, Mo.
PROJECT VENDORS
Fitness Center - Cardiovascular Equipment - Precor
Fitness Center - Flooring, Aerobics - Mondo 
Sports FlooringFitness Center - Flooring, Fitness Center - Ecore
Fitness Center - Free-Weight Equipment- Precor
Fitness Center - Strength Equipment - Precor
Gymnasium/Field House/Arena - Basketball Backboards/Supports - Performance Sports Systems
Gymnasium/Field House/Arena - Bleachers/Grandstands - Learning Environments
Gymnasium/Field House/Arena - Divider Curtains - Performance Sports Systems
Gymnasium/Field House/Arena - Lighting - H.E. Williams
Gymnasium/Field House/Arena - Scoreboards/Timing Systems - Nevco
Gymnasium/Field House/Arena - Volleyball Nets and Standards - Performance Sports Systems
Gymnasium/Field House/Arena - Wall Padding - Performance Sports Systems
Indoor Soccer/Inline Rinks - Dashers - Athletica Sports Systems
Indoor Sports Surfaces - Basketball - Aacer Sports Flooring
Indoor Sports Surfaces - Multipurpose - Mondo Sports Flooring
Indoor Sports Surfaces - Track - Mondo Sports Flooring
Locker/Shower - Flooring - Stonhard
Locker/Shower - Lockers - RFS Sports
Outdoor Facilities/Stadiums - Lighting - Musco
Outdoor Facilities/Stadiums - Sports Surfaces - Geo Surfaces
Pools - Access Ramps/Stairs - Spectrum Aquatics
Pools - Bleachers - Learning Environments
Pools - Chemical Control Systems - BECS Technology
Pools - Cleaners/Vacuums - Spectrum Aquatics
Pools - Deck/Basin Surface - Stonhard
Pools - Filtration Systems - Neptune Benson
Pools - Ladders/Grab Bars - Spectrum Aquatics
Pools - Lane Markers - Spectrum Aquatics
Pools - Lighting - Insight
Pools - Sanitization Systems - Aquionics
Pools - Starting Blocks - Spectrum Aquatics
Pools - Water Play Features - Vortex