The decision to renovate an existing building can be driven by many factors. Its age, location, relationship to other buildings, or historical significance may each exert enough influence to call for renovation rather than replacement. However, as with most building projects, cost and schedule considerations likely outweigh all others.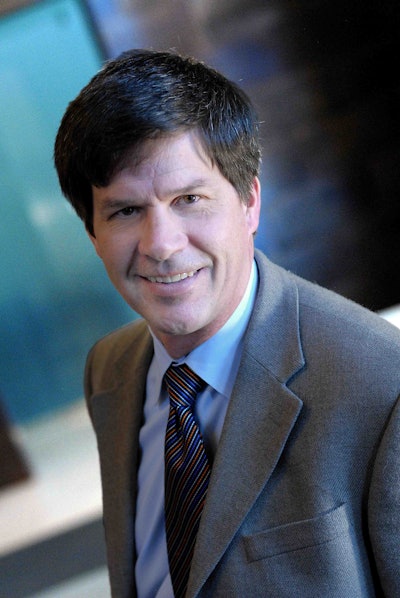 Within today's socially conscious design and construction environments, more clients are asking, "Can a renovation be considered sustainable?" And if so, what price is paid to achieve sustainability? The query is unquestionably worthwhile. Sustainability focuses on the concept of stewardship — thinking long-term about the conservation of resources. But sustainability does not have to rely on an extended period of time to be effective. An existing building is a resource in itself — it offers a site, a structure, a skin and systems that support its occupancy or use. Immediate sustainability can be achieved simply by making the decision to renovate rather than demolish and rebuild.
Renovations may often reduce the possible sustainable design strategies, however. The existing building's orientation may limit opportunities to effectively use sunlight as an energy source. Historic preservation requirements may limit improvements to the building's exterior envelope and energy efficiency. Typically, though, there is enough intrinsic value in an existing building to make sustainable renovation completely viable. The challenge is understanding where effective sustainable design strategies lie. While we often think of benefit in terms of the environment, the true magic of sustainable design is that it can have a significant benefit to the owner in reduced long-term utility and operational costs. So to the oft-quoted sustainability mantra of reuse, reduce, recycle, one might add a fourth "R" — return on investment.
REUSE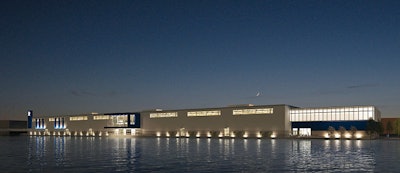 A renovation project gets high marks here. A building is a very sophisticated product that requires a significant amount of effort, energy and capital to construct. There is great value — and savings — in reusing a structure rather than devoting the energy and resources to extract materials, transport them to a mill or factory, then transport the products to a construction site to be erected or placed within a building.
The question of reuse is critical to a building renovation project: Is the inherent character of the existing building consistent with its anticipated use? In Rockford, Ill., our firm is currently designing the conversion of a former factory into a multi-court sports facility. The building's original design and construction can easily accommodate the planned seven basketball courts. Its 105-foot clear span and 40-foot clear heights are ideal for a basketball and volleyball facility. Based on our studies, reusing the existing building will save more than $40 per square foot, or $3.2 million total, but many challenges abound. The building's site has limited parking, the exterior envelope of the building is poorly insulated and the metal panel skin has corroded noticeably, and the original mechanical and electrical systems will require replacement.
There are many other factors to consider. If the renovation affects a majority of the building, today's codes typically require a full upgrade to current standards. These may include upgrades to the structural system to address potential earthquake loading or wind loading. Hazardous material abatement is often a consideration, but even if the building is to be demolished or sold, the owner will be faced with these costs regardless. And depending on the age of the structure, new utility services can be expensive.
Like the building itself, all building products have an inherent value. Even if a building requires significant reconstruction, materials that can stand the test of time such as steel, glass, concrete or masonry offer great value in their reuse. As part of the University of Richmond's ongoing arena renovation project, it was determined that removing the existing seats, shipping them a few hundred miles to be reconditioned and then shipping them back to the site and reinstalling them could realize significant savings over purchasing all new chairs. To assure that expectations of quality would be met, the supplier removed two existing chairs, reconditioned them and sent them back prior to the award of the contract.
REDUCE
The ability to reduce consumption of materials, energy use and environmental impact is at the core of sustainable design. By using locally or regionally manufactured materials, transportation is reduced. Low-flow plumbing fixtures reduce water consumption. A building site located near public transportation or the provision of shower/change rooms will encourage the use of alternate means of transportation, such as biking or walking, reducing the consumption of fossil fuels. Light-colored roofing or paving materials will reduce the absorption of solar radiation, reflecting more of the sun's energy and lessening atmospheric heat build-up, which can affect human comfort, cooling loads for buildings and, ultimately, global warming.
The use of durable materials will reduce the waste and reinstallation of replacement materials in the future. And by designing a building efficiently, architects can reduce the amount of square footage required to fulfill the program needs. Through these reductions, costs — both immediate and long-term — can be reduced, as well.
The greatest opportunity for reduction is in the amount of non-renewable energy sources required to cool and heat buildings. Until the energy crisis in the late 1970s, there was not a strong emphasis on insulating a building's exterior walls and roof. Once the costs of fossil fuels began to climb, the value of a well-insulated envelope became apparent, as did the potential of the sun to help heat buildings by using passive or active solar systems. The late '70s indeed represented a bit of a revolution in the architectural world.
>More recently, the LEED-fueled sustainable design revolution has advanced numerous technologies and design and construction practices, all with the goal of reducing energy consumption. New buildings feature well-insulated envelopes with few thermal bridges, minimized air infiltration, highly efficient heating and cooling systems, heat recovery systems that extract heat from exhaust air or other systems that create "waste heat." Also, control systems for ventilation, heating and cooling, as well as lighting, react to the use (or non-use) of a space to customize the user experience and reduce energy consumption.
RECYCLE
The use of recycled materials within renovations offers great possibilities. The ultimate recycling scenario is when a project utilizes demolished materials (such as ground-up concrete) as part of the new construction materials (such as aggregate within concrete or asphalt paving).
Often, though, recycling takes the form of materials used for construction that have recycled content within them. As a sustainable design approach in buildings, it's pervasive, but not glamorous. Good examples include structural steel, copper piping and wiring, carpets or other flooring materials, specialized products such as synthetic turf, and aluminum products.
Construction waste is also a significant target for recycling. While the recycled materials may not be integrated into the building, they will likely find a higher and better use in another application. Over the course of a construction project, the amount of cardboard packaging, pallets, steel strapping, and plastic packaging materials available for recycling can be astounding. And waste from other industries is often integrated into construction materials. Flyash, a by-product of burning coal, is used as an additive in concrete. New-generation wood products such as oriented strand board very effectively use waste from the fabrication of traditional lumber products.
RETURN ON INVESTMENT
Sustainable design strategies seem nearly limitless. For most building owners, though, conservation of capital is as important as conservation of natural resources. During the design process, time spent evaluating the long-term financial benefits of sustainable design strategies is time well spent.
Simple payback is the easiest means to evaluate the ROI of a product or a sustainable design strategy. The initial cost is divided by the annual savings derived from using the product, which results in a specific time period, usually expressed in years. For example, if the installation of a solar hot water heating system costs $200,000 more than a gas-fired boiler, and it will save $10,000 per year compared to the boiler, the simple payback will take 20 years. For most clients, the threshold for simple payback seems to be a maximum of 10 years and may be as low as five years.
The Student Recreation Center at Eastern Washington University provides a good illustration of a fruitful simple payback analysis. During design, a variety of energy- saving measures were modeled and evaluated for their initial cost, their projected annual energy savings, and their payback period. The end result was the implementation of a series of measures that resulted in an aggregate payback period of 4.5 years. The measures included:
• Demand-control ventilation

• Hydronic cooling

• Heat recovery on chiller

• Super-insulated building shell

• Daylighting and controls for the largest spaces

• High-efficiency light fixtures

• Variable-frequency drive fans and motors on air handlers
The approximate first cost of $320,000 yielded an annual energy savings of $70,340, which equaled a 30 percent reduction in energy consumption.
Extending the life of a building or creating a good story for potential customers or clients may lie outside the boundaries of the simple payback evaluation, but may also represent smart business decisions.
"Return" can also be non-monetary, altruistic and thus difficult to measure. College campuses or community recreation settings often place an emphasis on measures that go beyond the simple payback model. Adopting a legacy of stewardship, practicing environmental responsibility, increasing the health and safety of a building's occupants, and a LEED certification can all be worthy of additional effort or costs. In these cases, the owner must drive the evaluation process. Fortunately, many sustainable design strategies do not require additional money to be spent beyond what conventional construction costs. In these cases, the decision is simple.
---
RENOVATION, EXPANSION, REDUCTION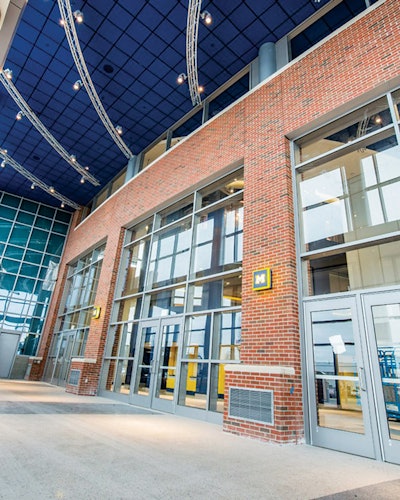 The University of Michigan's Crisler Arena recently underwent a three-phase renovation and expansion. One phase was all new construction, one phase was all renovation, and one phase was a mix of renovation and expansion. The phases all shared similar strategies to reduce energy and water consumption:
• Detailed energy modeling

• Increased insulation in the existing roof, in the new exterior walls and under new slabs

• Energy-efficient windows/glazing in new windows for increased thermal performance

• Overhangs/solar shading to help maintain energy efficiency while maximizing daylight penetration

• High-efficiency lighting throughout

• Occupancy sensors to control lighting during unoccupied times

• Demand-control ventilation to reduce the amount of outside air being heated/cooled during times of low occupancy

• Increased thermostat dead bands for heating during unoccupied times

• Supply-air ductwork sized at lower velocities to reduce the static pressure and therefore require less energy for fans

• Low-flow plumbing fixtures with automatic controls

• Landscaping chosen to eliminate potable water use for permanent irrigation.

• No new onsite parking (to reduce pollution and land development impacts)

• Energy-efficient transformers

• Monitoring outside air delivery to ensure during low load conditions that the correct amount of outside air is being delivered

• Air-handling systems designed for control of thermal comfort by occupants

• Use of HCFC refrigerants that have almost zero ozone-depletion ratings

• Commissioning of the new mechanical and electrical systems
Phase three (the largest project) also achieved LEED Gold. Each phase was required to exceed ASHRAE Standard 90.1—2007 by 30 percent or greater. ASHRAE Standard 90.1 is a prototypical baseline standard for energy consumption that is used to evaluate relative energy savings. For sustainable renovations, however, the realized energy savings compared to the original building can be dramatically more.
---
This article originally appeared in the February 2014 issue of Athletic Business under the headline, "The Four R's."