Breaking Ground
Construction of a new Center for Sport Sciences (pictured) is under way at Wilmington College. The $8.4 million indoor athletic training facility is being built directly adjacent to the school's synthetic turf field and will act as an extension of existing campus athletic amenities. The center will serve as the primary home of the school's athletic training program, offering a hydro-training area, recruitment room, classroom space, administrative offices and a 15,000-square-foot synthetic turf field. A partnership between the college, Beacon Orthopaedics and Sports Medicine, Clinton Memorial Hospital and Drayer Physical Therapy will bring professional services such as orthopedic care, physical therapy and imaging into the facility. MSA Sport of Cincinnati is overseeing the project.
Construction has begun on an Armed Services YMCA in Harker Heights, Tex., the first facility of its kind to be built outside of a military base. The $9.8 million ASYMCA, designed by Austin-based Studio 8 Architects, will include a 7,000-square-foot fitness center, a cardio center, an aquatics center, gymnasiums and additions specifically designed for use by injured soldiers. It will be open to military members and their families as well as the public, and the Killeen Independent School District will conduct swim lessons in the pool when it opens next fall. The facility will also provide cardio and rehabilitation services through a partnership with Seaton Medical Center Harker Heights.
Central Parkway YMCA in Cincinnati closes this month to begin work on a $27 million renovation to the 97-year-old building. The renovation, designed by CR architecture+design of Cincinnati, will bring more natural light into the fitness center; add new cardio and strength equipment; construct group exercise rooms, racquetball courts, a cycling studio and a free-weight room; and add new locker room lounges and men's and women's steam and sauna rooms. The indoor pool and gymnasium will also be renovated, and new HVAC and plumbing systems will be added.
---
First Pitch
The Oakley (Ohio) community council has given the go-ahead to begin the design phase for a new aquatic center. Based on suggestions from local residents and swimmers, the center will include a lap pool with diving board and slide, a wading pool and a sprayground. The $3 million project will be built at the site of the existing Oakley Pool, which will be completely gutted.
Kingsbridge National Ice Center LLC has finalized a lease with the New York City Economic Development Corporation, paving the way for the design phase of what KNIC says will be the largest indoor ice center in the world. The overhaul of the Bronx's vacant Kingsbridge Armory will construct nine year-round indoor ice rinks, a 50,000-square-foot community space and a wellness center. Approved by the New York City Council last December, the $350 million project is expected to see construction begin in 2016.
PREVIOUS COVERAGE: Bronx Ice Center Will Have Billion Dollar Impact, Supporters Say
The Walnut city council has selected a concept plan to construct a new $20 million aquatics complex near Walnut Ranch Park. The master plan designed by Aquatic Design Group of Carlsbad, Calif., features two pools — an 8,500-square-foot recreation pool with a lazy river, waterslides and zero-depth entry, and a 35-meter, 14-lane competition pool — as well as a spray park and an amphitheater. A main building will house a multipurpose and events room, a concessions area, locker rooms, a lobby, staff offices and storage. The city will use the plan as the basis for fundraising and building community support before a final design is approved.
The Oceanside, Calif., city council has approved the construction of a new $12 million swimming complex, the city's first new public pool in decades. The new facility will help meet increased demand for practice and competition space for local swim teams by including a 52-meter-by-25-yard competition pool and an instructional pool, as well as a splash pad. The city is now looking at a funding plan for the project... Plans are already in motion for a new recreation center to break ground next spring in Montrose, Colo., but a new capital campaign launched by the Montrose Recreation District hopes to fund an enhanced version of the base plan. An additional $1.6 million will allow three more lanes in the lap pool, an extra court in the gym, a larger walking track and a therapy clinic.
---
Grand Openings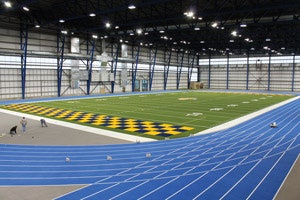 The Sanford Jackrabbit Athletic Complex (right) is now open at South Dakota State University. Believed to be the largest indoor athletic complex in Division I college athletics, the 149,000-square-foot facility features an eight-lane, 300-meter track, 100-yard practice field comprised of soy-based synthetic turf, and seating for 1,000 spectators. Designed by Kansas City, Mo.-based Crawford Architects, the $32 million facility will be used as an indoor practice space for football and other athletic programs and will host collegiate and high school track meets.
RELATED: Designing the Modern College Football Practice Facility
A new fitness center is now open in Bethel, Alaska. The Yukon-Kuskokwim Regional Aquatic Health & Safety Center is better known as "The Pool" to community members, recognizing the importance of an amenity that has been long absent from the area. The facility features a six-lane competition pool and a smaller recreation and therapy pool with a water slide, as well as fitness spaces, group exercise rooms, locker rooms and a pool viewing area. A windmill provides more than half of the electricity needed to run the center. Architects Alaska of Anchorage led the project design, with aquatic design services provided by St. Louis, Mo.-based Counsilman-Hunsaker...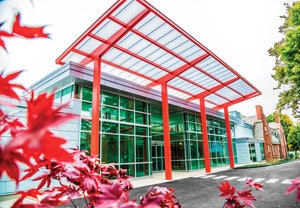 Chapter 126 Sports and Fitness, An Oak Hill Center (pictured) is now open in Bristol, Conn. Designed specifically for people with disabilities, the $4 million renovation of an existing 25,000-square-foot facility features a fitness center complete with accessible exercise machines, including an anti-gravity treadmill, and a gymnasium equipped with 15 sports wheelchairs. Existing locker rooms and restrooms were completely renovated to make them more accessible. The facility is being managed by Oak Hill, a Hartford-based nonprofit organization.
RELATED: November's Edition of New Projects
---
This article originally appeared in the December 2014 issue of Athletic Business with the title "Forward Progress"