Breaking Ground
The University of Notre Dame begins construction this month on Campus Crossroads (pictured), a $400 million project that will add three academic buildings and premium seating onto Notre Dame Stadium.
The 800,000-square-foot project, expected to be complete in summer 2017, includes construction of a student center on the stadium's west side with boxes for home and visiting coaches and athletics administrators, and security and media booths located on the upper levels. The existing press box will be renovated into premium seating. On the east side, classroom and administrative spaces for anthropology, psychology and digital media will be topped with a stadium press box, outdoor club seating, and a large space that will serve as both a club area and a flexible classroom. The Department of Music and Sacred Music program will make its home at the facility being constructed on the south side of the stadium, complete with recital and rehearsal halls, a music library and a 350-seat club. S/L/A/M Collaborative of Glastonbury, Conn., is leading the design of the overall project, with RATIO Architects of Indianapolis serving as co-designer, Workshop Architects of South Bend, Ind., consulting for the student center and 360 Architecture of Kansas City, Mo., consulting for the recreation, fitness and hospitality areas.
RELATED: Notre Dame Announces $400M Stadium Expansion
Construction of a new student recreation center is under way at Xavier University. When completed late next year, the 22,000-square-foot, two-story recreation center will feature an NCAA-regulation-sized basketball court with cardio equipment located around the perimeter and throughout the second floor, and a walking and jogging track. The $3.6 million project will be built with FEMA rebuilding money granted after Hurricane Katrina, requiring no increase in student fees. Woodward Design+Build of New Orleans is overseeing the project.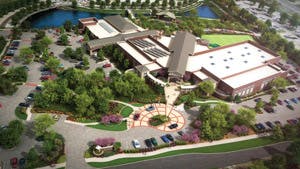 Click to enlarge
The first phase of construction of the Southlake (Tex.) Community Recreation Center has begun. Included in the first phase of the $46.5 million project, designed by Barker Rinker Seacat Architecture of Denver, are an events center, community rooms and an amphitheater. A second phase will construct a fitness center, a weight room, a gymnasium, an aquatics center, and indoor and outdoor athletic fields. The second phase will begin in fall 2016, contingent upon Southlake voters approving the repurposing of an existing sales tax revenue source.
RELATED: 10 Tips to Keep Your Rec Center Looking Like New
---
First Pitch
The Elk Grove, Calif., city council has approved the construction of a new multimillion-dollar aquatic center but scrapped plans for a $33 million water park after negative feedback from the community. The city is in the process of designing and bidding out the project, which it expects to open in 2016... A bond measure that will provide $6.7 million for the construction of new high school athletic facilities was recently approved in Agawam, Mass. The funds will be used toward constructing a new turf field, a track, bleachers, a concessions stand, tennis courts, a baseball field and basketball courts at Agawam High School. In addition, ADA-compliant restrooms will be built and Title IX-related improvements will be made to the locker rooms. The city is in the process of seeking construction bids... The University of Michigan's board of regents has approved a $168 million proposal to construct a new 310,000-square-foot facility for its track, tennis, cross country, rowing, soccer and lacrosse programs. The Stephen M. Ross Athletic South Competition and Performance Project, funded in part by a $100 million donation from its namesake, will include an indoor and outdoor track competition venue and a lacrosse stadium with seating for 3,000 spectators. The regents also approved an $18.7 million renovation of the Intramural Sports Building.
---
Grand Openings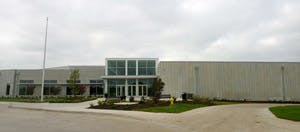 (Photos by Erik Miner, Premier Sports Management) Click here to see more
The Sports Pavilion Lawrence at Rock Chalk Park (right) is now open in Lawrence, Kan. A joint effort between the City of Lawrence Parks and Recreation Department and the University of Kansas, the 181,000-square-foot facility features eight gyms striped for basketball and capable of accommodating 16 volleyball courts, an indoor multipurpose turf field, a gymnastics area, a fitness room, a weight room and an indoor track, and is already scheduled to host a number of youth basketball, volleyball and indoor soccer events. The facility, designed by Gould Evans Associates of Kansas City, Mo., in partnership with Paul Werner Architects of Lawrence, also includes a large mezzanine area overlooking the courts and equipped with seating and large-screen TVs, as well as an extensive concessions area. Outdoor lighted tennis courts and a walking trail are also included... The University of Iowa's Richard O. Jacobson Football Operations Center is now open. The second phase of construction of the $55 million Stew and LeNore Hansen Football Performance Center added 110,000 square feet of strength and conditioning space, athletic training space, team meeting rooms, equipment rooms and locker rooms, as well as administrative offices and a public commons area showcasing the Hawkeye program's past and present success.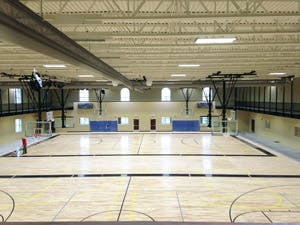 Click to enlargeThe facility is attached to the 108,000-square-foot indoor practice facility constructed during phase one. The project, led by Substance Architecture of Des Moines, is targeting LEED Silver certification... Forks of Elkhorn Baptist Church in Midway, Ky., celebrated the grand opening of its CROSS Center (left) last month. The 61,300-square-foot facility includes a two-court gymnasium, a walking track, an aerobics studio and weight training and cardio areas. Access to the facility will be free for church members, and members of the surrounding community will also be able to purchase memberships.