The University of Notre Dame announced a plan Wednesday to expand the school's 84-year-old football stadium. The $400 million project will add between 3,000 or 4,000 premium seats and new academic buildings on three sides of the stadium. The view of "Touchdown Jesus" will remain unchanged.
Notre Dame's president, The Rev. John Jenkins, told the Associated Press the expansion is "the most ambitious building project in the 172-year history of Notre Dame."

So just what will the school get for its money?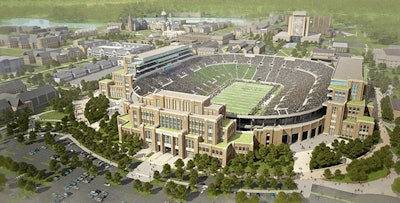 Photo courtesy of the University of Notre Dame

New nine-story buildings will be added to both the east and west sides of the stadium. While each new building will house premium seating and expand the stadium's capacity to more than 84,000, they will also serve an academic purpose.

The west-side building will house a student center and the east-side building will be home to the anthropology and psychology departments as well as a digital media center. On the south side of the stadium, a six-story building will be added as a hospitality area. The stadium's press box will also be moved from the west to east side of the stadium.

The west-side's student center will include a recreation center, allowing the university to turn its existing recreation center into a practice center exclusive to the men's and women's basketball teams.

"What's exciting about this project is it brings together athletics, faculty and academics, research and a student center, so it's an integrated model," Jenkins said.

Notre Dame athletic director Jack Swarbrick echoed those thoughts.

"It's such a powerful symbol given what's going on in college athletics right now, that you can take the stadium and say we believe in the integration of athletics into academics, and here's the living proof of it," Swarbrick said.

As for Notre Dame purists worried about adding video boards or switching the playing surface to synthetic turf, Jenkins says there is no decision on that yet. Notre Dame Stadium opened in 1930. It was expanded from 59,075 seats to its current capacity in 1997.

For context on just how much Notre Dame is spending, Baylor University is building a brand new, 45,000-seat stadium set to open this fall for $250 million. The University of Minnesota built 50,805-seat TCF Bank Stadium, which opened in 2009, for $288 million.

Jenkins said Notre Dame still has to raise the money for this project and is unsure how long that will take. He said construction would begin next year at the earliest and would take nearly three years to complete.

On an unrelated note, Notre Dame announced last week it was signing the most lucrative apparel and shoe deal in college athletics history when it inked a 10-year deal with Under Armour worth about $90 million.

For more information on the Notre Dame Stadium expanison, check out the school's interactive project website.