The Notre Dame Fighting Irish and Under Armour agreed to the most lucrative apparel and shoe deal in college athletics history on Tuesday.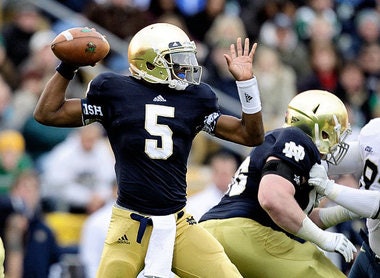 While Notre Dame did not reveal the specifics of the deal, ESPN reported it will be worth about $90 million in cash and merchandise over a 10-year period. Notre Dame is currently an adidas school, but that contract expires in June. Prior to Under Armour's agreement with Notre Dame, Michigan's 10-year $82 million deal with adidas was the richest in college sports.
Notre Dame's agreement with Under Armour has a unique twist that could make the payoff even greater. As ESPN's Darren Rovell reported:
Notre Dame athletic director Jack Swarbrick noted that it allows the school to take some of the cash in company stock.
As of 12:30 p.m. ET Tuesday, shares of Under Armour were up more than 3 percent on the day and up more than 80 percent over last year.
Under Armour CEO Kevin Plank said he first set foot on the Notre Dame campus in 1997, coincidentally the year that adidas' first deal with the school began. That year, Plank said Under Armour's revenues were $110,000. In 2013, Under Armour projects sales of $2.25 billion.

"We don't believe we're partnering with a $2 billion company," Swarbrick said. "We're partnering with a $20 billion company."
As for fans concerned about Under Armour making tweaks to Notre Dame's traditional uniforms, Plank says not to worry.
"Texas Tech is different from Maryland is different from Notre Dame," Plank said. "We don't have to invent any new history. We don't have to tell any new stories. Notre Dame is quite simply Notre Dame."
Also along the lines of tradition, Under Armour will not get any signage placed in Notre Dame Stadium in the deal. The football stadium, opened in 1930 and revered for its traditional atmosphere, doesn't have any advertisements and is even void of a video replay board.
Notre Dame joins Auburn, Maryland, Texas Tech, Boston College, Utah, Temple, Northwestern, South Florida and South Carolina as BCS conference schools to have a schoolwide deal with Under Armour.