Recruiting the best athletes is only part of staying ahead of the competition in college athletics; schools also need to have the resources to train the best athletes.
---


250+ Exhibitors & 190 Educational Sessions | abshow.com.
---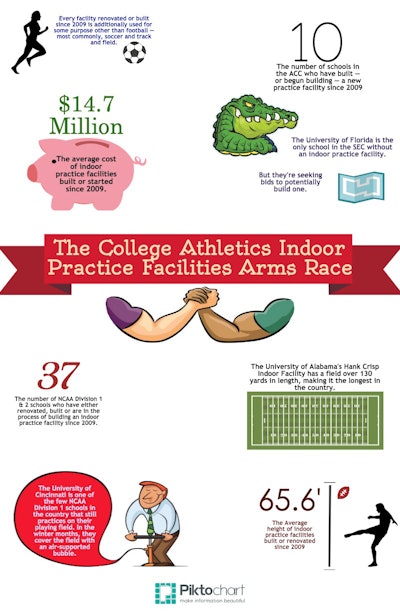 Over the past five years, six schools competing in the ACC have built indoor practice facilities, while another four are scheduled to open by the end of 2015. The University of Florida, lone holdout in the SEC, recently announced that it was seeking design bids for a potential facility. "Some would argue it's about the arms race, but really, they do play a pretty important role in providing an all-weather practice space," says Joel Leider, vice president of SportsPLAN Studio in Kansas City, Mo. "Student-athletes from every sport train every day year-round. Providing a place for them to work during the winter, during storms, during oppressive heat — that's important."
For football, the list of reasons to have an indoor facility is even more compelling. "Football teams have 120 guys on them," Leider says. "That's a lot of people to have concentrated on a single practice field. The ability to run inside and out when the weather changes or to do drills is pretty important."
"It's the versatility of anything from not having people standing at the fence watching what you're doing to being able to practice certain conditioning activities in a controlled environment," adds Yann Cowart, vice president with Montgomery, Ala.-based Infinity Architecture.
While opulence and extravagance have become hallmarks in designing team locker and lounge facilities to recruit the best athletes, design for practice facilities is much more practical. "From a programmatic standpoint, these buildings are pretty simple," says Cowart. The first practice facilities were very basic — massive, airplane-hangar-like buildings containing a practice field and lights. As more programs started investing in practice facilities, they became a bit more refined, but the basics are still there.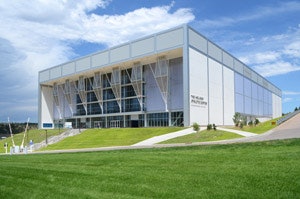 FORM FOLLOWS FUNCTION
In terms of size, a full 120-yard field is the goal, if site constraints and cost aren't issues. "All coaches want full-length fields, but sometimes that's not possible," says Leider. "And we always advise our clients to include nothing less than 16 to 20 feet clearance around the field and have no exposed structures, such as a column that someone could run into."
Height of facilities is slowly creeping up, which is more a matter of bragging rights than true necessity. Typical field houses range from 55 to 65 feet at their zenith, a practical choice that accommodates nearly all practice activities. "You have a choice of punting or not punting," says Robert Fatovic, vice president at Washington, D.C.-based CannonDesign, citing the current benchmark for punting, the 90-foot-high video board at AT&T Stadium, home of the Dallas Cowboys. His firm has done studies to determine the optimal shape for a roof based on the trajectory of a ball. "We haven't built one like that yet, but understanding the confines of the path of the ball is the next step. It takes it away from being a big box and can be a bit more playful in terms of design."
A few extra feet might not seem like a lot, until you calculate the extra square footage of walls needed. "It's a lot of money to spend to be able to practice punting indoors," says Leider. "Most of these facilities have outdoor practice fields next door."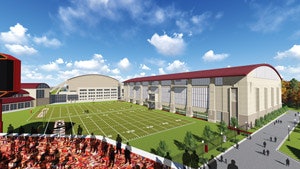 AIR AIN'T FREE
Whether built for punting or not, most programs take advantage of adjacent indoor/outdoor practice fields, utilizing overhead doors to quickly move from one location to another. "It becomes very efficient for a coaching staff," Fatovic says. "It's gone to just more than inclement weather; it will be part of the regular routine."
The overhead doors not only serve to move people inside and out, but in many cases, air, as well. "The volume of these buildings is somewhere around 4.5 million cubic feet, but you're really only concerned with that seven feet above the surface," Cowart says. "Getting air movement across that seven feet is a bit of a challenge sometimes."
Depending on geographic location, a field house may be equipped with a heating system or cooling system. If the climate is right, however, such systems may be unnecessary. Clemson's practice facility relies on fans and and an exhaust system to circulate air, and the Air Force Academy's Holaday Center was constructed to take advantage of prevailing winds for completely natural ventilation.
RELATED: U.S. Air Force Academy Indoor Football Practice Facility
While air-conditioning systems like that at Auburn might be considered an optional luxury, farther north, heating systems are more of a necessity. "We're working on a project that will have a radiant-heat floor," says Leider, a setup that will save on operational costs by heating only the area at ground level. "It also allows us to build a field house without overhead ductwork or radiant heaters hanging from the ceiling."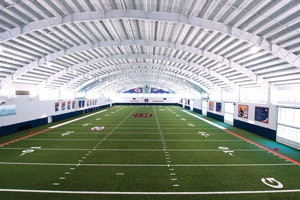 THE RIGHT LIGHT
Daylighting, once deemed cost-prohibitive in such large structures, has become the preferred choice for athletic departments looking to minimize operational costs. The Holaday Center has a big glass wall facing the mountains, a specification made by the school to boost the facilities appeal to recruits, says Fatovic. "As part of the design, we included sunshades to cut down on direct light inside the facility."
The ability to control light levels is an important element of the facility design, says Cowart. "Lighting conditions are critical to being able to film practices. You want to be in 70-to-100-foot-candle range, and you're also concerned about glare."
RELATED: Auburn University Multipurpose Indoor Practice Facility
The practice facility at Auburn is indirectly lit and features a white ceiling, creating the perception that the space is brighter than it actually is, says Cowart. The training facility at Syracuse features alternating dormers with translucent panels to let light in over the entire length of the field. "A building that can use daylight for most of the day can be energy-efficient," Leider says. "It also increases visibility and makes them much more pleasant."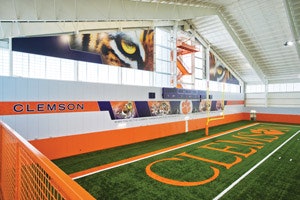 KEEN OBSERVERS
Observation decks and catwalks allow coaches and videographers to view practice. "Some coaches are more old-school and like to watch from the sidelines," Fatovic says.
But soon, even catwalks and decks may be considered "old-school," says Leider. "One of the things that will become increasingly common is remote-operated coaching cameras. Virginia Tech will have 10 overhead cameras, operated by joysticks from the video coordinator's editing suite so they can record practices without having to send anyone scrambling up 60 feet to a platform. They can break down that video immediately and get it to coaches."
"Another new feature is to provide video displays in the field house so that coaches can, in theory, call some players over and show them the play they just ran and go over what they did right or wrong," Leider adds. "The difficulty is designing those displays to stand up to the abuse that happens in facilities."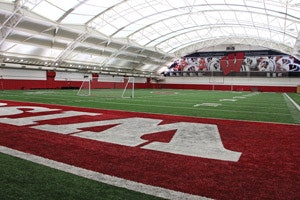 TEAM SPIRIT
No practice facility would be complete without a team logo emblazoned on the field or signs or graphics hanging from the walls. "The branding aspect is important," says Fatovic. "When you walk into one of these spaces, you're hit with a wow factor with images of the team or the stadium."
The branding helps with recruiting, of course, but it also aids in re-creating a gameday environment for players — making the indoor practice field as similar to the stadium as possible, piping in sound through an audio system to practice signal calling, "even putting a mini scoreboard in one end to simulate the game experience, " adds Fatovic.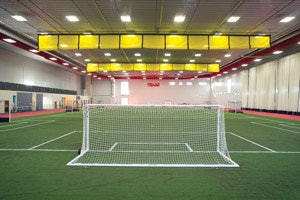 SHARING RESOURCES
Though football is the primary driver for indoor practice facility projects at the Division I level, no school invests the dollars and space needed for such a large facility without having a few other uses in mind, uses that also add a few complications to the design.
"Football pays the bills, so they drive the machine," says Cowart. Football practice might get priority scheduling, but most facilities are also designed to accommodate other sports practices, as well, he says. "Several facilities are striping their fields for soccer and lacrosse. Netting can be placed for softball and baseball infields, and some facilities have suspended batting cages that can be dropped to the turf level."
Accommodating most of these uses is relatively easy, but while football players have a reputation for taking a physical beating on the field, it's a relatively tame sport when it comes to its surroundings. "Football is probably the least of the concerns," Leider says of facility design. Translucent panels and windows need to be designed with wayward lacrosse, baseballs and golf balls in mind, as should walls, says Leider. "For a football environment, you might just provide pads all the way around, but the soccer or lacrosse teams might very much like to have a wall for kicking or throwing."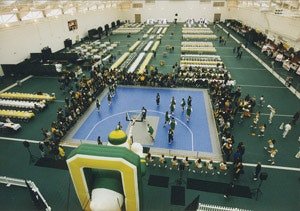 FROM PRACTICE TO PROFIT CENTERS
Other sports practices aren't the only use for such a large space. Many schools are taking note of the success of the University of Oregon's Moshofsky Center, which converts from a practice facility to a massive tailgate party on gamedays, a concept Syracuse plans to employ, according to Fatovic. "Syracuse plays in the Carrier Dome, where there isn't much room to tailgate, so the notion was they would use the facility for tailgating for the boosters before the game, then they would all get on the bus and head to the game."
RELATED: How Oregon Converts a Practice Facility into a Moneymaking Party
Opening up a facility as a public assembly space, however, requires some work, especially during the design stage. "There are typically negotiations that have to take place with the building authority for the use of it," Cowart says. "If it's a standalone facility, it will require a significant number of restrooms and other amenities that it doesn't need as a practice space."
Such potential uses are best addressed during the design phase, when the decision to forego air conditioning might be given a second thought, as well as other key elements. "We're helped and hurt because we typically use an insulated metal panel as a liner for the interior walls, which will tend to reverberate noise," says Cowart, a plus for simulating the roar of the crowd on gameday. "If you're doing some other event in there — a fundraising gathering, for example — then the acoustics are a disadvantage."

FUTURE PLAYERS
Demand for indoor practice spaces will continue to spread, not just at the college level but at every level. "We're beginning to see the trend for these translating down to the high school level," says Cowart. "They're not as elaborate, of course — 50-yard true multisport facilities. You can set up volleyball courts or tennis courts or have all sports using them depending on the season."
Despite the size and price tag often accompanying practice facilities built at the college level, it's money well spent. "They are, in the end, just functional practice spaces," says Leider. "College athletics gets a lot of attention from people who think spending is out of control, but I don't think there are any ADs who are spending just to spend; they're working to create an advantage for their student-athletes — safer, better, more effective places to practice and play."
---
This article originally appeared in the November 2014 issue of Athletic Business with the title "Best Practices"