How Oregon has mastered the moneymaking conversion of a practice facility into game-day party central.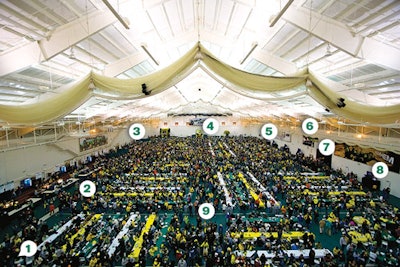 (Photos courtesy of the University of Oregon)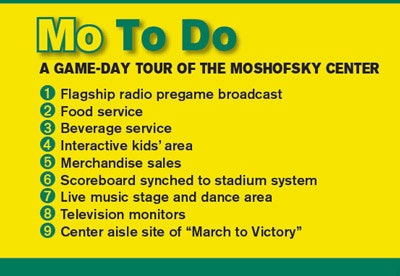 By his own admission, Eric Brandt "used to throw some pretty good parties" during his college days, many of which were spent at the University of Oregon studying architecture and "how people interact with buildings." Now, as the Oregon athletic department's director of food and hospitality services, Brandt is throwing the biggest parties in Eugene before and during every home football game, utilizing a multisport indoor practice facility - the Moshofsky Center - to make it happen. Call it a Duck Dynasty of game-day entertaining that has spanned 15 years and counting, regardless of the team's fortunes.
"A lot of people involved in this had to see that it had value, be in a financial position to make a long-term investment and be willing to understand how this might be an important part of our game-day culture," says Brandt, crediting both administrators and coaches for their foresight. "If the Moshofsky Center was fun, people would buy season tickets anyway. They wouldn't drop the program as quickly."
It's a concept that has come of age, but Oregon remains in an elite league when it comes to execution. "Everybody these days is talking about the fan experience, and that's the real buzz in college athletics right now," says Oregon senior associate athletic director Craig Pintens. "We want to make sure that we're delivering the best possible fan experience, and this is one way that we can do that. For some people, it has become part of their tradition."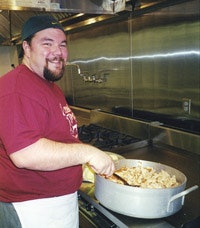 MO-TIVATION When it opened in 1967, Autzen Stadium was surrounded by parking, and a strong tailgating tradition took hold. Subsequent expansion of the athletics campus to include a baseball stadium, a soccer/lacrosse stadium, an administration building and, just this past July, a state-of-the-art football performance center - not to mention the Moshofsky Center itself - has reduced football parking to a fraction of its original capacity. Today, many fans shuttle to the stadium, or walk, leaving a tailgating void. "Part of the motivation for the Moshofsky Center game-day event was to create a new tradition for the people displaced by our building projects," Brandt says. "What can we do to take the positive elements of the tailgate experience and maybe actually improve it for our fans?"
"This has provided fans who want to tailgate a great space to do it - rain or shine," Pintens says. "Why wouldn't we do that? Why not take advantage of the resources you have?"
It all starts with the building - the 117,000-square-foot Moshofsky Center, which opened in August 1998. For three years prior, Brandt had been hosting a tented parking lot party (the so-called "Duck Preserve") at roughly one-tenth the scale of what would follow. Inspired by the pageantry he witnessed during an Oregon bowl appearance, Brandt not only managed to secure the big room for his own entertaining efforts, he saw to it that its design included the necessary infrastructure to afford sit-down meals and get-up-and-dance live music to some 6,000 revelers for six or more hours every home Saturday.
That meant specifying sufficient electrical capacity and kitchen facilities. It meant renting enough tables and chairs to accommodate some 3,000 diners at once (tables are - in restaurant speak - "turned over" more than once on a typical game day), as well as purchasing a jointed, roll-out temporary flooring system to protect the Mo Center's synthetic turf. There are electric beverage coolers, TV monitors, inflatables - even a scoreboard on the wall synched to the system in Autzen Stadium to add, as Brandt puts it, "an interesting air of authenticity to the experience."


PARTY PARTICULARS Setup begins at noon on Friday and involves strategically arranging 432 tables, with blocks of banquet tables turned 90 degrees in relation to other table blocks to form recognizable "communities" of fans. Brandt had the portable flooring marked like a gridiron to facilitate not only its installation, but fan wayfinding once installed. Aisles are wide, but not too wide, with the exception of a center aisle running the length of the building. It is here that fans form a gauntlet, high-fives at the ready, as the Oregon football team and its coaching staff, dressed in game-day-best jackets and ties, pass through on their way to the locker room. (Mo Center doors open three hours before kickoff, a full 90 minutes before fans are allowed into Autzen Stadium.)
This "March to Victory" parade is punctuated by an appearance by the Oregon marching band.
Music also takes the form of hired rock, blues and country band performances, which are staged before another strategic break in the sea of banquet tables. When the Oregon sideline spirit squad and dance team aren't doing their respective routines in this open space it becomes a dance floor for partygoers - a Moshofsky pit, if you will.


SLICE OF LIFE
For many, the Moshofsky Center event has become a family tradition.
Destination points are arranged by design. Beer is made available only at the far end of the building. Says Brandt, "Just like grocers putting milk at the back of the store, we put the attractive stuff at the back so people walk by the food first."
Food selection is purposefully varied from stadium fare, and between the two locations, a fan could go six full football seasons without eating the same thing twice, according to Brandt. Plated dinners (salad, entree, dessert), available in the Moshofsky Center from both in-house catering and local vendors, are all priced the same ($11 this season) so as to create competition in terms of portion size and culinary quality among the providers.
Add a selection of domestic and craft beers, and why would anyone leave? Fact is, no one is forced to. A game ticket is all that's needed to enter, and because it has been scanned at a security perimeter that encompasses both the Mo Center and Autzen Stadium, fans are allowed to move freely back and forth between the two. The party and the game roll on simultaneously (though Mo Center service stops at the end of the third quarter).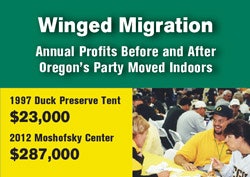 FINANCIAL SCORE Moving the game-day party into the great indoors and utilizing an otherwise non-revenue space still makes perfect sense for Oregon athletics. Says Pintens, "As expenses continue to rise, everyone is looking for ways to generate more revenue, and if you have a space that is currently at zero, you're always going to come out ahead, providing you cover your costs."
Brandt is doing that and more. He reports that each of the final three years of Duck Preserve operations netted roughly 23 percent of gross sales, which amounted to $100,000 per season. By comparison, the Moshofsky Center operation typically nets 33 percent of $860,000 in seasonal gross sales. In short, party profits have ballooned from $23,000 to $287,000 per season. "More sales, more gross, more net, more people happy," says Brandt, adding that, unlike some schools' donor-centric game-day celebrations, Oregon welcomes all fans to the Moshofsky Center party, even those who don't spend a dime there. Partygoers are allowed, even encouraged, to carry in their own food and beverages. Says Brandt, "It's meant for everybody."
Schools looking to duplicate the Ducks' success should consider their existing facilities' capabilities, and design new construction accordingly. "You have be willing to dig the trenches and lay the conduit and wire the place knowing that it will add a certain number of hard dollars to the cost of that capital project, but knowing also that over the course of the next 30 or 40 years, that money's going to come back to you over and over and over again in reduced operating costs" compared to a tented party, Brandt says.
Oregon's entertainer then offers these final words of encouragement. "The infrastructure in the Mo Center is critical, but I would hate to think that schools would be discouraged that they can't possibly offer this kind of fan activity because they don't have the building. There are many scales on which you can enhance the game-day experience."