Hosting special events inside sports venues takes imagination and the proper tools.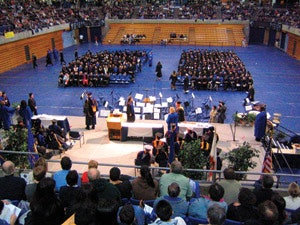 As the Thomas & Mack Center was being readied for its 1983 debut, drastic measures were taken to ensure the arena could handle more than the home schedule of the University of Nevada, Las Vegas basketball program. The first several rows of concrete risers were jackhammered out and replaced with retractable seating, freeing up adequate floor space to turn the university-owned arena into much more than a sports venue.
"That gave the building a chance," says the facility's director, Daren Libonati. "That decision right there allowed this building to become everything it has become since then."
The building is now viewed as an oasis of entertainment opportunity - even by Vegas standards. Each year, Libonati books roughly 125 calendar dates with everything from boxing to bull-riding to the tune of $3 million in net revenue for the university. "Anything that a producer can dream, we can create," he says.
The Thomas & Mack Center may be more the exception than the rule, but sports venues of all sizes - indoors and out - can be converted to host any number of nontraditional athletic events, not to mention testimonial dinners, trade shows and tractor pulls. All it takes is a little imagination and the proper tools. Here are some basic necessities for venues wishing to branch out beyond the sports for which they were designed.
FLOOR COVERS The most important - and perhaps most daunting - conversion within any athletic venue takes place at ground level, where the surface designed to accommodate the playing of games must adapt to and be protected from its new, temporary purpose. Today's surface covers take many forms, each designed to best protect what lies beneath while offering optimal function for what will take place on top.
There are two principal ways in which to cover a hardwood court surface, for example. Synthetic covers, made of vinyl or PVC-coated polyester, are the most popular. These covers come on rolls typically measuring 10 feet wide and are custom-cut to the exact length of the area to be covered. The sections are laid side-by-side and secured in place by taping each overlapping seam (no adhesion to the floor is necessary).
Manufacturers may offer a selection of different weights - ranging, say, from 16 to 32 ounces per square yard - based on the cover's desired function and frequency of use. Events such as dinners or silent auctions that require tables and chairs demand a heavier-gauge floor cover to stand up to the amount of force concentrated by each table and chair leg, as well as to endure the maneuvering of these typically metal furnishings across the cover surface. Heavier covers, which may carry a price up to 50 percent higher than the lightest grade available, also are best suited for events held on a more frequent basis, such as high school dances. Synthetic covers have even been specified to protect concrete from dirt dumped onto arena floors that host rodeo, motocross or monster truck events, as well as to facilitate cleanup in their aftermath.
The rolls are removed and gathered on rolling racks that feature manual cranks or power-assisted dowels. Some rack models also include a bristle-broom apparatus that can sweep debris off the cover as it is being returned to the roller (scuffmarks and liquid stains require spot cleaning while the cover is still in place over the floor). Additional rack features may include offset locking casters to keep the unit from tipping, mechanisms that lock the unit to the actual floor to keep it from shifting, and additional casters to widely distribute the weight of stored floor covers.
Aesthetically, synthetic floor covers come in a variety of colors and ADA-compliant, anti-slip textures (which also come in handy in dance settings), and may be reversed to offer alternative visuals. Reversal capabilities also allow for one side of the cover to be reserved for all events with high stain potential, while preserving the other side for "cleaner" events. Custom logo and lettering reproduction also can be used to dress up the cover and contribute to an event's overall ambiance.
For high-end meetings, retirement gatherings, fund-raisers and other events that demand more aesthetics than rolled goods can offer, there exists a second covering option - one that takes the form of loop-pile carpeting. However, this covering's application and removal as 3-by-6-foot, quarter-inch-thick sections, combined with its cleaning requirements, make it a more labor-intensive choice.
GRASS AND SYNTHETIC-TURF COVERS Light-gauge synthetic rolled products like those used to cover hardwood gym floors can also provide an affordable means of protecting an entire natural-grass football field from chair legs and heavy foot traffic during one-day, once-a-year events, such as commencement ceremonies. However, new-generation hard synthetic cover systems specific to natural-grass applications are now available, allowing minor league baseball stadiums, for example, to host Fourth of July celebrations and other events by covering as much as 80,000 square feet with temporary flooring. These systems employ hinged tiles, allowing the system to be rolled and unrolled for easy application and removal. Each three-foot-long plank is raised 5¼8 of an inch off the ground by sidewalls, so as not to crush the vast majority of grass plants underneath, while its perforated surface allows air and moisture to penetrate the system. Each roll easily clips to the one next to it, creating a stable special-event floor capable of supporting not only foot traffic, but that of light, pneumatic-tired vehicles, as well.
A second hard cover available for synthetic turf acts in much the same way, save for the fact that its solid, nonporous surface is designed to contain liquids (think drink spills) as opposed to allowing them to percolate through to ground level. In addition, synthetic-turf tiles measure two feet in length, and can be connected to form four-tile-wide rolls (as opposed to two-tile-wide rolls in the natural-grass system). Finally, synthetic-turf tiles stand roughly 7¼8 of an inch high to better protect the longer fibers that comprise today's preferred synthetic-turf fields.
Another, more expensive variation on this theme consists of individual tile sheets adjoined on the field using cam locks for even greater flooring stability. Both natural-grass and synthetic-turf cover systems meet ADA wheelchair-accessibility requirements by employing ramps along their edges.
ICE COVERS Ice represents another indoor surface that often gets covered to accommodate special events. Here, too, synthetic materials have become the favored mode of conversion. For many years, wood products or Homasote® panels made of recycled paper were pieced together to blanket ice sheets inside arenas. But temperature variations between the ice in contact with the cover's underside and the air contacting its topside left each panel susceptible to warping and curling, in turn leaving the entire system capable of posing trip hazards. Moreover, any material that is even slightly water absorbent risks freezing to the ice itself, potentially causing damage to both the cover panel and the ice surface.
Today, ice-cover panels are likely to be made of a non-absorbent urethane/fiberglass composite better able to cope uniformly with varying conditions. These 4-by-8-foot panels often exhibit a waffle pattern on their underside to trap air for insulating purposes, but solid panels can be positioned to provide extra impact strength in areas where heavy loads are anticipated. They are cut onsite to match the radius of the dasher boards and loose laid side-by-side in a bricklayer pattern across the entire rink surface (typically 17,000 square feet). If the boards are removed for an event, one-inch-thick panels laid on a one-inch-thick ice sheet should provide a virtually flush surface contained by the rink's two-inch-tall ice dam. The textured top surface is sufficiently presentable to host any number of events - from dog shows to food festivals - and can be pressure-washed. Colored coatings are available at additional cost. And when rapid conversion of the rink is in order, the durable synthetic panels are better equipped than natural products to withstand the less-than-delicate handling required of rink operators working within a tight time frame.
Another system now seeing ice application closely resembles the aforementioned synthetic-turf cover. Using a slightly varied composition to accommodate expansion and contraction in the arena setting, the hinged tiles are rolled out directly on top of the ice, with their 7¼8-inch clearance allowing for sufficient insulation. Sections covering the rink's four corners are custom-cut to fit and marked for proper positioning during future applications.
TEMPORARY SEATING Most special events will require seating beyond what the venue offers for its sports spectators. In fact, a venue's existing seating may well be retracted to create sufficient event space.
For concerts or other types of large-scale assemblies, portable seating will be needed to place hundreds of guests in rows on top of the venue's playing surface. Stackable chairs transported in large groups via dolly (two dozen chairs) or cart (more than 200) allow for efficient setup and removal. Most feature a ganging device, which allows chairs positioned within the same row to be connected, keeping the rows straight in relation to each other for a clean appearance while satisfying fire codes that demand unobstructed egress from the facility. Traffic in and out of each row can be further aided by specifying flip-up seats on each chair.
Unlike typical convention center gang seating, temporary assembly chairs are built to endure the stacking and unstacking required of frequent athletic venue conversions. They often feature a sled base, replacing four small points of contact on the floor with two larger ones. Floor contact may be further enhanced by copolymer or steel glides, which help the chair frame compensate for substrate irregularities, though care must be taken to ensure compatibility with the floor surface. Copolymer, not steel, is preferred if a floor cover is in use for a given event.
Guest comfort can be enhanced through the use of upholstered seating, though these chairs tend to cost twice as much as the non-upholstered variety. Appearance is another important consideration. Arena operators, in particular, often go to great lengths to ensure that the upholstery specified for their temporary seating closely matches that of the fixed seating in the arena bowl. Whether one solid color is specified or a variety of colors is scattered throughout the venue (to give the impression at first glance that empty seats are occupied), this synergy of seating aesthetics is fairly easy to accomplish even if different manufacturers supplied each type of seat, since upholstery fabrics and vinyls typically come from third-party mills.
CONVERSION CONSIDERATIONS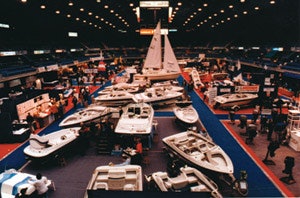 Several other peripheral considerations can play a significant role in the staging of a special event. For example, an athletic venue's established public address system may be adequate to accommodate the speaking program at a retirement dinner - and even the dinner music. But for stage performances (where the audio cues need to come from the direction of the performer and not an overhead cluster of speakers) or live concerts (the dynamics of which can overwhelm existing PA capabilities) supplemental sound is recommended. But that supplemental sound system needn't dominate the stage or break the bank. Portable, all-inclusive units featuring an amplifier, speakers, CD and cassette players, and multiple microphone jacks are available at a reasonable cost and are light enough, at less than 100 pounds, for easy tripod mounting.
Above the floor in indoor facilities, rigging suspended from the roof structure supports the addition of as much as 150,000 pounds of stage lights, sound cabinets and even cameras. In smaller venues, ceiling-suspended equipment germane to the staging of athletic events may come into play, as basketball backstops, volleyball standards and batting cages will need to be retracted. However, to accommodate certain special events within the gymnasium context, ceiling-suspended divider curtains can help reduce the space to a more intimate scale. Large-scale gatherings in arenas may take advantage of center-hung video boards to relay event images from floor level, provided the availability of camera operators and programming personnel. Outdoors, several products are available to facilitate the staging of special events, including temporary fencing for wayfinding, supplemental mobile bleacher systems, and portable ticket booths, concessions stands and locker spaces.
As important as all those hard and soft goods are in the staging of an event, venue managers must first invest mentally in the concept. "It can be a sensitive philosophical issue," says UNLV's Libonati. "What is your business plan? What's your mission statement? What are you trying to accomplish with this venue within the community? Is the building built only for students and the team or do you take advantage of it by putting on your entrepreneur hat and creating revenue that is easy to get?"
Just about any sports venue built today can be converted to host special events - even bull-riding, according to Libonati. "It can be done," he says. "You just have to try."