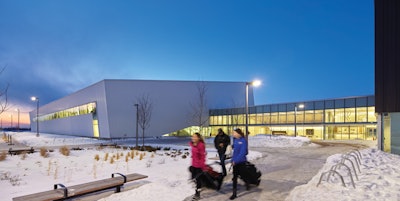 Atlas Tube Centre | Lakeshore, Ont.
Design simplicity, without sacrificing aesthetics or functionality, made this facility award-worthy in the eyes of more than one judge. Others noted the cost-effectiveness of the design, even as the 1,000-seat ice arena is faced with abundant glazing. "Love the light!" exclaimed one panelist.
A central entrance lobby serves as a social gathering space and successfully unites the "cold program" with a "warm program" that includes gymnasiums and a library.
Materials are presented inside and out in a manner that one judge predicted will be relevant for decades to come. Added another, "Overall, this project is what modern architecture is all about."
View the full photo gallery>>>
---
Judges' Comments:
"The simple structural system of bent beams in a saw-tooth configuration accomplishes many things: it captures northern daylight, houses south facing solar panels, and creates an interesting and expressive building form." — Chris Sgarzi
"The exterior is brutal and honest like its site, yet the interiors are warm and welcoming." — Steven Flanagan
"A testament to the notion that simple and clean elegance need not be sterile or mundane." — Tom Poulos
---
Architect of Record:
MacLennan Jaunkalns Miller Architects | Toronto, Ont.
Cost: $39 million (Canadian)
Square Footage: 196,600
Funded By: Government funds, private donations
Major Facility Components: Ice arena, walking track, gymnasiums, multipurpose rooms, library, public viewing lobby
---

A big thank you to our seven judges: James Braam, HOK; David Edmunds, GEC Architecture; Steven Flanagan, LPA Inc.; Anita Moran, Dewberry; Tom Poulos, Williams Architects; Chris Sgarzi, Sasaki Associates Inc.; and Mark Williams, HKS | Sports & Entertainment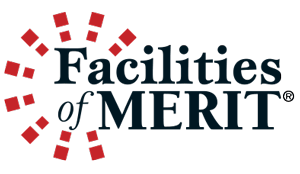 The 2015 Athletic Business® Facilities of Merit® awards were selected by a panel of sports and recreation facility architects during two days of judging in Madison, Wis. The 10 winners are being announced during these two weeks, and profiles of all 10 will appear in the November issue ofAthletic Business. The awards will be presented to the facility owners and architects at the Athletic Business Conference & Expo in New Orleans on Friday, Nov. 20.
More 2015 Facilities of Merit:
Sun Devil Fitness Complex Tempe Renovation and Expansion
Sun Devil Fitness Complex West
Branksome Hall Athletics & Wellness Centre