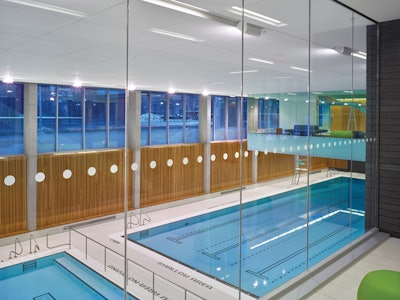 Branksome Hall Athletics & Wellness Centre | Toronto, Ont.
Few projects encompass as diverse a program as this one, offering students of an all-girls school experiences in everything from dance to rowing. The design encourages participation in all activities offered through a series of internal walkways and interconnected ground and second floors.
Meanwhile, the exterior cuts a "striking" presence, in the words of one judge, in its location adjacent to a campus ravine, which is visible through an expanse of windows that soar several stories above street level.
To one judge, the project represented "a very creative solution that maximizes program on a tight and challenging site," resulting in "a dynamic presence within an established neighborhood."
View the full photo gallery>>>
---
Judges' Comments:
"An incredible design understanding in terms of forms, spaces, interior composition and materials. This is a wonderful building that just begs you to walk in and experience every space." — Mark Williams
"An abundance of natural light and skillful restraint to articulate the details and colors of the interior finishes." — Tom Poulos
"The interior of this project shows careful consideration of views, composition and materials delivered with impeccable detailing to create an elegant building." — Anita Moran
---
Architect of Record:
MacLennan Jaunkalns Miller Architects | Toronto, Ont.
Cost: $34 million (Canadian)
Square Footage: 65,000
Funded By: School funds
Major Facility Components:
Two pools, rowing center, high-performance training center, dining hall, yoga and dance studios, office spaces
---

A big thank you to our seven judges: James Braam, HOK; David Edmunds, GEC Architecture; Steven Flanagan, LPA Inc.; Anita Moran, Dewberry; Tom Poulos, Williams Architects; Chris Sgarzi, Sasaki Associates Inc.; and Mark Williams, HKS | Sports & Entertainment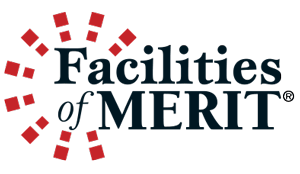 The 2015 Athletic Business® Facilities of Merit® awards were selected by a panel of sports and recreation facility architects during two days of judging in Madison, Wis. The 10 winners are being announced during these two weeks, and profiles of all 10 will appear in the November issue ofAthletic Business. The awards will be presented to the facility owners and architects at the Athletic Business Conference & Expo in New Orleans on Friday, Nov. 20.
More 2015 Facilities of Merit:
Sun Devil Fitness Complex Tempe Renovation and Expansion
Sun Devil Fitness Complex West