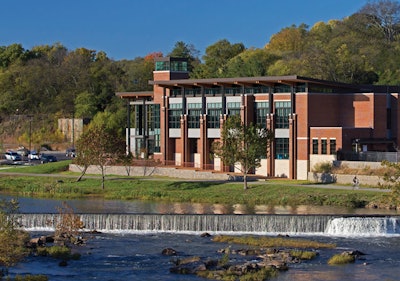 Danville Family YMCA | Danville, Va.
How a building relates to its environment is always a design consideration, and it's long been one of our judging criteria. Here is where this project impressed the most. Situated on the banks of the Dan River, the YMCA stands tall and strong, with sharp detailing in its brick-and-glass exterior.
Inside, the materials palette introduces wood and steel beams within a contemporary design that still pays homage to the textile mills that once harnessed the river's power. Interior views of the water and city serve to reinforce the facility's sense of place.
Said one judge, "Rich materials and textures throughout the well-proportioned volumes help to support this facility as a wonderful place to recreate."
View the full photo gallery>>>
---
Judges' Comments:
"The building's presence on the river is majestic and impressive — especially in the evening." — Chris Sgarzi
"This project maximizes its interaction with the site by pushing the entry and activity spaces toward the river." — Anita Moran
"This structure harmonizes with its natural surroundings, utilizing timeless materials and simple building form." — Tom Poulos
---
Architect of Record:
Collins Cooper Carusi Architects Inc. | Atlanta, Ga.
Aquatic Design Consultant:
Water Technology Inc. | Beaver Dam, Wis.
Cost: $11.8 million
Square Footage: 50,800
Funded By: Private donations
Major Facility Components:
Gymnasium, exercise rooms, walking track, six-lane pool, physical therapy center, teen center
---

A big thank you to our seven judges: James Braam, HOK; David Edmunds, GEC Architecture; Steven Flanagan, LPA Inc.; Anita Moran, Dewberry; Tom Poulos, Williams Architects; Chris Sgarzi, Sasaki Associates Inc.; and Mark Williams, HKS | Sports & Entertainment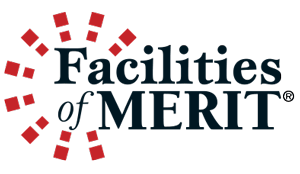 The 2015 Athletic Business® Facilities of Merit® awards were selected by a panel of sports and recreation facility architects during two days of judging in Madison, Wis. The 10 winners are being announced during these two weeks, and profiles of all 10 will appear in the November issue ofAthletic Business. The awards will be presented to the facility owners and architects at the Athletic Business Conference & Expo in New Orleans on Friday, Nov. 20.
More 2015 Facilities of Merit:
Sun Devil Fitness Complex Tempe Renovation and Expansion
Sun Devil Fitness Complex West
Branksome Hall Athletics & Wellness Centre
Goldring Centre for High Performance Sport