The 90,000-square-foot innovative Whitney Athletic Center at the University of Delaware recently opened to be the new integrated hub for Blue Hen training and academics. The facility houses sports performance on the first floor: athletic training, hydrotherapy, performance nutrition, sport psychology and sports medicine.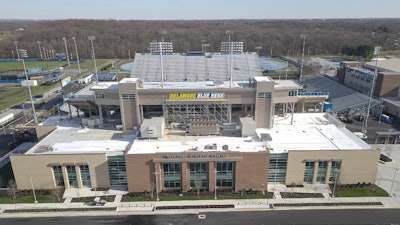 The Joe and Dana Flacco and Family Strength & Conditioning Center, built with the philanthropic support of NFL quarterback and 2008 UD graduate Joe Flacco and his wife. The 10,000-square-foot weight room was created to help elite athletes become the best versions of themselves.
On the second floor is an integrated center for student success that includes study space, academic advisers, career readiness and leadership development offices and the Whitney Kitchen as an on-campus dining facility for student-athletes who no longer have to trek back to the center of campus for meals. — UDaily
Bucknell University in Lewisburg, Pa., is receiving $10 million to use toward enhancing its Christy Mathewson-Memorial Stadium. The stadium funds are part of a more than $40 million pledge, the largest single pledge in the university's history, from alumnus Michael Pascucci.

The area of campus that includes the stadium and the Christy Mathewson Gates will be named the Pascucci Family Athletics Complex. The complex's name will be displayed on a new video board at Christy Mathewson-Memorial Stadium, construction of which is also supported by more than $1 million in donations by additional donors. The new board will be operational this fall.

Additional athletics enhancements funded by the pledge are anticipated to open in 2023, and they include the new Michael C. Pascucci Team Center and an artificial turf practice field, offering additional training and practice space for several men's and women's teams. The improvements will be 100-percent funded by donors, including an endowment to offset operations. They will also have a ripple effect that will benefit all of Bucknell's 27 Division I athletics teams by freeing up locker room, training and rehabilitation space in the Kenneth Langone Athletics & Recreation Center and elsewhere on campus. The practice field will also be available for recreational use, spreading the impact on student life even further.
The brand new, state-of-the-art video board at Christy Mathewson-Memorial Stadium will heighten the experience for fans of Bucknell football, men's lacrosse and men's and women's track and field teams. The 25-foot by 50-foot high-definition display will allow for enhanced in-game entertainment, replays, sponsorship opportunities and eight-lane timing for track and field meets.

The Pascucci Team Center will be equipped with a new strength and conditioning center, men's lacrosse locker room, and team meeting and event space. Outside the north gates of the stadium and adjacent to the Team Center will be the site for the new all-weather artificial turf practice field, which will provide even greater training opportunities for a variety of programs beyond the ones that call the stadium home. — BucknellBison.com
In California, Modesto City Schools held a groundbreaking in early August for a student fitness center at Johansen High School.
As part of a district-funded project, the new 7,300-square-foot fitness center will feature:
Olympic weight equipment
Roll up doors with an enclosed outdoor fitness area and an all-weather surface
Two student and two staff restrooms designed for swimming and fitness center use
Coaches' office
Separate storage for swimming, softball and the fitness center
Sound system
Large TV
Bottle filling station
Outdoor showers for swimmers
New outfield fence for varsity softball complex
Security improvements to the existing pool fence
The project is expected to be complete by the start of the 2022 school year; however, timelines may flex or be delayed due to any materials and labor shortages as a result of the pandemic. — Modesto City Schools