University of Southern California Athletics will dedicate its new Colich Track and Field Center with a ceremony Friday on the northwest corner of Loker Stadium.
Construction on the center -- the new home of the Trojans 2021 women's NCAA champions and the 26-time men's champion programs -- began in April 2020.
The new building replaces the equipment storage building with a newly constructed building that will house a team meeting room, a Hall of Fame, academic study rooms, coaches offices and locker rooms and a track viewing balcony.
About 70 percent of the funding raised for the renovation came from former members of the Trojan track teams. Former USC track and field athlete John Colich and his wife, Janine, provided the lead gift for the renovation, while Trojan track and field alumnus Joe Antunovich designed the project.
The first phase of construction was completed in 2019 with the unveiling of the new state-of-the-art locker rooms and student-athlete lounges, aided in part by the contributions of Parker Kennedy. — University of Southern California, USC Athletics
TROJANS TRACK BUILDING TIMELAPSE!

The Colich Track and Field Center at Loker Stadium officially opens today with a ribbon-cutting ceremony attended by luminaries from the world of athletics.

(Video courtesy USC_Athletics) pic.twitter.com/CcEx1uGr5D

— Tabatha (TabathaWethal) September 10, 2021
Construction of the 30,000-square-foot Peterson Performance Center at the University of New Haven began in early August and is expected to complete in the fall of 2022.
The center will house the new 7,000-square-foot sports performance center with a complete weight room that includes 20 Olympic weight lifting racks and a 60-yard turf field. The PPC will also house a 1,500-square-foot sports medicine center, a 2,500-square-foot football locker room, along with additional meeting rooms, film rooms and free spaces for athletes to use when they are in the building.
The goal is for Chargers athletics to move into the building next fall. Strength and conditioning along with sports medicine are projected to be the first into the building, prior to the arrival of fall athletes next year. — Charger Bulletin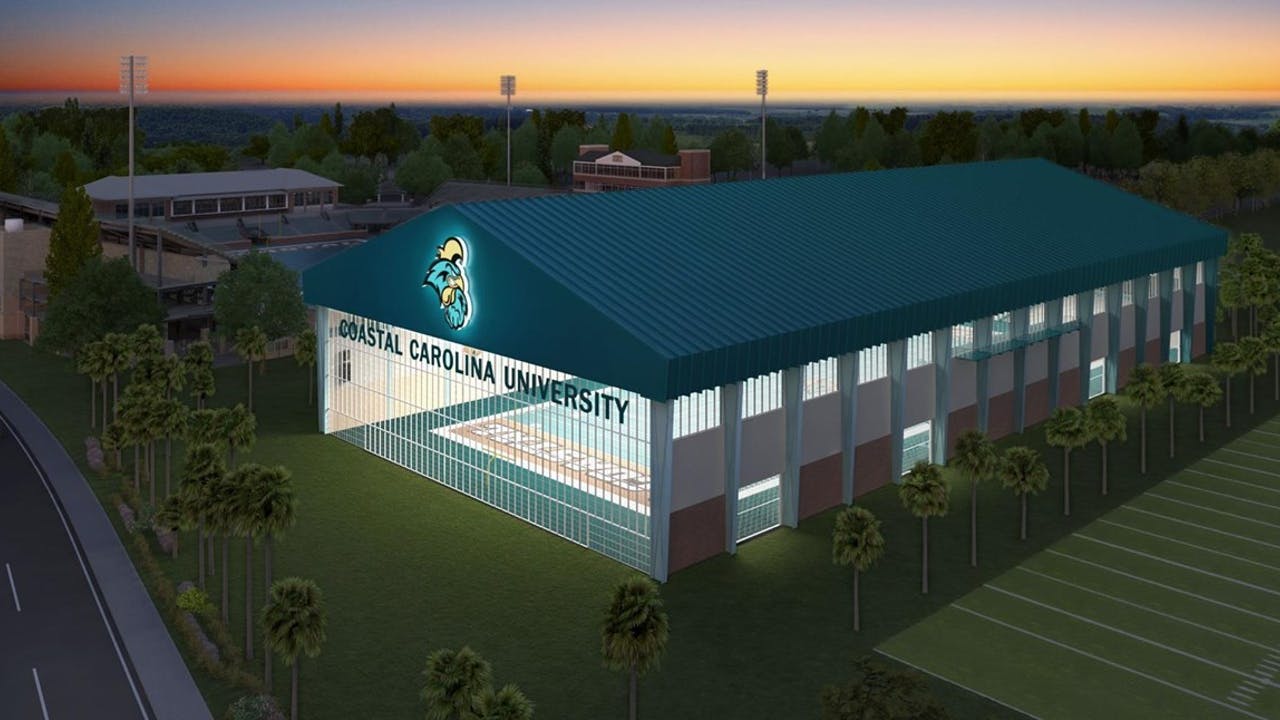 Coastal Carolina University in Conway, S.C., has announced upcoming projects funded by a gift from former head football coach Joe Moglia, who retired in 2018.
The contribution enables CCU to begin design work on an indoor practice facility, expanded football facilities and a proposed south end zone project. The funds will also complete funding for a new stadium for the men's and women's soccer programs. Design work and construction began in September and is anticipated to wrap in time for the 2023 season. The new soccer venue will be on CCU's East Campus. Moglia and the university did not disclose the amount of the gift. — GoCCUsports.com 
Coastal Carolina University Receives Generous Gift from Former Football Coach Joe Moglia https://t.co/IgHyJ6BStf

— Chants. (GoCCUsports) September 7, 2021