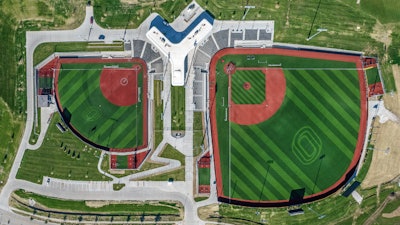 The first on-campus home for University of Nebraska Omaha baseball and softball teams in school history was completed in the spring.
The $23.5 million project at Maverick Park added a "Y" shaped pavilion and a covered, open-air second deck open to both fields to provide equal access to fan amenities to Tal Anderson Field (baseball) and Connie Claussen Field (softball).
The field and facilities make up a 532,000 square footprint in Omaha. Highlights include cast-in-place concrete seating bowls, shared spectator pavilion, synthetic turf fields, press box, broadcast studio, open concourse, video boards, restrooms, tunnel access, practice and training facilities.
The university broke ground on the facility in August 2019 and wrapped the project in early March 2021. — HDR in collaboration with Lempka Architects, University of Nebraska Omaha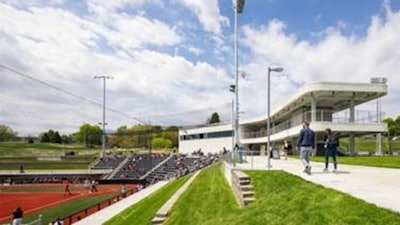 Cutchin Field at Murray State University in Murray, Ky., is getting some upgrades. The university announced a plan to add artificial turf, video board, lights, press box and bleachers to the field.
Cutchin Field opened in 2000 when the school's Racer Soccer program was launched, but from 1948-73, the land had been part of the university's football stadium.
The Murray State Athletics Facility Master Plan provides a vision for the home of Murray State Soccer that increases player development, recruiting and student-athlete experience.

"The turf alone will give us more time to practice and the savings from not having to mow and taking care of the natural grass helps our budget," MSU Head Coach Matt Lodge says. "Lights extend our practice time, especially when the days get short in the second half of our season and having a place for our fans to sit is going to give us a stadium feel. The ability to play night games will increase our crowd sizes and the opponents we can get to come and visit."

Another part of the plan for MSU Soccer is related to the tennis program. The teams currently share the Crisp Center, which houses locker rooms for each team. When a new tennis Cutchin Field facility is built at the Waldrop Drive location, MSU Soccer would double its building space, enhancing player development in the form of additional meeting space, video/film review, training room amenities, etc.. Another part of the Facility Master Plan is building an MSU Athletics performance center. The new center includes a weight room and athletic training space and offices.

The MSU Athletics Facility Master Plan was shared with Racer Nation in August of 2021. — MSU Athletics
The University of South Florida hosted a groundbreaking ceremony for a $22 million Indoor Performance Facility on Wednesday.
On a construction schedule of 10-to-12 months, the plan is to go from groundbreaking to ribbon cutting before next fall's sports season, when USF's football team and all other sports can enjoy climate-controlled training and protection from Florida's fickle weather elements. The IPF will have 88,000 square feet of space.
At the groundbreaking, plans for a Bull Nation football stadium on campus were announced.
About $12 million has been raised for the USF's Football Center, which will include offices, a locker room, weight room, training/rehabilitation areas and meeting rooms, about 160,000 square feet in all. USF vice president of athletics Michael Kelly said $25 million was raised for the IPF, the highest total for any fundraising project in USF's 55-year athletic history.
The university did not release details yet on the construction of the stadium. — WFLA-TV, USF Athletics
"This is a transformational facility for us'' - MKellyUSF

$22-million Indoor Performance Facility, slated for completion prior to the 2022 season, is 2nd of several major facility enhancements that will help define a new era of USF Athletics.#US2Fhttps://t.co/zc1F5zQ1Rm

— USF Football (USFFootball) September 9, 2021