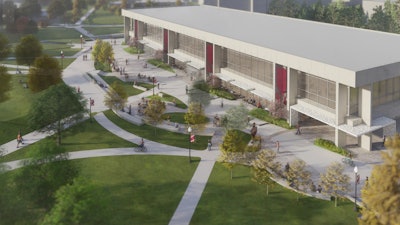 A groundbreaking ceremony in Montana celebrated the future Aim High/Big Sky Indoor Aquatics & Recreation Center in Great Falls.
The facility is planned to meet community recreational and aquatics needs and fill unmet training needs for airmen from Malmstrom Air Force Base and the Montana Air National Guard.
The 50,000-square-foot facility will be owned and operated by the Great Falls Park & Recreation Department and located on city property.
The city worked with Malmstrom Air Force Base to get a Department of Defense grant to fund the project.
"Over the past few months, I have been fortunate enough to be able to participate in several meetings with the city council on how the new aquatic facility could be outfitted with our specialized water survival equipment in order to be able to help us meet the training requirements for two of the courses that we teach here," said Technical Sergeant Michael Bilodeau, a survival, evasion, resistance and escape (SERE) specialist from Malmstrom AFB.
"This new facility will greatly benefit the quality of instruction that we are able to give to our air crew members by being a focal point facility for annual training for over 100 air crew members in the Air National Guard," said TSgt Nathan Johnson of the Montana Air National Guard.
The grant requires the facility to be completed by 2023. — KRTV-TV
Construction on a fitness and athletics facility, highlighted by a 67,000-square-foot field house, could be underway at Bethany Lutheran College yet this year.
The Bethany Lutheran College Board of Regents approved the college to seek bids on the Wellness Center at its most recent meeting. About $10 million in donations have already been raised.
The project is now planned to move forward three years after Bethany first broached the idea of a major new athletics and fitness center. The plan in 2018 involved a field house or, if fundraising fell short, a less costly seasonal sports dome.
The new facility is part of a multi-phase upgrade of athletics facilities — the first major investment in that area in about three decades. Since then, enrollment at Bethany has doubled, as has the number of Vikings athletics teams.
Plans for the 83,000-square-foot Wellness Center show a 16,000-square-foot activity/fitness facility at the front of the building, plus an alumni room, student lounge, locker rooms, training room, offices for coaches and possibly a golf simulator.
The field house will include a 200-meter six-lane track with spots for field sports such as pole vault and long jump outside of the track. Inside the oval is space for batting cages. — Mankato Free Press
The Quillen Family Spirit Plaza at Virginia Tech is planned to connect residential spaces to Hokie athletics.
The Spirit Plaza will be located in the area outside Dietrick Hall that faces Washington Street. It will transform and modernize a central campus gathering place. The plaza will be a spot for special events, including potential pep rallies, and will continue to be an integral part of everyday living, learning and playing on campus.
While the current area in front of Dietrick Hall is widely used, the planned renovations will expand the available usable space, infuse more elements that build on the school spirit atmosphere, and help foster social interaction and collaboration. Ideas include incorporating more brand elements throughout the plaza; building stadium seat walls; incorporating new accessible pathways, seating, a sloped lawn, landscape beds, outdoor seating, and tables; and adding a HokieBird statue for photo opportunities.
The Spirit Plaza is part of a larger renovation project to Dietrick Hall that includes a variety of interior improvements – a new dining venue and enclosing the first-floor overhang to capture nearly 200 additional seats.
The Spirit Plaza is made possible by a $2 million gift from three siblings of the Quillen family and is one of the largest outright gifts in the history of Student Affairs. — Virginia Tech
We have exciting news! The new plans for the Quillen Family Spirit Plaza are made possible by the $2 million gift from a Hokie family. Read more https://t.co/tCwhRJmFTi HokiesGiveBack virginia_tech pic.twitter.com/ccq6Rc1nPd

— VT Student Affairs (StudentsAtVT) September 8, 2021