Colorado College is getting closer to unveiling its first ever on-campus hockey arena and sporting event venue, Ed Robson Arena. Scheduled to be ready for fans by October 2021, the new venue will mark the first time, since the program's founding in 1938, the CC hockey team will be able to play games on campus. And for the first time, the entire on-campus community will be able to gather, and walk to, one indoor location.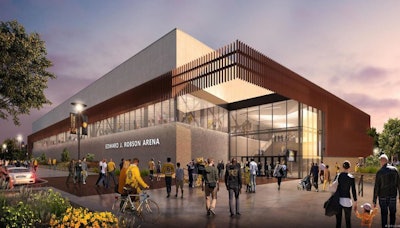 While the Ed Robson Arena was originally planned to be a practice venue, its new future is slated for a multipurpose, state-of-the-art, sustainable competition venue. With direction from a national design competition, the college chose JLG Architects to navigate the venue's comprehensive design. The 3,400-seat facility is intended to be an aspirational model of accessibility and sustainability for students and the nation. While the current ice arena is said to be the least energy-efficient building on CC's campus, the new Ed Robson Arena is being constructed using sustainable building practices and materials, standing by the college's commitment to sustainability.
The arena will be unique in size and scope, easy to manage and maintain, and optimized for high-level athletic competition, thanks to its comprehensive sports medicine facility, in-house TV production, and flexible floor space. In addition to the varsity hockey team, the space will serve intramurals, the college's club teams, student life activities, academics, and community hockey leagues.
The overall concept led by JLG Architects focuses on big picture campus goals, while creating an iconic campus event space and sports centerpiece. The building's floorplan creates an optimized hockey and event environment with a center-hung scoreboard and seating organized around the entire bowl. This design allows for improved spectator sightlines and engages the fans to become part of the game. Multiple seating types are being implemented to meet every fan's expectation, with mobile concessions located at the corners to reduce interference with concourse circulation. The arena will also include spaces that are designed with flexibility in mind, available to students and staff during the off-season.
The new arena was made possible via the city's investment through City for Champions, as well as commitments from a number of donors, including an $8 million donation from former alumnus and hockey player, Edward J. Robson. Robson received an honorary degree from the college in 2014. — Colorado College
How about that locker room? Can't wait for October! pic.twitter.com/syjpF48olt

— Ed Robson Arena (EdRobsonArena) July 15, 2021
About a year after crews first moved dirt on the project at Rejoice Christian School, the newly constructed Gibbs Field House in Owasso, Okla., was recently opened with a ribbon-cutting ceremony.
The $5.3 million athletic building, located just south of the Eagles' football field, offers about 50,000 additional square feet of space for the district's athletics department to use for various activities and events throughout the school year.
Amenities include a multipurpose locker room; a players' lounge with Ping-Pong tables, couches and video games; coaches' offices and a meeting room; a medical training space with a separate nutrition area; a nationally certified Hammer Strength weight and training room; and a 70-by-60-yard indoor turf field.
The Gibbs Field House complements Rejoice's existing facilities, which include a 2,000-seat football stadium, a baseball field, three gymnasiums — with one doubling as a storm shelter — several tennis courts and a weight room. — Owasso Reporter

The newly renovated Zurrie Malone Park was unveiled this week in Houston's Third Ward. The Houston Parks and Recreation Department hosted a special Love Our Parks Fest event.
The Malone Park improvements include new playground equipment, new roofing for the basketball court, a new basketball court surface, new park furnishings, a pergola, new fencing, landscaping and public art by local artist Israel McCloud.
Cheniere Energy donated to the project, helping to secure the artist and providing volunteers to help build a retaining wall at the park.
The park improvement was part of the mayor's initiative to improve and upgrade neighborhood parks in under-resourced Houston communities. The first phase focuses on Malone Park and four other neighborhood parks. — Houstontx.gov
We had a great day at Zurrie Malone Park. "Love Our Parks" Fest is part of houmayor Turner's CompleteHouston initiative to improve neighborhood parks across the city.


Thanks Cheniere for the public-private partnership and HPARD for improving neighborhood parks for families! pic.twitter.com/cU0EW6E60h

— City of Houston (HoustonTX) July 24, 2021