Facilities new and old can gain a cutting-edge look through the creative use of court graphics, wall murals and ceiling-suspended banners.
Photo of banners hanging at Wesleyan UniversityUpon his arrival on the University at Albany campus in 2000, Lee McElroy attempted to describe the school's otherwise nondescript basketball venue, which could just as easily have been mistaken for a physics building as a showplace of physical prowess. "The first thing I said was, 'You don't know where you are. You don't know this is an athletic facility. It has no image. It has no tradition. It has no spirit,' " says McElroy, Albany's athletic director for the past five years. "So, we started to look at this issue. You can spend millions of dollars renovating a facility to make it attractive, but we didn't have that kind of money. The next best thing was to give it a face-lift -- not just a face-lift to spruce it up, but one that would really reflect our program -- who we are and where we're going."
Gray walls, doorways and ticket windows in the building's foyer received fresh coats of paint custom-blended in school colors. Painted acrylic letterforms now announce "University at Albany" and "Home of the Great Danes" above the gymnasium entrance. Framed photos depicting all U at A sports teams flank the entryway, and wayfinding signage and decorative banners hang in strategic locations throughout the facility.
All told, Albany's makeover, completed two years ago, cost little more than $100,000, and it has been turning heads and turnstiles at the now 12-year-old venue ever since. Alumni, fans and even former players barely recognize the place. Increased ticket sales reflect improved play on the court, McElroy admits, but he nonetheless credits the updated atmosphere for both. The spirit was infectious from the start. "To be honest with you, when our marketing people began talking about this, I was a little reluctant," McElroy recalls. "But as we got into the project, which was done in various phases, I was like, 'Hey, what else can we do to further augment our image?' "
Athletics administrators everywhere are finding that a lot can be done to visually enhance their facilities, and at relatively low cost, considering the high-cost, brick-and-mortar alternatives of renovation and new construction. But any building stands to benefit from the calculated use of well-crafted banners, wall murals and playing-surface graphics -- even so-called state-of-the-art facilities.
"Every one of them looks like a blank canvas to me," says Jim Howley, principal at Pointer Crosse, the Brookfield, Conn.-based graphics firm that handled the Albany project. "They're beautiful architecturally, but they don't always speak to the richness and the history of the school. We're trying to make sure that these spaces make prospective recruits -- both athletic and academic -- feel as though they're wanted."
Not to mention paying customers, whose emotional experience in a building may drive impulse purchases and repeat visits. In other words, an athletic facility not only has to look the part, it has to feel right. "There's a lot of feng shui in this, as well," says Mark Schmitz, principal and creative director of ZD Studios in Madison, Wis. "When designing hallways and walls with photos, paint and whatever else, you're creating a place that feels safe. It should be a place where patrons feel comfortable to remember, learn and share with their kids. And there are different spaces within the place. There's a different kind of vibe going on in the concessions areas than there is in the hall of fame, and a different kind of vibe going on there than in the hallways that the players walk down."
Schmitz created a graphics standards and usage program for the 2003 renovation of Lambeau Field, home of the NFL's Green Bay Packers, requiring sponsors to buy into a consistent palette of colors, typefaces and vintage photography so that every element of the stadium's interior -- from menu boards to rest room-signage -- would enjoy a seamless coexistence. (See "Making the Brand")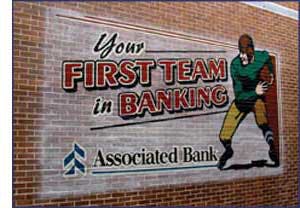 Photo of painted brick wall at Lambeau FieldThat said, there are plenty of opportunities for facility operators to pick their spots when sprucing up their venue's visuals:
Banners. A great medium for tying together a facility's interior and exterior looks, banners can be hung from lampposts, wall mounts and ceiling rafters. When used outside, banners can serve to define a venue's footprint -- particularly if it falls within an urban or residential setting -- or herald upcoming events. (Digitally printed mesh banners are ideal for wind-exposed applications, such as chain-link fences or the underside of outdoor bleacher systems.) Inside, banners often celebrate the sports teams that occupy the particular venue through larger-than-life photography or lists of years in which championships were won. They can be used to highlight conference members, school songs, team goals and individual achievements. They may take the shape of a state to honor a state title, or of a players' jersey to honor a retired number.
According to Zach Bartels, graphic designer for Cabana Banners in Brookings, S.D., banners not only dress up a facility, they send a message. "Back when I was playing high school basketball, walking into an opponent's arena that had 30 banners hanging there with all their championships on them was like walking into the Boston Garden," Bartels says. "It puts off a vibe."
Appropriate materials will depend on the banner's function. Some fabrics accept photo reproduction better than others, for example, while vinyl offers durability and ease of maintenance. A championship banner is almost always made from fabrics ranging from satin to felt, allowing for the sewn appliqué of individually cut numerals in the event an update is required. Meanwhile, some record boards, another popular gymnasium accoutrement that may require frequent changes, feature computer-generated adhesive vinyl decals that can be easily removed from an acrylic board and replaced. "Instead of having the schools update their boards with single letters, we can type up a person's name, the record and the year, and it can be updated all in one piece," says Bob Tucker Jr., co-owner of Chicago-based manufacturer CDI Corp. The board itself can be custom-designed to include school colors and logos.
Perhaps a banner doesn't need to feature any text or imaging at all. It may simply serve to drape an otherwise drab area with color. When the Jerome Schottenstein Center opened at Ohio State University in 1998, it dazzled patrons with terrazzo flooring that featured inlaid depictions of past Buckeye athletes, while colored banners drew attention from above. "Banners are a way of getting people to look at the whole facility," says Dawn Rolison, marketing services professional at Milwaukee-based Olympus Flag & Banner. "You actually can create a line of sight that their eyes will follow. In a concourse with a high ceiling but not much going on up above, you can drape fabric in school colors to add color and interest, while leading people to something else, such as commemorative banners that document the history of a sports program."
According to Rolison, banner size is the primary factor when determining cost, followed by printing resolution and labor (banners featuring hand-sewn characters are the most expensive). But buyers should nonetheless be careful to concentrate big-ticket purchases in high-impact areas. Adds Howley, "There are places in a gymnasium that have a reasonably long viewing distance, and I can put up material for a relatively low cost per square foot and still provide a really great graphic. But I wouldn't take that same material necessarily and put it in a lobby where someone's going to be three feet away from it. While it looks great in the gymnasium, inside a lobby it's going to look as though we went on the cheap."
Wall Murals. Stadium and arena concourses have long lent themselves to expansive graphics displays -- photographic and otherwise. But interior designers are finding other creative niches for these panoramic visuals. An atrium stair within The Rinks at Shelton in Shelton, Conn., leads visitors to the only second-floor ice sheet in the world, and that unique ascension is enhanced by a 43-by-32-foot depiction of a hockey rink's markings -- right down to the faint blue hue of the ice and the skate scratches within it -- applied with conventional wallpaper paste in individual 52-inch strips.
The Rinks owner Howard Saffan didn't know what to make of the mural idea when a design consultant first suggested it, but he now sees it as fitting perfectly within his facility's mission. "It's phenomenal," says Saffan, who has invested $50,000 in graphics in his two-year-old venue. "You just don't see hockey facilities like this. Rinks are thought of as dingy old barns and very basic. For us, it's important that we be more cutting-edge. We're priced substantially higher than other rinks, and we're completely sold out. That's a function of people wanting to be in this kind of facility."
Murals may also be hand painted, in some cases bringing photo-like realism to otherwise bland cinderblock. Ed Palubinskas, owner of USA Graphics in Greenwell Springs, La., personally airbrushes three-dimensional mural images for a dozen or so high schools and colleges each year. His depictions of lifelike bears crashing through brick walls and tigers swiping an outstretched paw come at a price roughly double that of a stenciled, two-dimensional mural, but Palubinskas makes no apologies. "We've long lost the Michelangelo days of adding beauty to buildings and facilities," he says. "Just build a box, give them a ball and let them play. I hate that. I love it to be an aesthetic experience, like a museum."
Floor Graphics. Palubinskas' airbrush work also appears on basketball courts, as does a wide variety of stenciled logos and lettering these days. But competition floors, and any high-foot-traffic surface within an athletic venue, can be visually enhanced via the temporary application of floor and sidewalk graphics.
Sponsorship messages, team logos or wayfinding elements are printed on a durable vinyl coated with a non-skid lamination. The vinyl comes backed with an adhesive (think giant sticker) and can be applied to virtually any surface for roughly six months (outdoors) to a year (indoors). Then again, the graphic may only be needed for a matter of days -- NCAA marks appearing on neutral courts during the men's and women's basketball tournaments, for example -- in which case the sticker is easily removed.
But basketball courts aren't typically as desperate for graphical help as other, less-prominent venue areas. "Floor graphics really jazz up a hallway," says Keith Newsome, owner of DDI Signs in Newport News, Va., adding of their functionality, "If you go into the MCI Center, and you want to know where the Washington Capitals main office is, you can follow pucks with the Caps' logo down the floor. They last about a year with normal wear, and then you just change them out."
Wall Padding. Few gymnasium components combine form and function as well as wall padding. While protecting users from serious injury, wall pads are increasingly viewed as another vehicle through which to enhance aesthetics. However, since pad manufacturers rarely consult with architects during the bid process, new facilities are often built with monochromatic pads encircling their entire perimeter."I see a wall that's 50 feet long with solid-blue wall padding on it, and I say to myself, 'Gosh, there were options,' " says Bob Mancino of Philadelphia-based pad-maker Mancino Manufacturing.
Mancino recommends at least introducing a second padding color every third panel or so, or using sequenced patterns of three panels of one color and two of another. (Alternating the color of each panel, which typically measures 2 feet wide, creates a circus-tent effect that can appear "a little too busy," Mancino says.) Vertical support beams wrapped in a different color pad than what appears on walls is another easy way to break up chromatic monotony.But color variety is only the beginning. Padding can be imprinted with photographic imagery and other graphics, turning entire gym walls into cushioned murals. "It's a fairly simple process nowadays," Mancino says. "Imagine printing something out of your desk-jet printer at home. There are billboard-size printers that print on vinyl in much the same way. So pretty much whatever you can design can be printed on a pad." While a simple process, the printing of wall pads more than doubles their price, Mancino adds.
Moreover, pads can be specified to include stitched Velcror strips, allowing for printed vinyl sponsorship or special event signage to be easily changed. Padding also is available with different upholstered patterns, allowing a school logo to be highlighted within a central diamond shape, for example.Due to its modular nature, wall padding allows venue operators to easily remedy visual shortcomings. "If they have existing padding, they can pull some panels off the wall -- maybe directly underneath the basketball backstop -- and put a graphic panel up there," Mancino says. "Even if it's just a matter of doing a 2-foot-wide panel with the school logo, it can add a lot."
Whether designing a new venue or seeking ways to visually update an existing one, facility operators stand to gain greatly by paying attention to the different areas that lend themselves to graphic enhancement -- and the increasingly sophisticated media that make it possible. From graphics on floors and walls to banners hung from ceilings, no potential focal points should be overlooked. The end results are sure to get noticed. Just ask Albany's McElroy. "We've had people who saw our building when it was first constructed, watched ballgames in it or actually competed in it, and they literally thought it was a different place," he says. "There's no question that the face-lift provided us the positive atmosphere we wanted to create."
Making the Brand
The people of Green Bay, Wis., love Lambeau Field every bit as much as John Madden does. So when the Packers' storied home -- which Madden has often likened during nationally televised games to a pro football shrine -- was slated for renovation in 2000, reaction in and around Titletown was mixed. The familiar corrugated-steel siding and scaffold grandstands that harkened back 40 years to the Lombardi era were about to give way to a $295 million fresh skin of brick and glass.
As interior designer for the project, ZD Studios in Madison faced the unenviable task of ensuring that the newly constructed stadium elements -- foremost among them a 365,000-square-foot fan atrium jutting from the entire east side of Lambeau -- look like they belonged. Unlike a typical face-lift project, this was about making everything new seem old again. "Creating an authentic experience, particularly in football and baseball, is a very important part of design and renovation," says ZD Studios principal Mark Schmitz. "We try to authenticate our experiences by tying them to something that has historical significance in our lives and culture."
With more world championships than any other NFL franchise, the Packers offer plenty of historical significance, and Packer fans are a culture unto themselves. Schmitz pored over thousands of file photos for potential display in the stadium concourses. He convinced vendors to adhere to a consistent pre-World War II palette of colors, typefaces and imagery. "The magic of integration is when you have all sponsors embrace the brand and visual tone of the building," Schmitz says. "We write about that tone, show pictures to the sponsors and describe what we're trying to achieve. We ask them -- actually require them -- to embrace that culture with their advertising in that space. That way, we avoid the trade-show factor, which is a horrific lineup of colors and shapes and messages that don't interact at all. At most stadiums, you get a Coke next to a Kraft next to a Quizno's next to a McDonald's, and it ends up just looking like bad Americana. If we present the planned theme to the sponsors in a way that they can embrace it and truly want to be a part of it, then the whole thing is a success."
Once so informed, most Lambeau sponsors and their ad agencies had a year to make their specific contribution to the overall stadium aesthetic, and each one nailed it, according to Schmitz. Others -- namely Coca-Cola and the Green Bay-based Associated Bank -- retained ZD Studios to come up with their retro imaging. Given its history and long-established marks, Coke proved a relatively easy fit for the stadium theme. However, Associated Bank -- with its modern tree-like logo -- was a greater challenge. Instead of retooling the mark, Schmitz chose a largely bygone medium for the bank's stadium advertising -- hand-painted signage on a brick wall. "We were able to use a technique of imaging from the desired time period to help Associated Bank totally integrate into the stadium," he says.
No corner of the Lambeau addition was left out. "We wanted to celebrate the rest rooms, because this is a huge part of sport but one that nobody ever wants to talk about," Schmitz says. "We took blank walls at the entrances to the rest rooms and created enormous graphics that have become photo ops. 'I'll meet you at the Bart Starr rest room.' People are calling them that now. It's those kinds of things that help create a singular experience from the parking lot to the rest rooms to the 50 yard line."
The atrium, which is open year-round, has won over Packer fans and other facility users. Even Madden has voiced his on-air approval. "The response has been well beyond our most optimistic expectations," Scott Kleckner, general manager of Curly's Pub, located on the second of five atrium floors, told The Business Journal of Milwaukee. "We've been able to take advantage of the Packers' mystique and create a facility that has become very popular."
Schmitz predicts the Lambeau renovation could usher a retro trend in the renovation and construction of pro football venues, much like the effect Oriole Park at Camden Yards had on Major League Baseball. He says it's never a mistake -- regardless of the facility or level of competition -- to relive the past. "What can make your facility better? Your story, because your story is all that matters," Schmitz says. "And your story can be told to your public in a lot of wonderful, beautiful and touching ways."