The saga of a new Dallas Cowboys stadium.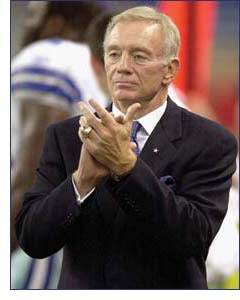 As part of the Montreal Expos relocation sweepstakes, Washington, D.C., is looking at spending up to $585 million to build a new stadium, having wrested the Major League Baseball team from various Virginia suburbs and perennial also-ran Portland, Ore. In New York, city and state leaders are considering chipping in $800 million -- as part of New York's 2012 Olympics bid -- for a stadium that would serve as a new home field for the erstwhile East Rutherford Jets. And in Arlington, Texas, voters in November passed a referendum, 55 to 45 percent, that puts the city on the hook for half of a new $650 million stadium for the Dallas Cowboys, which is slated to open in 2009. As with most similar public investments in privately owned teams, Arlington's share will be almost double its publicized $325 million "cap" once debt service is included -- $648 million over the next 30 years. Partially offsetting that annual $20 million payment, the team will pay $2 million a year in rent and make a $16.5 million donation for area youth sports programs, as promised, if the referendum passed.
Readers with even a cursory understanding of mathematics might be scratching their heads at this moment. Let's do the math: Jerry Jones, a billionaire whose team is worth an estimated $750 million, will "donate" $16.5 million and pay $2 million a year in rent for the next 30 years in return for $648 million of Arlington taxpayers' money. His $325 million share of the construction costs for the retractable-domed stadium will essentially be paid for by fans of the Dallas Cowboys -- the 75,000 people who will fill the stadium 11 times a year and pay up for seat licenses, tickets, parking, concessions and the like. Assume each fan pays $120 per game, and you'll see that at $99 million per year, the team will be able to pay off its credit card bills, including debt service, in a little more than three seasons, and enjoy a huge financial windfall for 27 years thereafter.
And that's not all. If the city of Arlington decides to tax tickets and parking, so that at the very least the lion's share of the stadium cost is borne by stadium users, the proceeds will go to paying off Jones' share of the stadium debt first, and the city's second.
One way to gauge how good a deal this is for the Dallas Cowboys is to consider that the team contributed nearly $6 million (call it three years' rent) of the more than $10 million spent by the Vote Yes! A Win for Arlington Committee, a group that supported construction of the stadium. By contrast, the No Jones Tax Coalition (a local opposition group made up of traditional Republicans, Libertarians and others) raised just under $45,000. Vote Yes! boosters included Arlington's mayor, its city council, its chamber of commerce, newspaper sports columnists and editorialists, and high-profile members of its school board. Cowboys players appeared in television advertisements, the Dallas Cowboys cheerleaders gave come-hither looks at public appearances, and several team-sponsored parades were held, all urging Arlington citizens to Vote Yes!
Stadium proponents especially touted a study commissioned by the city of Arlington, reimbursed by the Cowboys and conducted by Economics Research Associates (ERA) that said a new stadium would create $238 million in annual economic impact for Arlington. This study stood in stark contrast to two others, released in October, that presented a far different scenario. One, conducted by Mark Rosentraub, dean of Cleveland State University's College of Urban Affairs and author of Major League Losers, estimated that Arlington could lose an average of about $9 million annually over 30 years. The other, commissioned by the Irving City Council and conducted by Turnkey Sports, concluded that a new stadium in Irving would have a $51 million annual economic impact on the city.
Arlington's official line on the latter study was that Arlington and Irving are different cities. But one must wonder why, since the Cowboys have played at Irving's Texas Stadium for more than 30 years, Arlington didn't put more stock in what Irving's city leaders had to tell them. As Beth Van Duyne, a member of the Irving City Council, puts it, "We have had 30 years to measure the impact this team has had on the city. We've looked at the numbers, and it does not make financial sense."
Van Duyne, who was elected to the council in May, is president of BCI Marketing Group, a market research and communications company, so she brings some relevant number-crunching experience to the table. Van Duyne recalls that back in 1997, University of North Texas researchers concluded that Texas Stadium had an annual economic impact on Irving of $132 million.
"I remember thinking, `Wow, that seems like a lot!' So I got the study and read it," she says. "What I saw was that it included all the salaries for all the players, the coaches, the cheerleaders and the staff, even though they don't live here. Some of the same issues were present in the ERA study. They spent the first 30 pages explaining how they were only looking at three revenue streams -- operating budget, parking and concessions revenue -- because those three actually went to the city, as opposed to the team owners. Then, when you got to page 31, the top line of the financial model was ticket sales! So where the operating budget was $7 million or something, ticket sales counted as $67 million."
ERA's Arlington study, Van Duyne continues, grossly overstated the number of hotel stays and restaurant visits attributable to Cowboys spectators -- many of whom already live in town or are visiting for other reasons, such as conferences -- as well as the amount of money spent by visitors in and around the stadium.
"We have found that a very small percentage of fans travel to Dallas for games, and when they do travel, the hotels they're likely to stay in are in Dallas, not in Irving," Van Duyne says. "We also know that, at most, 18 percent of the money spent is spent in Irving, yet ERA said that 100 percent of the money would be spent in Arlington."
The situation in the Dallas suburbs is unusual in the stadium construction game, as typically one of the biggest selling points for public investment is "intangible" gains: Portland becomes a "Major League city," or Chicago (in the case of the Bears, who several years ago threatened a move to the suburbs) keeps its pro status. But the Dallas Cowboys didn't threaten to become the "Arlington Cowboys," just as the team has never worn the "Irving Cowboys" moniker, even though they haven't played in Dallas since the 1960s. As it happens, Irving is almost the ultimate proof of the danger of dealing in intangibles.
"How many advertising dollars does having the Cowboys in our city bring?" Van Duyne asks. "How much does that generate? Do we get conferences in because attendees can visit Texas Stadium? Do we have people spending money in our restaurants just because the stadium's there? Do people find out where Irving, Texas, is on Monday Night Football? It's very difficult to quantify the benefits. Then you figure that the team has been in our city for 30 years; if we were going to see some kind of overall impact on our revenue, it would have happened by now. We didn't see it."
Van Duyne is quick to note that there were some council members who, as she says, "felt very strongly that we need them for the marketing of our city, that Irving and the Cowboys are synonymous." But she and others believe that no matter how much euphoria swept Arlington after it lured the Cowboys to town, Irving will emerge the big winner by losing the team.
"The three owners of the area around Texas Stadium are working together to increase the value of that property," she says. "It is in an excellent location, the Metroplex midsection, right by the airport, halfway between Dallas and Ft. Worth, and in the next five to seven years, billions in federal dollars will be spent on redoing every major artery running to and from the stadium. The question is, what are we going to do with that land once the Cowboys are gone? Should that land be developed, it will be a major source of tax revenue for the city. We have an opportunity here, and if we take advantage of it, we'll make a lot more money than was ever being generated by the team."