The University of Minnesota successfully campaigns for an on-campus stadium.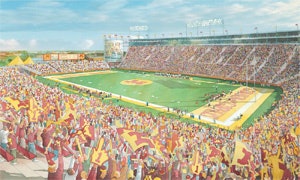 In the evening hours of Saturday, May 20, Minnesota lawmakers came together in St. Paul to launch a new era of Saturday afternoons in Minneapolis. By reaching a compromise on separate but related stadium funding bills, state senators and representatives pulled the University of Minnesota football program out from under the translucent roof of the Hubert H. Humphrey Metrodome and back into the campus sunshine - something supporters of the Golden Gophers haven't felt at a football game in a quarter-century. "We've missed a generation of fans who weren't able to experience Big Ten football on campus," says assistant athletic director Phil Esten, "and now we're excited about bringing it back."
Likewise, plenty of fans are pumped about the prospect of attending games in the open-air, $248 million facility slated to open on Sept. 12, 2009. On the Monday following the stadium legislation's passage, Minnesota received 152 football season-ticket orders, a single-day sales record for the school. "If that's any indication of what's going on in Minneapolis, people are just as ecstatic about the decision," Esten says. "A lot of people have been waiting a long time for this to happen."
To be sure, it didn't happen overnight. Returning Gopher football to campus has long been a goal of the athletic department and eighth-year head coach Glen Mason. "When I compare what goes on on fall Saturdays here at our university to the other Big Ten schools, there's really something missing," stated Mason in a university-produced promotional video released in September 2004. "Getting a stadium back on campus is not a want, it's a necessity."
That seven-minute video - complete with vintage footage of Gopher games at old Memorial Stadium and the U of M band marching down adjacent streets - makes a compelling case for campus-based football. For safe measure, the university also made the Rotary Club speaking rounds, distributed Flash presentations, and circulated e-mail messages and handouts. By the time an informational display appeared at last summer's Minnesota State Fair, the movement toward state-supported construction of an on-campus stadium had gained much-needed momentum.
During the weeks-long "final push," as a stadium link at gophersports.com called it, web site visitors were encouraged to attend a May 11 capitol-steps rally featuring former U of M quarterback Tony Dungy. In addition, the link provided contact information for state legislators, along with a form letter waiting to be signed and e-mailed.
Just sorting through the legislation's various incarnations was a big enough job in itself. According to Esten, the university approached the Legislature at the start of the 2006 session ready to assume 60 percent of the stadium's financial burden, largely by capitalizing on a prearranged corporate naming-rights agreement and by assessing students a $100 annual fee. The initial House bill favored a 50-50 split, with stadium funding to include a mix of private donations, a $50-per-year student fee and a complicated university land swap. The Senate, meanwhile, proposed that the university's share of financial responsibility represent a mere 30 percent, stripping the deal of corporate naming rights and all student fees, while implementing a controversial statewide sales tax.
Appreciative of the bipartisan support, university officials nonetheless needed to assuage concerns along the road toward compromise.
The Senate was never sold on the idea of selling corporate naming rights to the facility, despite a commitment from TCF Bank of $35 million over 25 years - a sum that would represent the second-largest naming-rights agreement in all of college sports, and the largest related to a football venue. (The stadium's price tag is the largest for a collegiate sports venue in history.) In defending the deal, Esten reasons that corporate naming is a rarity in college football only because most stadiums in use today predate the concept. Within the Gophers' own Big Ten Conference, the most recently constructed stadium opened in 1960, with most other stadium openings falling somewhere between 1917 and 1927. Nationally speaking, "TCF Bank Stadium will be just the sixth 50,000-seat, on-campus stadium to be built in the past 50 years," says Scott Radecic, senior principal at HOK Sport, which was awarded the design contract June 8. "These projects don't come along often."
"Those facilities that are being built often do have some sort of corporate tie to them," argues Esten, pointing to Value City Arena, the on-campus home of Ohio State University basketball and hockey since 1998. "It was built with that corporate name attached to it."
Moreover, a majority of senators favored calling the facility Veterans Memorial Stadium, harkening to the facility in which Minnesota played football from 1924 to 1982. Again, university officials had an answer - a commemorative fountain or plaza at the new stadium site honoring the state's war veterans. "I think veteran leadership helped a lot," Esten says. "When our veterans groups came forward and said, `We feel very good about our relationship with the university and the direction that the university is going,' I think the Senate felt better about it."
At the same time, Senate bill author Larry Pogemiller's proposed statewide 13 percent tax on wholesale memorabilia and licensed merchandise sales came under widespread fire. "By taxing purchases made in Minnesota, a financial burden will be placed on thousands of people who may never set foot in this new stadium," stated a May 11 letter to lawmakers from the Sporting Goods Manufacturers Association. While the university distanced itself from discussing how the state would come up with funds before passing them on to the university, the tax concept was not well received by some state Republicans, including Gov. Tim Pawlenty.
Finally, the university met concerns over student fees head on. "In working with student leaders, we put together a pretty comprehensive benefits package that all students would receive above and beyond the tangible and intangible benefits that they get with the stadium," Esten says. These benefits include representation on a stadium programming advisory board, increased discounts on other athletic events and campus cultural offerings, discounted access to the university golf course and a guarantee that 10,000 of the stadium's 50,000 seats will be reserved for students. Says Esten, "The students had the vision to step up and say, `This is important for the long-term viability of the university and the athletics department, and we feel that as much as we are going to benefit from the stadium, we should help pay for it.' "
Minnesota legislators have long felt the same way, but it took a committee of five senators and five representatives - meeting less than two days before the legislative session was to close - to decide how much the state would pitch in. In the end, that amount came to roughly $10.25 million annually over 25 years, enough of a contribution toward the university's debt service to ultimately finance $136 million (or 55 percent) of stadium construction. That leaves the university, which must surrender 2,840 acres of land to the state and assess students a $25 annual fee, with a lesser financial burden than it had originally bargained for. "We're really happy with the final bill," Esten says of the legislation, which Pawlenty signed into law May 24. "Ultimately, we think we came to a great solution for Gopher football."
As for projected return on the university's investment, athletics officials estimate conservatively that had Minnesota played football on campus in 2005, and reaped the parking and concessions revenue it missed out on last season (as with all seasons at the Metrodome), the athletics department would be at least $3.5 million richer today. Some put that figure closer to $5 million, according to Mike Lockrem, Minnesota's director of athletics communications. Still, it wasn't these numbers that those close to the deal were dwelling on in its immediate aftermath. Rather, it was a feeling that Lockrem describes as nothing short of "elation."
"When you play Big Ten football on a fall Saturday on campus, it's something special," he says. "We're the only Division I school in the state, and yet we don't have a major event during the year in which we can showcase our university to thousands of students, alumni and fans. That's really what we've been missing."