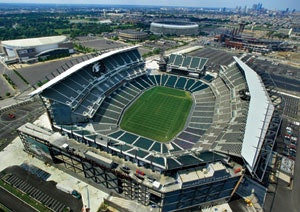 Ramps at Philadelphia's Lincoln Financial Field will be outfitted with corrective bracing between now and next football season, presumably putting an end to an engineering oddity that had struck fear into the hearts of Eagles fans exiting the three-year-old stadium.
When a sufficient number of pedestrians moved in sync with the walkways' natural frequency - the rate at which any object "wants" to vibrate - the 85-foot-tall, steel-framed structures swayed as much as two inches to either side, according to a team engineer who studied the ramps during subsequent games.
The phenomenon of synchronous lateral excitation has been well known as far back as the Roman Empire, when soldiers were ordered to break step when crossing bridges to ensure the downward forces of their footsteps didn't cause the structures to vibrate out of control. The Eagles handled the situation in much the same way, putting attendants in place to control the flow of the crowd, slowing down exiting fans if they felt the ramps begin to vibrate, as well as assuring fans that the ramps were not in danger of collapse. A major concern was that frightened fans might trample each other in their haste to get off the ramps.
Yet in spite of two millennia's worth of awareness, scientists and engineers have only recently gotten their arms around the subject of synchronous lateral excitation. The 2000 opening and closing of London's Millennium Bridge - the infamous "wobbly bridge" that reopened in 2002 after a $10 million repair - prompted a study published in late 2005 by Cornell University professor Steven Strogatz and several collaborators in Nature. Their analysis, which included a computer simulation, revealed that as the bridge began to sway, pedestrians moved against the sway to stay upright, thereby falling into the rhythm of the vibrations and amplifying them.
Engineers at Arup, the internationally known engineering and architecture firm, have also published research on Millennium Bridge that they say will help engineers avoid the problem in the future. They should know - the firm designed both wobbly structures. Arup engineers, though, say the designs are so different that the Linc's difficulties could not have been anticipated.
According to Eagles communications director Bonnie Grant, the team was, as this was written, wrapping up the permit process with the city in the hopes of having the ramps stiffened before Kenny Chesney plays the Linc on June 23.