Soccer players, and fans of the world's most popular sport, are benefiting from an unprecedented North American building Boom.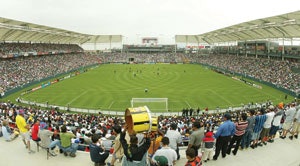 It was Major League Soccer's very first goal. From the beginning, MLS officials believed the league's success or failure would hinge on its ability to finance the construction of soccer-only stadiums. Two years before play began in 1996, before they had any idea whether a soccer startup could keep American talent from signing contracts in Europe or (even less likely) attract foreign stars to American soil, the MLS brain trust began to outline (very) rough plans for 20,000-seat venues surrounded by multiple soccer fields. In theory, these complexes would help boost the excitement among young, local players hoping to one day step onto the bigger stage of international futbol.
For years, they waited, while construction of soccer complexes for amateur play continued a steady, decades-long rise that began as a byproduct of youth soccer's participation boom. And then, something happened that wasn't related to the popularity of soccer in general or the MLS - which to this day barely registers with the public at large - in particular. For whatever reason, the money was there to begin building not just soccer stadiums, but soccer developments of the type that were first envisioned by the professional league's founders. Professional franchises, pro and amateur athletes, and soccer spectators are all beneficiaries of this wave of construction. There's also money to be made, of course, and league investors and facility developers aren't complaining - but this does appear to represent as much an investment in the future of American soccer as it does a chance to make a quick buck.
That said, the presumed responsibility to the sport and the youths who represent its future fan base is something that not all of the 12 (soon to be 13) MLS cities have worn lightly. Residents have balked at the costs of ever-larger and more grandiose developments, and in some cases amateur players have seen their fields cut back to the bare minimum. And all the while, MLS attendance slips lower and lower; the four first-round matches of the MLS playoffs this fall were watched by a total of 38,133 fans, including 4,176 who turned out to support the Colorado Rapids.
Can bigger and better facilities cement soccer's future in this country? An increasing number of communities are counting on it.
The first soccer-only MLS facility was Columbus Crew Stadium in Columbus, Ohio, which opened in 1999. That was followed in 2003 by The Home Depot Center in Carson, Calif., home field of the Los Angeles Galaxy and the first pro soccer facility to fit the stadium/soccer complex template (its facilities include 10 soccer training fields, 32 tennis courts, a tennis stadium, a track and field facility and an indoor velodrome). Pizza Hut Park in Frisco, Texas, home of FC Dallas, came online late in the 2005 season, and Toyota Park, home of the Chicago Fire, at the start of the 2006 season. By next year, seven teams will be playing in soccer-specific stadiums, including the league's expansion franchise, Toronto FC. Ground was just broken in Harrison, N.J., for an eighth, which by mid-2008 will serve as home to Red Bull New York.
Seven years passed between the opening of Columbus Crew Stadium and the debut of Bridgeview, Ill.'s Toyota Park, and there are obvious differences in the two stadiums' aesthetics, the Columbus venue being far less expensive to build and, as a result, more Spartan. But one commonality is an extremely limited amateur-soccer component in their adjoining developments; Crew Stadium is located on the site of the Ohio Exposition Center and State Fairgrounds, while Toyota Park's site plan demonstrates a greater commitment to surface parking than to fields for youth play. Thus, although the Chicago Fire's breathless web-site copy proclaims that the stadium "serves as a catalyst in the soccer-rich community of the Southland region," and notes further that the area "boasts more than 1.3 million households with children under the age of 18 located within a 20-mile radius," few of those kids can play within view of the stadium their taxpaying parents helped build.
The situation is different down in the Dallas Metroplex. Although most people think of the Frisco complex as an extension of the Home Depot Center template, it lacks that facility's collegiate connection (The Home Depot Center is located on the campus of Cal State Northridge in Carson) and so can keep its focus squarely on growing local soccer participation. In addition to the 20,500-seat stadium, Pizza Hut Park's 117-acre site accommodates 17 tournament-quality soccer pitches, and serves as the headquarters of the United States Youth Soccer Association.
That complex, big as it is, is dwarfed by the plan that until Nov. 7 was being considered in Overland Park, Kan., where a 300-acre site would have accommodated a home stadium for the Kansas City Wizards, as many as 30 soccer fields and a mall with up to 1.2 million square feet of retail space. (Voters overwhelmingly rejected the $75 million complex as AB was going to press.) As in Frisco, the Overland Park project lacked a collegiate connection, but it did mirror the earlier Home Depot project in one respect: Irate citizens there clearly had trouble seeing the benefits that a complex of that magnitude might provide.
In 2002, Concerned Residents of Carson Inc. filed (and eventually lost) a lawsuit and an appeal but were able to extract promises of limited operating hours and additional parking spaces to ease neighborhood congestion. Passions in and around Overland Park earlier this year, meanwhile, grew so intense that the city provided police escorts for city council members charged with deciding whether to designate the complex site as a tax district eligible for state incentives known as STAR bonds. To be paid off by project revenues, the bonds would help finance the Wizards stadium, roads and infrastructure. Project opponents, interestingly, determined that the key to killing the venture was eliminating the youth soccer fields - without them, Overland Park would not be able to land the tax incentives vital to building the stadium component.
"The Wizards project has been a learning experience for us," says designer Christopher Lamberth of Kansas City-based 360 Architecture. "As with many cities, there's a big demand for enough competition fields to be able to handle league play and run tournaments, but soccer is still a tough sell in terms of making the numbers work. To make matters worse, the team can't play at Arrowhead Stadium next year because of renovations that will begin there once the Chiefs' football season is over. So the Wizards have between now and April to find a site, hopefully somewhere close enough so they can keep their fan base. For a long time, two communities - Olathe and Overland Park - were competing for it, but since there was no site decided on we didn't know what the configuration would be."
And, as Lamberth notes, opponents were vocal in not wanting their tax dollars used for a venture that would see revenues accruing to site developers. "There are soccer complexes without an MLS tie-in all over the country, and many are very successful," he says. "There's one in Oklahoma that has 16 fields; I was just in Plano, Texas, where there's a 10-field complex that the parks and recreation department runs; and, of course, there's the National Sports Center. [Recognized by Guinness World Records as the largest soccer complex in the world, the Blaine, Minn., facility boasts 52 fields.] The kind of development springing up around these facilities includes places to eat, hotel beds for players and their families, and it's a dream for many of these sports governing bodies or recreation departments to be able to control all that development, but most of the time it's just not realistic. It's tough to control the 500 or 1,000 hotel rooms you might need to host a big soccer tournament."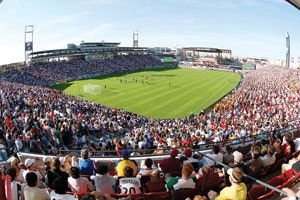 Young athletes and their families, parks and recreation directors, club-team administrators and high school sports athletic directors - are we missing anybody? - have been clamoring for soccer pitches for 20 years now. With only a dozen of the country's 361 metropolitan statistical areas (as the U.S. Office of Management and Budget calls them) graced with an MLS franchise, various city and regional authorities have long taken on the responsibility for complex construction. They're everywhere: Hampton Roads, Va., 19 fields; Libertyville, Ill., 20 fields; Morgan Hill, Calif., 13 fields; Honolulu, Hawaii, 19 fields; and on and on.
If the MLS has had any effect on the planning of soccer complexes, it's that facilities such as The Home Depot Center and Pizza Hut Park have demonstrated to various communities soccer complexes' potential as economic engines.
In Henry County, Va., The Harvest Foundation, a community group funded by the $200 million sale of a local hospital, has decided it will construct two separate recreational facilities - a $16 million field house in Martinsville and a $4 million soccer complex elsewhere in the county. The complex will feature eight regulation high school soccer fields, two of which will be lighted championship fields, with the whole package intended to attract state and regional soccer events.
Alison Rothrock, interim executive director of the foundation, portrays the 91-acre soccer complex as "serving the needs of the children here," but make no mistake: The complex is being viewed as "a key moment in the city and county's economic growth," as its press releases announcing the March 2007 groundbreaking point out. Accordingly, the complex will be somewhat limited in its availability to local residents.
"Bringing tournaments in from outside is a huge piece of it, definitely," Rothrock says. "Our hope is that these fields won't be used for practice, but for regular and tournament play. We have a four-field complex now that lacks adequate parking, and we'll use that for a practice facility, as well as other fields in the area. We want to preserve the fields, and make sure they won't be overplayed."
But those in the know say such facilities often have difficulty overcoming their initial construction-related debt (something the people in Martinsville, at least, don't have to worry about). Elsewhere - and it doesn't matter where on the soccer spectrum you look - maximizing revenue opportunities is the number-one topic of conversation. At the recreational level, that means being open to more usage, not less - in the form of field hockey and lacrosse leagues, high school and college rentals, sports camps and so on. At the professional level, it means designing a 20,000-seat stadium that can stage concerts and other outdoor entertainment events, and selling naming rights and other sponsorships to cover half or more of the construction costs.
In some locales, complex plans on the drawing board include a stadium for an MLS team, even where no such team yet exists. Near the border of Northfield Center Township and Macedonia, Ohio, a developer is floating a soccer complex plan that would include a $160 million stadium, 20 lighted soccer fields and a 500,000-square-foot shopping center. The plan passed its first hurdle in April, when the Nordonia Hills Board of Education accepted a compensation package that could give the school system up to $8.5 million per year in exchange for offering the developer full property tax exemptions for as long as 30 years. However, the plan must also pass the muster of the city, township, county and state - not to mention the MLS, which has not decided where it will next sow its expansion seeds.
Jim Renne, a designer with Rossetti Associates, a Southfield, Mich.-based architecture firm that designed The Home Depot Center and Toyota Park, is of the opinion that such a plan almost requires an MLS tenant. "On top of that, you need revenue from other sources," Renne says. "Harrison, for example, is a stadium being created for Red Bull New York, but there's a lot of interest in community integration and involvement. There'll be other kinds of matches played in the stadium that aren't related to the MLS tenant, as well as other sports. And making it concert-ready has meant making some adjustments away from what a soccer-only venue might be."
That's clearly the focus in Toyota Park, where the stands hug the field and sideline rooftop canopies focus and intensify sound toward the pitch, adding to the Fire's home-field advantage. The roof also serves as a place where speaker clusters and spotlights can be hung for concert use. With concerts staged behind one goal facing the 'U' of the main stands, event suites at that end of the stadium convert to green rooms for entertainment acts. These design elements pay the bills in a way that acres of amateur fields never could. "Youth soccer is good for soccer, for community support, but you need more than that to augment your revenue," Renne says. "Your model has to reflect bigger revenue-generating events."
MLS projects are therefore getting bigger and bigger, incorporating such extras as retail malls. HOK Sport's design of the $130 million Commerce City, Colo., development - which starting next spring will house a 20,000-seat stadium for the Colorado Rapids - covers 360 acres and also includes 23 youth soccer fields, retail stores and a new Commerce City civic center.
HOK sees American soccer as enough of a growth opportunity that the Kansas City-based firm has opened a New York City design studio and brought in Chris Lee from its London office to, as he puts it, "reexamine the American soccer market." Lee's experience in European football tells him that something's missing from MLS stadiums - but it won't be for long. The changes he sees are subtle, but important: greater intimacy in sightlines, a heightened focus on the roofline aesthetic prevalent in Europe, and a greater understanding that soccer almost begs for tight, enclosed spaces where spectators' attention can't drift off to a view of the downtown skyline. The biggest shift, however, may be philosophical.
"American stadiums have tended to exclude the average spectator in lieu of the preoccupation with corporate suites and the like," Lee says. "The project I just finished was a new stadium for Arsenal, a 60,000-seat stadium in a place where the team could easily have sold 100,000 seats, and comfortably twice the 7,000 suite seats they put in. But they wanted more seats for the average punter, because they recognize that's their future." Lee sees the U.S. market beginning to look more like the European market, where in the early days of soccer "all of the stadiums were fantastically intimate atmospheric facilities that your average man in the street went to."
It's somewhat difficult to square this description with the new MLS complexes under construction, what with their corporate names, their rows of surface parking lots and their adjoining malls. If the United States has such grassroots shrines to soccer, they're the smaller complexes in the more obscure locales, far from any MLS team. A quick Internet search, for example, turns up the Mike Rose Soccer Complex in Shelby County, Tenn., a 136-acre, 16-field complex that in 2001 opened a 2,500-seat stadium for championship matches. Under the heading "What Makes Us Special?," the complex's web site describes the facility, with its 75-foot-candle lighting, hybrid Bermuda surface, subsurface drainage and sprinkler system, food court and corporate skybox as a "crown jewel" offering the "ultimate soccer experience."
Time will tell whether MLS communities will embrace their stadiums as fully. For all we know, 80 years from now the championship stadium at the Mike Rose Soccer Complex might be considered the Wrigley Field of American soccer.
Complexes Made Easy
It's not entirely easy to get a soccer complex built, even with an MLS team to anchor it. Without one, at least, the planning process is relatively straightforward. Bearing in mind that the site chosen will to a large extent dictate the eventual makeup and layout of the facility, there are a number of basic planning guidelines:
Focus It helps to know going in exactly who will be using the fields. In most communities, soccer players (or their parents, in some cases) doubtless represent the largest contingent of lobbyists, but other groups may turn up as soon as the planning process is under way: lacrosse and field hockey teams, high school football programs, track and field enthusiasts, camp operators, Ultimate disc players. There is really no limit to the number of people whose involvement in the planning process may subtly influence the complex's eventual scope and design.
LayoutSoccer fields are nearly always laid out north to south, or as close to north to south as possible, for two reasons: One, it is best that strikers or goalkeepers not look into the sun when advancing or defending, and two, spectators will have the best view if they inhabit the west side of the field during afternoon contests. This is even more critical when designing a professional-use stadium, as the press box and television camera locations will be best placed on the west side.

How the different fields interrelate constitutes another important consideration. In strictly recreational settings, fields are sometimes laid out without berms, bleachers or other obstructions between them so that practice fields can be striped in either a north-south or east-west direction. This helps reduce wear around goalmouths and areas between fields, the two most heavily trafficked spaces during competitive play. If a complex's owner hopes to attract tournaments, fields should be laid out a minimum of 30 feet apart in all directions (50 feet is preferred). Even greater clearance should be provided for central spectator areas that serve more than one field (in cases in which two fields are laid out parallel to each other). Tall barriers, such as suspended net systems, are recommended to contain errant shots behind goals.

Surface It's grass, mostly; the larger issue is how fields will be set up to drain properly, boosting playability. End-to-end crowns aren't desirable features on soccer fields, so a more typical surface utilizes a "turtle back" system in which four slightly higher points in a central square send water runoff toward the corners. Another option involves pitching the entire field slightly from one corner to the opposite corner. Drainage continues to be an issue at many older, multiple-field complexes, where complete subsurface drainage systems are typically specified only on the portion of the complex designated for competitive events.
AmenitiesThe scope of those included in the final plan will depend on the facility's expected usage. Lighting, concessions stands, parking lots, spectator seating (bleachers or berms), storage/maintenance structures, passive recreational add-ons (playgrounds, pedestrian pathways, other recreational sports areas) - these will all have to make sense in their placement within the larger site plan.

Naturally, the addition of a large spectator venue to the mix will complicate things. Sites large enough to hold the infrastructure required of a professional sports venue aren't easy to come by in many cities, let alone sites big enough to hold a stadium and a dozen soccer fields. In addition, issues such as parking and recreational field placement (secondary fields shouldn't sit in the shadow of the larger structure, for example) are far more difficult to finesse in such cases.