Small changes to NHL rinks are minimizing the risk of lacerations, and even concussions.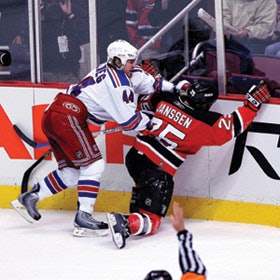 Brett Lebda of the Detroit Red Wings left the Joe Louis Arena ice March 24 on a stretcher, having been bulldozed into the dasher boards by the St. Louis Blues' Ville Nieminen. For his efforts, Nieminen received a five-minute major penalty and a game misconduct. Lebda received a concussion.
Though he was practicing again without headaches or dizziness the following week, Lebda sat out the next three games. A greater barrier to his return to the Wings' lineup proved to be swelling in his forehead from a cut caused by the hit, which sent the 25-year-old defenseman crashing into one of the metal supports that holds the rink's transparent panels in place.
Some facilities using acrylic panels have substituted those along the side of the rink with ones typically reserved for the end of the rink, according to Dan Craig, facilities operation manager for the National Hockey League. By installing the taller panels lengthwise along the sideboards, several supports are eliminated from the equation - a measure initially taken in the interest of fan sightlines, but one with safety implications, as well. "Over the past couple of years, we've lost guys for a game - or two games or four games - with lacerations that may take 10, 12, 14 stitches," Craig says.
Another rink component posing injury risk to players' faces and heads is the dasher cap rail that sometimes juts out several inches at the junction of the boards and the glass. Tampa Bay's Ruslan Fedotenko had his face smashed into this ridge of high-density polyethylene (which can range in thickness from a quarter-inch to an inch) by Calgary's Robyn Regehr during Game 3 of the 2004 Stanley Cup Finals, prompting outspoken NHL commentator and former coach Don Cherry to call for glass to be made flush with the boards, thus eliminating the ridge - and mitigating the risk.
Arena equipment manufacturers have considered just such a measure, but several factors make its implementation difficult. According to Bruce Irving, manager of research and development for Minneapolis-based Athletica, existing board frames aren't strong enough to support the glass in a flush system, and most existing glass panels don't curve to perfectly match the radius in each corner of the rink. Moreover, Irving says, the spatial disparity between boards and glass actually protects players from bodily injury, since shoulders and hips are more likely to make contact simultaneously and distribute impact uniformly.
Instead, Athletica, supplier of dasher-board systems to three out of every four NHL arenas, has introduced SoftCapTM, a hollow rail made of a flexible plastic called Santoprene. According to NHL tests, the first-of-its-kind rail is 96 percent more impact-absorbent than standard polyethylene rails. Currently installed in Nassau Coliseum, home of the New York Islanders, the rail is designed to be easily adaptable to existing board systems in college, high school and recreational rinks. "It's totally safety driven," says Bob Vohnoutka, Athletica's arena services manager, adding that play is not significantly altered by the change in materials. "If a puck ricochets off at a 45-degree angle versus a 60-degree angle, it's still a ricochet. It's not like the puck is going to hit the rail and drop dead to the ice."
The expectation is that players won't be dropping to the ice, either. "We don't have stats that say we've had 50 injuries, and that's why we're doing this," says Craig, who hopes the rail sees widespread use in the NHL. "It's just something that came up, and it's like any safety issue - if somebody wants to bring it forward and pay the expense of R&D, we'll take a look at it."