A small-town ice association procures a federal safety net - but is its building plan solid?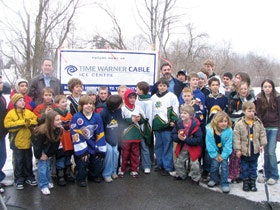 It was the first of August when the office of New York Senator Charles Schumer announced that it had awarded a $4 million loan to the Aurora Ice Association Inc. of East Aurora, N.Y., to help build a 65,000-square-foot, two-sheet ice complex. That came as news to Tony DiFilippo, the AIA's president. While the association has in fact spent the past seven years working toward such a facility, the loan in question was actually a loan guarantee, awarded through the U.S. Department of Agriculture's Rural Development program. What this means is that the federal government will guarantee 80 percent of the commercial bank loan, which represents less than half of the total cost of construction (currently estimated to be between $8 million and $9 million).
The guarantee elicited little comment among ice industry observers and consultants. While a few eyebrows were raised at the seemingly incongruous federal role (through the Department of Agriculture, no less) in ice rink development, the larger questions posed by the deal involved the viability of such an enterprise in a village the size of East Aurora (population 6,673). The USDA's loan guarantee program is limited to rural areas and towns of up to 20,000 in population, and although East Aurora is only 20 miles outside of Buffalo, it seems to some onlookers rather small to support a two-sheet ice rink, even if it is located in hockey country.
One of those is Mike Bogucki, founder and president of Paradigm Economics, a Buffalo-based consultancy specializing in sports and entertainment venues. Bogucki, who grew up in East Aurora and is friendly with many AIA board members, hasn't seen the AIA's financial pro forma (he's not sure one exists), but says the numbers he is familiar with fill him with a sense of dread.
"We've got a stagnant economy, and the census data shows most of the counties up here are losing population," Bogucki says. "Energy costs are killing a lot of ice complexes across the country. The AIA says they're going to service their own skating population, which is very small, and they also think they're going to draw skaters from surrounding communities, but all a new facility will do is take pressure off the existing facilities in the market. I've got a bad vibe. I don't want to see something bad happen there, but it seems to me that the people in East Aurora have been blinded by their own discourse."
Peter Martell, executive director of the Dallas-based Ice Skating Institute, thinks the population might be plenty big enough. East Aurora is on a major road coming out of Buffalo, he notes. "Orchard Park, seven miles away, has a large rink complex," he says, "and East Amherst has a facility - and that looks like a pimple on the map, too."
Martell's primary question involves the federal connection. "There are a fair number of rinks that haven't made it and have had to be converted to some other use," he says. "There's no doubt that a lot of lending institutions look at athletic facilities of all types as being high risk - why doesn't the federal government see it that way?"
Mike Paikin, president of Sherman Oaks, Calif.-based VSC Sports Consultants, is more blunt in his assessment. "Under 20,000 population - are they crazy?" he says. "If the rink owner can't cover operating expenses, who's going to make up the difference? I've been doing this all my life, and it sure seems risky to me."
DiFilippo insists the AIA, which is registered as a 501(c)(3) not-for-profit corporation, has all this covered. "The village of East Aurora is within the classification of rural, but the market range for the rink is spread out," DiFilippo says. "There are no rinks east of us all the way to Geneseo and Batavia, and south of us to Olean. It's a huge region, and there's such a shortage of ice time available that existing figure skating clubs and hockey teams from as far away as Buffalo and the towns north and south will rent from the facility. Realistically, we'll be seeing teams on an everyday basis from within a 25- to 40-mile radius, and periodically teams from 50 to 60 miles away may rent ice time."
"It's farm country," Bogucki responds. "It's true that there's not a lot of ice in the south towns, but there's no population there, either - and the skating population isn't going to be there just because they build a facility."
The AIA has sold naming rights to the facility and is counting on a number of grants and pledges (though many of the latter are contingent on the organization obtaining municipal site plan approval). Those funds, combined with a feasibility study performed by the Chicago firm of Firland Management (whose representatives did not respond to AB's interview request), has DiFilippo's group feeling confident. "We have consulted with five to 10 other ice rink managers and business people who have all looked at our business model as a not-for-profit and said, 'Hey, this will work,' " DiFilippo says. "We've been working at this for seven years, we've created this legal entity, gotten our tax-exempt status, acquired the land, raised money. A lot of consultants have told us they give us a lot of credit, because other organizations have done this and when they encountered the first obstacle, they folded. We aren't folding."
Several consultants familiar with the area and industry warn of a starker outcome. ISI President Jim Hartnett, who lives in Syracuse, says, "It's a tough business to start with. To make a rink break even you've got to do some hustling, but to break even when you're paying debt service? That's a stretch."
"I don't see it being practical," says VSC's Paikin. "We've done 300 studies over the past 15 or 20 years, and we don't usually recommend people consider building unless the facility is going to be subsidized, and unless they're drawing from a community of at least 100,000 to 150,000 people."
Bogucki looks into the recent past and recalls New York ice rink failures in Bethlehem (where the BIG Arena is now The Capital District YMCA), Lysander (where the Lysander-Radisson Ice Arena was given to the local Y after no potential buyers showed up when the arena went up for auction), Rochester (where the ESL Sports Centre defaulted on its bond payments after two years of operation) and Cicero (where taxpayers found themselves on the hook for bond payments and legal fees after owners of the Cicero Commons project defaulted).
"A lot of times you get these program representative advocates who want their own building but don't understand how the numbers work," Bogucki says, suggesting that, sometimes, folding is the right play. "There's a similar group in Clarence, N.Y. - a wealthy, rural enclave east of Buffalo - who want to build a rink. They have some very astute attorneys and real estate development people involved, and while they saw that they could raise $1 million in their community, they knew they needed another $5 million or more to make the building happen, and they knew they weren't going to get it. They'd been talking for five or six years about the project, but they're pulling the plug. I give the folks in East Aurora credit, but man, you've got to look at the realities of the numbers. Too many people make serious mistakes with respect to their key assumptions and financial projections."