Buffalo schools - and their athletic facilities - are in the midst of a massive $1 billion reconstruction project.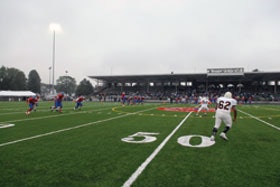 The tree that managed to pop through the concrete grandstands at Buffalo, N.Y.'s All-High Stadium was only the most visible symbol of neglect in an interscholastic athletic program marked by decay. Originally built in the late 1920s, the stadium was shedding large chunks of concrete that gave way to exposed rebar, with entire sections of spectator seating condemned for years. "It was in total ruins," confirms Dave Thomas, athletic director for Buffalo Public Schools, whose entire department, until recently, was allotted less than one-half of 1 percent of the financially ravaged district's annual budget.
But today, thanks to the city's Joint Schools Reconstruction Project - a state-supported 10-year, $1 billion capital-improvements campaign that district officials say will impact about 95 percent of the city's 60-odd public schools - Robert E. Ridge All-High Stadium is now among the finest interscholastic athletic facilities in western New York, if not the entire state. The $6.5 million historic renovation was completed in 2006 and included the installation of new chair-back seats and bleachers, a synthetic-turf field, an all-weather track, renovated rest rooms, the addition of a maintenance garage and new lighting that allows games to be played at night for the first time in 50 years. The seating capacity has dropped from approximately 12,000 in 1928 to 4,200, Thomas says, but the stadium is still large enough to accommodate high school and many small college athletic events.
Log in to view the full article