Buffalo schools - and their athletic facilities - are in the midst of a massive $1 billion reconstruction project.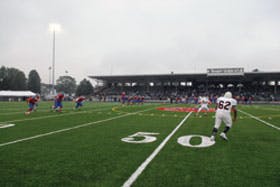 The tree that managed to pop through the concrete grandstands at Buffalo, N.Y.'s All-High Stadium was only the most visible symbol of neglect in an interscholastic athletic program marked by decay. Originally built in the late 1920s, the stadium was shedding large chunks of concrete that gave way to exposed rebar, with entire sections of spectator seating condemned for years. "It was in total ruins," confirms Dave Thomas, athletic director for Buffalo Public Schools, whose entire department, until recently, was allotted less than one-half of 1 percent of the financially ravaged district's annual budget.
But today, thanks to the city's Joint Schools Reconstruction Project - a state-supported 10-year, $1 billion capital-improvements campaign that district officials say will impact about 95 percent of the city's 60-odd public schools - Robert E. Ridge All-High Stadium is now among the finest interscholastic athletic facilities in western New York, if not the entire state. The $6.5 million historic renovation was completed in 2006 and included the installation of new chair-back seats and bleachers, a synthetic-turf field, an all-weather track, renovated rest rooms, the addition of a maintenance garage and new lighting that allows games to be played at night for the first time in 50 years. The seating capacity has dropped from approximately 12,000 in 1928 to 4,200, Thomas says, but the stadium is still large enough to accommodate high school and many small college athletic events.
While that stray tree represented decades of disrepair, a rejuvenated All-High is now seen as the root of a widespread revitalization affecting all of the district's 40,000 students. In addition to countless academic-related renovations and additions (the most archaic of buildings were still heated with coal furnaces), the massive reconstruction project has yielded new gymnasiums, swimming pools, sports fields and tracks - including major upgrades at the Johnnie B. Wiley Amateur Athletic Sports Pavilion, an outdoor multiple-sport complex located on the site of the Buffalo Bills' old War Memorial Stadium. District-wide improvements are expected to be ongoing through at least 2012.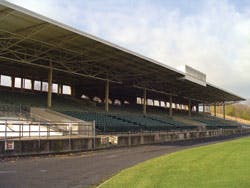 The upgrades were long overdue. Buffalo public high school student-athletes had worn the same tattered uniforms season after season, while the cheerleaders drummed up school spirit in their street clothes. Gymnasium courts and swimming pools were too short, and practices were sometimes held on garbage-strewn green spaces within public parks.
As sports languished, district administrators were laying off 250 teachers every year just to balance budgets, according to Stefan Mychajliw, spokesperson for Buffalo Public Schools and a district alum. "That's how dire the financial situation was here," he says. "One thousand teachers were laid off over a four-year period. It was financial chaos. There was no emphasis whatsoever on athletics. How do you spend even one dollar on athletics when you're laying off 1,000 teachers?"
Things started to turn around after the arrival of James Williams as superintendent in 2005. Williams implemented several internal cost-saving measures and rehired 250 teachers, and the reconstruction project has given the district numerous opportunities to make up for lost time - both academically and athletically. "Athletics was on the back burner, so we felt we needed to work with district administrators to help them gain perspective on a vision of what they wanted their sports program to be, because there was no vision," says Steve Dechert, a vice president in the construction management division of LPCiminelli, the Buffalo-based general contracting firm hired by the district to oversee the reconstruction project. "It didn't take much to convince anybody that the athletic programs needed to be improved."
Williams, recognizing the correlation between academics and athletics, has bolstered the district's annual athletic department budget, and the number of students participating in sports has almost doubled since the reconstruction project began. As Thomas says, "If you can give them places to play, they will come to them."
"A lot of kids in the district are athletically talented but they're not academically qualified," adds Michael Bogucki, principal of Paradigm Economics in Buffalo, who LPCiminelli hired as a consultant for the multifaceted project's sports element. "And they aren't academically qualified because there aren't enough sports programs to keep them coming to school, staying out of trouble and getting good grades."
A renewed commitment to athletics also has led to the welcome return of junior varsity programs in basketball and football (which had been missing in action for years), as well as the addition of crew as a varsity sport in 2007 and wrestling as a club sport in 2008. Plus, cheerleading has been upgraded from club to varsity level. "We have brought about great changes in the district," Thomas says. "We once had a flux of people leaving the city - it's old and the suburbs have everything to offer. But these renovated schools and athletic facilities are helping people think about staying in Buffalo."
Bogucki, who conducted a 10-month analysis comparing Buffalo's interscholastic athletic facilities to those in other blue-collar communities such as Cleveland, Milwaukee and Pittsburgh, contends that what's happening in Buffalo can take place in any American city - even minus the full billion bucks.
"I think this effort, from a strategic planning standpoint, can be readily duplicated anywhere," he says. "Based on the evident success and positive feedback that's been generated by this investment, folks in other communities are now emboldened to say, 'Hey, we can find more money and we can do more things to further enhance sports.' The X factor is: Where is that money going to come from?"
The X factor actually could be several factors, as Buffalo officials quickly discovered. According to Bogucki, the Joint Schools Reconstruction Project has fostered partnerships (previously unthinkable) with local YMCAs, Boys & Girls Clubs, private high schools and small colleges. "Does one of those facilities need a gymnasium? If so, let's share," he says. "Let's get everybody into the mix to figure out who has what kinds of needs, who has what amount of money and other resources to invest, and let's get the greatest needs taken care of with a single investment - instead of everybody chasing their own projects."
Grant money also played a vital role in supplementing the Joint Schools Reconstruction Project. The National Football League's Grassroots Community Football Fields Program provided $200,000 toward All-High Stadium's new synthetic turf, and New Era Cap Co. and Minor League Baseball's Buffalo Bisons have joined forces to upgrade facilities for the city's dozen prep baseball teams. Additionally, the formation of the Buffalo Public Schools Foundation is intended to help provide long-term sustainability of all the new improvements, and donors can earmark money for academics, arts or athletics, Bogucki says.
What all this means is that Buffalo Public Schools finally appears to be losing the ugly-stepchild status it had acquired over the years, as affluent suburban districts sprouted all around it. You can hear that hope in the voices of the individuals involved in this enormous undertaking, people who have community ties and local legacies at stake. Dechert's father once competed in All-High Stadium, Bogucki makes his living and his home in Buffalo, and Thomas (now in his 42nd year as an athletic director) is confident he's leaving the district's sports facilities in better shape than ever when he retires. "In the last four years," Thomas says, with a palpable sense of relief, "we've moved further than we did in the previous 30."