Sports venues are racing to achieve carbon neutrality.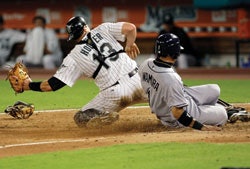 It wasn't that long ago when going green in the sports world meant implementing venue recycling programs and perhaps using sustainable building materials in new construction projects.
But times have changed, and now some college and professional teams and facilities are turning green into marketing and (at least presumably) environmental gold. It's a race to achieve carbon neutrality - a balance between the amount of carbon released and the amount of carbon offset during any given activity.
Denver's Pepsi Center (home to five sports franchises) is believed to be the first major arena to go entirely carbon neutral, just in time for last month's Democratic National Convention. Atlanta-based renewable-energy provider Sterling Planet is supplying the facility with more than 11,000 renewable energy megawatt hours each year, matching the facility's annual electricity use from conventional sources. The arena also offers preferred parking to fans driving hybrid vehicles and sells used food grease for biodiesel.
Major League Baseball's Florida Marlins and Tampa Bay Rays played what state officials billed as a carbon-neutral game in June, with the estimated 440 metric tons of carbon dioxide emitted by spectator travel and stadium operations offset by investments in reforestation projects by the Marlins, the state of Florida and the nonprofit group carbonfund.org - efforts that absorb existing CO2 emissions and reduce excess greenhouse gases. Last November, state officials also laid claim to the first carbon-neutral college football game, when Florida hosted Florida State and, along with the Florida Forestry Association and Environmental Defense, set aside 18 acres of rural land in the northern part of the state for a pine plantation.
Last Thanksgiving, Detroit's Ford Field became the first NFL stadium to hold what was considered a 100 percent carbon-neutral game, as the Lions welcomed the Green Bay Packers. A 150,000-tree "carbon sink," planted as part of a reforestation effort by Detroit-based Carbon Credit Environmental Services, helped offset the more than 1.8 million pounds of greenhouse gas and carbon dioxide used during the game. And for the second consecutive year, January's Super Bowl in Phoenix was powered by renewable energy, as well as a 42-acre reforestation project in Arizona. But NFL officials stopped short of proclaiming Super Bowl XLII completely carbon neutral after experiencing backlash from environmental advocates in 2007 for failing to consider team and staff air travel in calculations of Super Bowl XLI's carbon impact.
Finally, the NBA's New Jersey Nets earlier this year became the first major professional team in any sport to receive CarbonNeutral® accreditation - note the registered trademark, provided by The CarbonNeutral Company, a leading carbon offset and climate consulting business. The team plans to fuel its commitment by supporting solar water-heating systems and a waste heat recovery project in India, four hydropower stations in China and a methane capture and power project in Germany. Additionally, www.netsgogreen.com keeps fans apprised of the team's environmental efforts and suggests ways in which they can decrease their own carbon footprints. Sports franchises have an ability to reach a large segment of energy consumers via built-in fan bases, thus setting an example while taking a lead role in the battle against global warming.
Even professional athletes, often renowned for extravagant tastes, are doing what they can to help save the planet. More than 500 members of the National Hockey League Players Association have taken the "Carbon Neutral Challenge" presented by the David Suzuki Foundation (a Canadian environmental group) and purchased carbon credits through the Montreal-based nonprofit organization Planetair. The credits offset players' travel emissions, averaging 10 tons per player per season. As a result, the initiative, which involves players from all 30 teams, has offset more than 5,000 tons of carbon - the equivalent of removing 1,000 cars from the road each year, according to the foundation.
Despite their efforts, players and teams advocating carbon neutrality are not without critics. David Roth, blogging for www.greenbuildingsnyc.com in April, admitted that "it's hard to knock a carbon-neutral professional sports event" such as the one the Nets hosted against Philadelphia on April 1. But he thinks it will take more than one game and lots of lip service to convince some fans of the Nets' environmental commitment. "Even unbiased eyes could see the trendy, buzz-grabbing BS behind the 'Go Green' initiative," he wrote. "Sustainability is about more than just branding."
It sure is, says Mark Andrew, founder and president of GreenMark, a Minneapolis-based environmental consulting and sponsorship marketing company. "This is not a fad," he told www.foxbusiness.com earlier this year. "The ones who are pursuing sustainable practices are in the minority right now, but they will be the norm in five years. It's smart business."