Quality ice begins with water that's pure -- but not too pure -- and endures through ongoing attention to detail.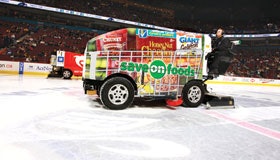 Two resurfacing machines condition the ice between periods at Vancouver's General Motors Place, one of the National Hockey League's elite venues in terms of ice quality.
The National Hockey League season opens Oct. 4 with a pair of afternoon games. Later that Saturday, NHL chief facility operations manager Dan Craig will receive reports on the ice conditions in cities with climates about as disparate as any two in the league. But despite the fact that Tampa, Fla., and Ottawa, Ont., are separated by 18 degrees latitude and 26 degrees Fahrenheit (based on the average high temperature for Oct. 4), the ice quality in St. Pete Times Forum and ScotiaBank Place should essentially be indistinguishable.
Assisting Craig in pursuit of that goal are game officials and players representing each team (at least four individuals in each location) who fill out reports after the game-day practice, the pregame skate and the actual game. They critique a range of environmental conditions - from the arena's air temperature to the current state of its dasher boards and bench areas. Most important, survey participants rate the quality of their sport's finicky playing surface: the ice.
"We are trying to make sure that we have all opinions brought forward on conditions, whether it be in the north, the south, the east or the west," Craig says. "We want to make sure that the players have the best conditions in which to play our game."
Craig, who has been with the NHL for 11 years, compiles the reports and ranks each facility, infusing more than a little competitive spirit into the ice-making process. "Facility operations managers are a proud group," he says. "They want to be number one. Everybody does. You can see it in their faces. There is not one person who is ever satisfied."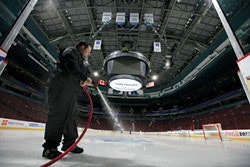 The Vancouver Canucks skate on Rite Ice, a specific formulation of purified water and salt additives developed with help from other NHL clubs.
Satisfaction comes easier at the municipal rink level - but not too much easier. Says Denis Leclerc, facilities maintenance coordinator for Maple Ridge (B.C.) Parks and Leisure Services, "The problem for a lot of community rinks is that they're so heavily programmed, and a lot of times the maintenance department is shouted out by the programming department and the people who are looking for ice time."
Whereas a community rink won't take time to resurface its ice between periods of a men's league hockey game, at least a half-dozen NHL facilities now haul their ice edgers out at each intermission to complement the resurfacing machine's housekeeping.
Still, there is some common ground for ice-building and maintenance. Deionization and filtration of the water used to build ice sheets is now widespread at all levels, allowing for the removal of impurities such as suspended solids and gases. "Ice will always try to freeze pure, and it will always try to eject the impurities, so you end up with a friable surface on top - or the frozen equivalent of froth - and really poor ice," Leclerc says. "It depends on what the water in the region is like. If the water is loaded with calcium, then you get this layer of calcium on the surface and it has its way with skate blades over time."
This impure layer also taxes the rink's refrigeration system more so than does denser ice, which exhibits far greater structural integrity and thus can withstand the rigors of ice hockey as a thinner (perhaps a quarter-inch) sheet. "It's much less difficult to keep pure ice frozen than it is that frozen froth," Leclerc says. "If you're carrying three times as much mass, that's three times as much media from which heat has to be absorbed by the refrigeration equipment."
From an end-user standpoint, the denser the ice, the faster it plays. "Players want to be on the surface, not in the ice," Craig says. "That's why density is the number-one issue that we deal with."
Trapped air, adds Craig, is the archenemy of quality ice, and molecular science backs him up. University of California, Berkeley, chemistry professor Gabor Somorjai, author of Introduction to Surface Chemistry and Catalysis, has concluded that there is a layer of water on the surface of ice regardless of its temperature. It is this water layer that provides skaters with a lubricant on which to glide on ice, not the "melt water" many have long believed results from skate blade pressure. The layer thins at extremely cold temperatures and thickens as ice approaches the melting point - each extreme inhibiting skate glide in its own way. Air bubbles serve to amplify this water/ice interface, resulting in slow ice even at colder temperatures, according to Somorjai, whose expertise was sought by icemakers working the 2002 Olympic Winter Games in Salt Lake City. "Each air bubble is a surface, and the amount of water is proportional to the surface area," he says. "If you have more bubbles, the ice becomes softer and more suitable for figure skating, even at temperatures at which the ice is supposed to be fast."
Just as party planners might put hot water in the freezer for clearer ice cubes, arena operators can keep trapped air to a minimum in their ice sheets by resurfacing with water that is sufficiently heated and of the same purity as was used to build the sheet in the first place. Says Craig, "I never do a sheet of ice under 140 degrees; 155 to 165 is ideal."
Moreover, many NHL facility managers now reserve a 12- to 16-hour window every week or two to temper their ice - a luxury not afforded time-strapped municipal rink operators. Tempering is a meticulous process by which trapped air and impurities are released from the ice sheet by warming it to 29 or 30 degrees, shaving and washing the softened ice with a resurfacing machine (often repeatedly), then reducing the surface temperature back to a hockey-friendly 22 degrees at a methodical rate of 1 degree per hour. The end result of what amounts to a fusion process is a more bonded ice devoid of the air bubbles and fissures (caused by skate pressure) that leave the sheet with a cloudy appearance, often obscuring game lines. However, if in the course of such maintenance, an operator allows the rink temperature to creep too close to the melting point, the ice sheet's bond with the concrete slab can be compromised, along with the integrity of rink markings. "It's not an easy process," Craig says. "This thing can go sideways on you in a heartbeat if you lose your attention span."
But as one NHL franchise discovered five years ago, even starting with the purest water possible doesn't guarantee peak ice performance. The Vancouver Canucks found themselves near the bottom third of the 30-team league's ice rankings (which aren't made public), but couldn't pinpoint why. An engineer at General Motors Place asked operators of facilities ranked among the top five for water samples, and later determined that the purified water in Vancouver was, in fact, too pure.
Specifically, it lacked a certain concentration of salts found in the league's higher-quality ice. "There has never been a sheet of ice made for hockey that was absolutely pure," says Leclerc, who has worked on ice surfaces in some of Canada's coldest, driest regions. "By adding impurities, you're trying to find that magic balance between ice that's so hard that it becomes unusable and ice that you can exert a certain amount of control over."
Once the salts were added to GM Place's purified water prior to the ice-making process, arena staff found they could maintain the ice sheet at a colder temperature, without it becoming brittle - or "chippy," in hockey speak. "We took our ice sheet out and put in a new one," says Harvey Jones, vice president and general manager of arena operations. "The first time the players skated on it, they said, 'Wow! What happened? Why is this different?' So we thought we were on the right track."
Today, Vancouver rubs elbows with the league's elite (the top five, according to Jones), and other teams have sought to improve their ice quality using what the Canucks now refer to as the Rite Ice formula. The full-circle transformation is even more incredible given that it happened in spite of a significant environmental handicap; to this day, GM Place operates without mechanical dehumidification. "Our climate here is pretty wet and humid - deadly for ice quality," Jones says, adding of dehumidification, "It's an expensive proposition - millions of dollars to install - so there's a big debate. One day we might have it, but right now we've got good ice."
Instead, GM Place has invested in better ice-making tools, such as state-of-the-art misters to facilitate bonding among the multiple layers of water applied when building a new ice sheet from the slab up. Still, in an arena microcosm where "everything affects everything," as Craig puts it, rink operators everywhere would be wise to leave nothing to chance. "Toronto put $4 million into a new dehumidification system for its facility, and we would classify Toronto as a cold-air market," Craig says. "That facility needed to have an upgrade on the dehumidification system for hockey played in the fall and spring, and they went out and got it. That's what's continually going on around our league; everybody is looking to improve conditions every single year. And if there's something new on the market, people want to get their hands on it."
Manufacturers of everything from insulating polyethylene ice covers to precision parts for ice resurfacing machines have responded. Consider, as an example, the impact a single door specification can have on a facility's ice quality. "It's 2 o'clock in the afternoon and pouring rain outside, and all of a sudden the beer truck arrives and the back door gets opened. The guy sitting in the seats doesn't realize that the truck driver who offloaded the beer he's drinking may have affected the conditions inside the facility," Craig explains. "A lot of facilities have installed high-speed overhead doors. They're up and down in 40 seconds, so we can lock off the outdoor conditions."
Some means of separating the outdoors from indoor ice surfaces take the form of best practices in rink management, such as mandating that arena workers avoid walking on the ice in their street shoes, or at least that they wipe their shoes thoroughly at the dasher threshold. Extra-cautious operators will use an edger to trim the top layer of ice closest to the gate opening, just to ensure any foreign matter is removed. Not only does debris carried by shoes drive rink managers "absolutely batty," according to Craig, it can be enough to take the edge off a player's skate. "Now all of a sudden I have a $4 million player who's sitting on the bench with one skate because the equipment manager is off sharpening the other one, and nobody can figure out why," Craig says. "Didn't anybody see the guy who was out there last who had something in his shoe that was left in the ice surface?"
Preventing the introduction of contaminants to ice consisting of otherwise purified water can also mean wearing surgical booties during the painting process or ensuring that the resurfacing machine doesn't drive through freshly spread floor-cleaning solution on its way to the rink. Says Craig, "Those are the things that we make sure we take care of all the time."
It's that kind of attention to detail that Craig preaches during annual postseason maintenance conferences for NHL venue operators. "Guys are sitting there saying, 'Yes, Dan. We know.' 'Well, I'm telling you again.' We just go over it and over it."
And it's those types of everyday concerns that should be on the minds of quality-conscious arena managers at all levels. "What somebody does in a community rink is not that far off from what people do in the NHL," Craig says. "It's just that we're under the microscope, and we pay attention to detail 16 hours a day."